The best backpack sprayer is the 105Ex Effortless Backpack Sprayer from Sprayers Plus.
This battery-powered sprayer is easy to use, with no manual pumping required. The high-quality build and durable design can cope with long term heavy use. And its versatility and comfort make it a pleasure to use for a variety of spraying tasks.
I've looked at more than 20 of the best models available on the market.
These are the top choices at a glance:
All links lead to Amazon, where you can find more information & customer reviews.
The Top Backpack Sprayer Reviews
Sprayers Plus 105Ex Effortless Backpack Sprayer
My top choice is the 105EX from Sprayers Plus. Designed and built to professional standards, it's an ideal choice for the homeowner who wants a comfortable, easy-to-use, and effective backpack sprayer.
And also for commercial users who need a highly durable model that can cope with heavy use over a long period of time while still delivering an excellent performance.
It's powered by a 20V lithium-ion battery that quickly recharges and allows you to spray 23 consecutive tanks on a single charge. With each tank containing 4 gallons when full.
A battery level indicator lets you keep track of how much charge is left in the battery as you work.
The pump provides a steady and consistent 40 PSI of pressure. This is enough to spray a stream for 33 ft. horizontally and 23 ft. vertically. Enabling you to reach up tall vines and trees. And cover large areas of brush, weeds, and brambles, without having to wade into the thick of it.
It's a lightweight model that weighs only 9.6 lbs. Making it easy to carry on your back for long periods as you work. This is lighter than most manual backpack sprayers.
But the lack of weight doesn't mean a lack of quality. As the wand and nozzle are made of brass and will last much longer than the plastic wands that many sprayers use.
It also uses high-quality Viton seals. These are highly regarded in the industry for their strength and durability and last far longer than the rubber seals that some cheaper models come equipped with.
The enclosed battery and motor design protect the electrical components from splashes of water. So even if you place the backpack sprayer on waterlogged ground, or in puddles of water you don't have to worry about any damage.
A variety of adjustable nozzles are included so you can change between steam, fan, and mist depending on the job.
This is also a very comfortable backpack sprayer to carry around with you. With a premium strap and chest buckle, high-density foam, and contoured shape reducing the strain on your muscles and shoulders.
Field King Professional 190328
The Field King Professional 190328 offers more benefits than most similarly priced models available on the market.
The pump is designed to prevent leakage. So you don't have to worry about accidentally spraying yourself with harmful chemicals. And the internally connected agitator makes sure that substances are mixed thoroughly as you use the pump, providing a more consistent spray.
An interesting feature to note about this backpack sprayer is that the four nozzles can be expanded by attaching TeeJet nozzles. The sprayer can be pressurized up to 150 PSI, which gives you more control while spraying difficult-to-reach areas. And it has a special lock-in ability to give your hands more comfort while spraying.
The Field King Professional is a strongly built unit that won't wear down as easily as others. But if you do reach the end of its working life, replacing damaged or broken parts is a simple and easy process.
One negative of this model is that compared to battery powered sprayers, it takes a lot of work to keep pumping. This is essential to maintain a continuous flow rate and spray pressure.
Roundup 190314 Backpack Sprayer
This easy-to-use and efficient rounded backpack can hold up to four gallons. You can use it to spray weed killer, fertilizer, insect killer, and cleaning solutions without any problems.
It uses a large pump that quickly pressurizes and sprays the contained liquid. The in-line filter stops material from clogging up the wand, which is heavy-duty and resistant to corrosive substances. This ensures that the backpack sprayer will last for a long time, even if you're using harsh chemicals regularly.
The tank is quite light at 10 lbs. And it comes with straps that can be adjusted to make it more comfortable and safer for use, and includes great lumbar support.
This backpack sprayer can be used by left-handed and right-handed people with ease. With the wand featuring a comfort grip and a lock that allows you spray continuously without fatigue or discomfort. And a flexible reinforced 3' hose, so you can spray areas that are difficult to reach.
Multiple adjustable nozzles come with the sprayer. Allowing you to switch between continuous stream and mist. And from high-volume flat fan when covering large areas such as lawns, to low-volume when spraying in confined spaces. You can also use tee jet nozzles with this sprayer.
My 4 Sons 4-Gallon Battery Powered Backpack Sprayer
This backpack sprayer creates a consistent 60 PSI spray and is ideal for spraying weeds. The adjustable spray wand can be expanded to reach about a yard. And it comes with a diversity of nozzles, making it easier to deal with unique situations.
The well-designed trigger makes the sprayer easy and comfortable to use. And the locking feature can stop the flow of water almost immediately without causing damage or a pressure build-up.
The wand features a curved tip nozzle to make spraying downwards easier. And comes in 2 types: a stainless steel wand for solvents, fertilizers, and herbicides. And a plastic acid/bleach wand.
The tank holds up to four gallons, which is enough for most spraying jobs around your garden. But if you need to refill, the wide design makes filling easy.
Another stand-out feature is the long-lasting battery life. Put it in auto mode and use the sprayer for up to eight hours in a single charge. The sprayer also comes with a voltage output meter.
Field King Max 190348
This backpack is specifically made to be a weed sprayer.
Its easy-to-use design is set up so you can comfortably spray your yard. The sprayer can be pressurized up to 150 PSI. And can be locked or shut off completely using the wand so you don't waste any product.
The agitator paddles continuously mix the added water and chemical products. So you don't need to shake or replace them as you work.
In addition, the high-performance pump is kept safe. So it doesn't need repairing or replacing as often as other models. But because the design of the pump includes less high-wear parts than most other designs repair is simple and can be performed without any tools if necessary. 
The easy access pump also makes it simple to replace worn out seals.
It comes with 4 nozzles: a foaming nozzle, brass adjustable, and 2 flat fans.
Comfort is another good feature of this model. With a padded harness with lumbar support and chest clip helping you to keep the sprayer in place while you work with no bouncing or slippage.
Chapin 61800 4-Gallon Backpack Sprayer
This is the perfect garden sprayer for someone on a tight budget who doesn't want to sacrifice on quality.
This model is completely manual, with the 63985 being the automatic version. As it doesn't have the same electronic components, the 61800 can be obtained cheaper than the 63985. Making it perfect for homeowners who need an affordable and good sprayer.
This model provides a comfortable fit with padded straps and great lumbar support. This helps provide a great experience while spraying around your yard.
The tank opening is on the smaller side, so people with larger hands might have difficulties cleaning out the tank. However, this is crucial to maintaining the quality of your sprayer.
If you're unsure about whether or not your hands will fit, find a jar with an opening about the same size and see if you can fit your hand into the jar easily. If you can, then the 61800 is a perfect fit for you!
The Chapin 61800 4-gallon is a great backpack sprayer for anyone on a budget. It's both affordable and functional, making it an excellent model for almost anyone to use.
Petra 4-Gallon Battery Powered Backpack Sprayer
In one battery charge, this sprayer can work for up to eight hours. Spraying over 200 gallons of chemicals without pumping.
The knob on the sprayer is adjustable with a 70 PSI maximum. Which allows you to have more control over the spray itself.
It comes with an 8 Ah rechargeable lead-acid battery, which can last up to four times longer than 2.0 lithium batteries, and takes 8 hours to fully charge. The charger comes with the sprayer.
The acid bleach wand is made from HD plastic and the squeeze handle comes with a locking mechanism. The wide lid has a screen filter that helps to prevent debris and dirt from getting inside the tank.
This sprayer comes with multiple nozzles with a secondary lid so you can easily store them. And the clear tank allows you to measure how much product is left before you need to refill it.
Solo 425 4-Gallon Professional Piston Backpack Sprayer
This Solo backpack sprayer is one of the top backpack sprayers on Amazon due to its economical and functional features. Its simple design allows for easy operation and great performance.
The piston pump can reach a PSI level of 60, which is all you need for most gardens. This model lacks some advanced features but makes up for it with various nozzles to enhance the performance of the sprayer. It's easy to use with TeeJet nozzles, which allows for even more spray patterns.
It's similar to other backpack sprayers mentioned on my shortlist because the pump levers can be placed on either the right or left side, making it easy for anyone to use. The four-foot-long spray hose can get into tight spots and comes. It also has a lock switch on the shutoff valve, making it easier and more comfortable to use the sprayer.
The only downside to this sprayer is the backpack itself. The straps are uncomfortable. And you will probably start feeling discomfort after a while. But, you can always get a luxury strap, sold separately, to improve your comfort if you find it to be a problem.
Chapin 63924 Battery Backpack Sprayer
You can use this model by Chapin International to spray for two hours on a full charge. Which is convenient if you have a large garden or yard that you spray regularly.
The backpack sprayer has a 3-stage filtration system and specially designed nozzle. Together, they keep the system dirt-free. And prevent debris from clogging up the system. 
In total, this backpack comes with three nozzles. You can quickly change the speed, width, and angle of the spraying pattern to suit the job at hand. And the long hose allows for a four-foot reach without compromising the pressure and flow rate.
The 6-inch wide mouth funnel makes it easy to fill the tank with herbicides, insecticides, fertilizer, or cleaning liquids. With the translucent white tank allowing you to check the level. And it's simple to clean after use.
CLICIC Stainless Steel Sprayer Professional With Backpack
The Clicic professional sprayer is made completely from stainless steel. Pump, cover, wand handle, tank, and pump handle included.
It also comes with a braided chemical resistant hose. Which makes it very resistant to corrosion and good for using with most fertilizers, pesticides, herbicides, disinfectants, and bleach.
An easily visible pressure gauge that's built into the unit helps you to quickly pump to the ideal range for getting a strong and consistent stream of fluid.
The wand comes with a curved nozzle which has a variety of applications. Adjusting between concentrated stream, drenching spray, and fine mist.
A bowl shaped mouth makes filling the 2.5-gallon tank easy, with less spilling.
Buyer's Guide: Choosing a Backpack Sprayer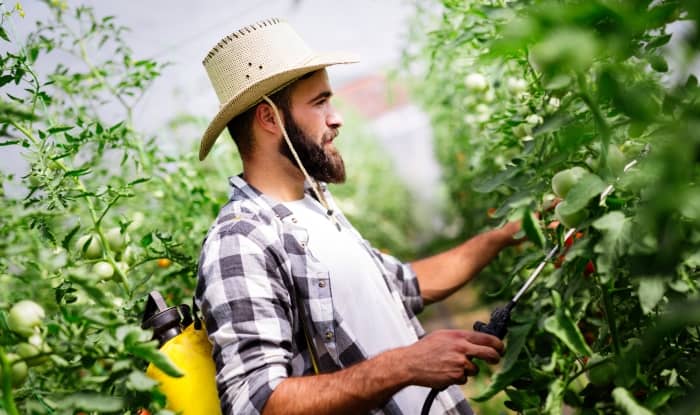 The best backpack sprayers come in a range of types with a variety of features.
Because of this, you'll find that some are better suited than others for the jobs you have in mind.
Do you have a large garden to spray? If so, then comfort and ease of use are going to be key features to select for.
Are you a professional who sprays regularly? Or is it just for the occasional job? Heavy use and bigger jobs require a more durable and reliable unit. But that comes with a bigger price.
And what about the type of substances you'll be using it to spray?
Because there are many factors to consider, we've prepared this buying guide to help you make the best choice.
Let's dive in.
Manual vs Motorized
Backpack sprayers are garden tools with a simple design. The liquid is drawn out of the container and then through a hose that connects to the wand so you can direct the spray.
In order to draw the liquid out, they use an internal pump.
If you buy a manual backpack sprayer then this pump is operated yourself by hand. You will have to keep pumping continuously while you work in order to keep spraying.
This is fine if you only have a small garden or the occasional smaller job to do. But it does require a lot of effort, and it's not unusual for gardeners to complain about their arm aching the next day after a lengthy job with a manual sprayer.
Motorized backpack sprayers are usually battery-powered, but you can get gas models as well. With battery being preferable because they are simple to use and maintain. As well as being a cordless source of electricity.
They use a motor to pump the fluid out of the backpack. And they're ideal to choose for bigger garden jobs as they don't require any physical work.
In a nutshell:
Manual backpack sprayers are cheaper. And they're the best choice for homeowners on a tight budget who don't mind putting in a bit of effort while gardening.
But if you're a professional, or a homeowner who values ease of use and a more comfortable spraying experience, then a battery powered backpack sprayer is the way to go.
PSI
PSI stands for pounds per square inch. It's the unit of measurement used for spray pressure.
If the pressure is too low then you'll get an uneven stream of fluid that's more difficult to control.
And if you need to spray over large distances and into difficult to reach spots, then a higher spray pressure will be useful for you.
But a high pressure isn't always best. It depends on the sort of jobs you need to do. So you don't always need the most powerful pump.
High spray pressures can damage plants in your garden. And are not as suitable for spraying lawns. So they're not needed for most jobs in a small to medium-sized garden.
Pump Type
There are 2 different types of pumps that are usually found in backpack sprayers: a diaphragm pump or a piston pump.
If you're a professional who is regularly using weed killer and pest control chemicals then it's a good idea to have a diaphragm pump.
A diaphragm pump has a complex pump design. And doesn't produce as high a pressure as a piston pump. But it's usually favored by pros because it's made from materials that are resistant to chemicals.
The piston pump is more popular with homeowners. It has a simpler design making it easier to repair. Although it can require more maintenance. And it can generate higher pressure.
The Tank
Backpack sprayers come with different-sized holding tanks, with most ranging in capacity between 2-4 gallons. Although it's sometimes possible to get bigger tanks of up to 7-8 gallons.
A larger capacity will mean you have to refill less often, which is best for medium to large-sized jobs.
But there's a catch.
Although most of the backpack sprayers on my list are lightweight, they will become heavier when you add fluids to them.
For this reason, most gardeners find that a tank capacity of around 4-gallons is enough to carry around.
A 4-gallon backpack capacity should hold enough fluid to spray somewhere in the region of 5-10,000 sq, ft. of land.
The tank is usually made out of polyethylene plastic so it can be used with a wide range of chemicals without degradation.
The material prevents UV radiation from getting to the chemicals and spoiling them. But is often just about transparent enough for you to see the level of the fluid it contains.
Once the tank is closed a good backpack sprayer will have minimal leakages and you won't be able to smell fumes.
If you're spraying a large area and want a bigger tank then check out our guide to the best tow behind sprayer.
Comfort
The quality of the harness and straps is important to consider if you're going to be using the backpack sprayer for extended periods.
Is there adequate padding on the straps?
Does it come with lumbar support?
Does it have a belt or chest clip to keep the backpack stable as you carry it?
These can all help to reduce fatigue as you work in your garden and prevent sore shoulders when carrying a full tank.
If you're only going to be using your backpack sprayer for small jobs then this is less of a concern.
But for professionals or people with large yards, comfort is an essential feature when choosing the best backpack sprayer. And you'll want those padded shoulder straps.
Applicator Wand
The applicator wand is the thing you'll use in your hand to direct the spray. It allows you to have accuracy. While also keeping you away from the chemicals you're spraying in your garden.
Wands come in brass, stainless steel, and plastic. And you can get them in different lengths to help you spray in hard to reach places.
Related: The Best Weed Killer Sprayer
Spray Nozzles
Some backpack sprayers come with a number of different spray nozzles that allow you to vary the spray pattern and the intensity of the spray.
Changing your spray nozzle gives you access to useful spraying patterns like fan, mist, steam, and cone.
You can also use some backpack sprayers with professional accessories such as TeeJet spray tips and nozzles. This can give you further control of your spraying, but isn't necessary for most homeowners.
The Seals
Many of the products that you'll use in your backpack sprayer are corrosive. So the seals need to be made of a material that's resistant to a range of chemicals. Otherwise, the backpack sprayer will quickly start to leak.
Viton seals are widely regarded as being the best choice for chemical resistance.
Budget friendly models that don't come with high-quality seals will limit what you can use the backpack sprayer for. Or decrease the time before you'll need repairs.
Reliability
A high-quality backpack sprayer should be a reliable piece of equipment that will last you for many years of use around your garden.
But inevitably, models at a lower price point are likely to become unreliable quicker. To a large extent, you get what you pay for when it comes to reliability and durability.
The best models come with a warranty. This is usually a 1 or 2 year limited warranty. But this only covers manufacturing defects and not wear and tear.
Conclusion
If you need to spray fertilizers on food plots and fruit trees, pesticides for pest control, weed killer on grasses and broadleaf weeds, or compost tea on your shrubs and perennials, a backpack sprayer is the ideal tool for the job.
Whether you're a homeowner with a garden, or a landscaping professional, you won't regret choosing a backpack over a standard pump sprayer.
So, what is the best backpack sprayer on the market?
If it's in your budget, we recommend buying a battery-powered model. They're so much easier to use and make for a more pleasant spraying experience without the arm ache!
My best rated backpack sprayer is the 105Ex Effortless Backpack Sprayer from Sprayers Plus. This professional quality model is durable, versatile, and comfortable to use. With a good spray distance and a constant spray pressure.