The best battery powered backpack sprayers have 2 big advantages over conventional sprayers:
Firstly, they're easy to carry. Which makes a big difference on large jobs.
And secondly, without a manual pump spraying is a far less strenuous and more pleasurable experience.
Our recommended choice is the 105EX Effortless Backpack Sprayer.
Designed to professional standards, it's a durable unit that will give you many years of reliable service. It's also light, comfortable to carry, and can be used with pesticides, herbicides, and corrosive chemicals.
The top choices at a glance:
All links lead to Amazon, where you can find more information & customer reviews
The Best Battery Powered Backpack Sprayer Reviews
Sprayers Plus 105Ex Effortless Backpack Sprayer
The number one choice on our list is the 105EX. This well-built, reliable, and easy to use sprayer is a great choice whether you're a professional with regular large jobs to do, or a homeowner who wants a premium grade tool to make spraying a quick and comfortable experience.
Equipped with a 20V lithium-ion battery and a 4-gallon tank, you can spray 23 tanks of fluid with just one complete charge. The battery recharges quickly in just over 2 hours, with both battery and charger included with the unit.
And so that you don't get caught out while working, the battery also has a built-in indicator that shows you the charge level so you won't run out unexpectedly.
40 PSI of pressure is provided by the battery pump. And generates a stream that can be directed for 23 ft. upwards and 33 ft. away from you. Giving you great reach when spraying tall trees or large areas of brush.
Build quality is another plus of this model. With a number of important features that are often lacking on cheaper models:
A brass wand and nozzle to give you more years of reliable service than the flimsy plastic that some brands use.
Viton seals, well-known for durability and strength, that perform reliably long after rubber seals would have failed.
A Premium Flex rubber hose that has high flexibility even when it's cold. Which prevents the stresses that often cause damage and leakages.
The battery and motor are well enclosed in the unit to protect the electrics from contact with fluids. You can even place the unit in a puddle of water without worry.
As you would expect from a top-of-the-range sprayer, it comes with a selection of adjustable nozzles. Letting you switch to fan, steam, or mist, as you need.
Comfort is also taken care of. With a high-quality strap, contoured shape, and chest buckle. Keeping the unit secure as you move and preventing strain and discomfort on your shoulders.
M4 MY4SONS 4-Gallon Battery Powered Backpack Sprayer
The M4 model by MY4SONS is one of the most powerful battery powered backpack sprayers available on the market.
The 60 PSI automatic pump can project a jet of fluid for up to 30 ft. But you can also adjust the output using trigger pressure. 4 different nozzles enable different spray patterns. With an adjustable brass nozzle, fine mist, flat tee jet, and double nozzle giving you a range of options to choose from.
Another feature that helps put it firmly at the top end of the market is the long battery life. With over 8 hours of spraying time on a single charge. And it has indicator lights that keep you informed of the battery level as you use it.
Other features that are standard on high-quality battery sprayers are also present here. With a wide mouth for easy filling, and a screen filter to protect the tank from getting clogged with debris.
But unlike most cheaper models, it has a stainless steel wand rather than plastic.
And the swaged hose connection makes the unit less prone to leaking.
It also ticks the right box when it comes to comfort. With wide padded straps that make it easy to carry.
The M4 by MY4SONS is assembled and tested for quality in the USA.
Vivosun Battery Backpack Sprayer
One of the most eye-catching sprayers on the market, with its bright orange color and unique design, the Vivosun provides comfort and performance at a budget price.
It's powered by a 12V/10Ah battery, that when fully charged can give you 8 hours or more of continuous spraying. The charger is included with the purchase.
The smooth contours of the unit make it comfortable to carry on your back. Along with the padded shoulder straps.
And it's very durable. With thick plastic that's built to withstand dropping and rough treatment without cracking. But has a built-in viewing window so you can see the liquid level in the tank.
A very effective mesh filter keeps out large particles that could get inside and damage the internal workings of the unit. And it has a 5-inch mouth that makes it easy to fill.
It comes with 4 replaceable nozzles that allow you to adjust your spraying: a double nozzle, fan fog nozzle, four-hole nozzle, and cone fog nozzle.
For occasional jobs around your yard spraying weed killer or insecticide, it's a good choice for homeowners.
Petra 4 Gallon Battery Powered Backpack Sprayer
Made in the USA, the Petra HD4000 is a commercial standard battery sprayer that's designed for years of robust use. Whether you're a professional, or just need it for home projects such as applying lawn fertilizer.
It features an 8 Ah lead-acid battery that gives you 6-8 hours of spraying time on a single charge without you having to pump. It's also possible to buy a second battery that you can keep charged up if you have long jobs to do.
This is enough to spray over 200 gallons of liquid at 70 PSI, with an adjustable knob allowing you to vary the pressure yourself.
The wand is made of high-density polyethylene, a durable material that can cope with any chemicals you intend on using, including acid and bleach. And has a locking trigger in the handle for continuous spraying.
The wide mouth lid makes filling and cleaning easy, and it comes with a filter that is effective at keeping particles of dirt out.
Another lid on top of the tank provides access to a compartment for carrying extra nozzles, of which 3 are provided. An HD brass nozzle that when twisted can vary the stream from fine mist to steady long stream, with a 15-20 ft. distance. A shower head cone nozzle. And a fan-flat spray nozzle.
The white translucent color of the tank makes it easy to see the volumes of chemicals you're mixing together. As well as enabling you to keep an eye on the level as you work.
The unit comes with a battery charger with a full charge taking around 8 hours.
Hudson 13854 Never Pump Back-Pack 4 Gallon Battery Operated Sprayer
Hudson's high-performance backpack sprayer is a good mid-range option.
It's easy to use. With a power button within comfortable reach while you're operating the unit. And a shut-off valve that enables constant spraying through the fiberglass wand. The hose is also nice and long, so it's perfectly suitable for tall people.
An adjustable nozzle lets you choose between fan, shower, dual mist, and stream spray patterns.
And it's quite a comfortable sprayer to carry, designed for good weight distribution. Featuring well-cushioned straps, with pads that can be adjusted to get the best fit. It also has a handle that you can carry it by if you prefer.
However, a minor complaint of some customers is that it doesn't have padding on the tank, and rests and rubs directly on your back. But it isn't particularly uncomfortable. There's also no hip belt for added stability while carrying.
The 4-gallon tank h+as a 6-inch opening, making it easy to fill and to clean afterward.
And the removable filter is very effective at stopping debris and dirt from entering the tank and clogging things up.
It's powered by a lithium-ion battery that's easy to remove and recharge in the provided charger.
You can use it to spray most chemicals, but not acid.
Chapin 63924 4-Gallon Battery-powered Backpack Sprayer
Chapin is a well-known name when it comes to spraying equipment. This battery-powered model comes with a 24-volt lithium-ion battery that gives you 2 hours of steady spraying.
This is shorter than many of the sprayers on this list. But it's still enough to get through 58 gallons.
Similar to many of Chapin's other sprayers, it features a 3-stage filtration system to keep debris out and stop it from getting blocked. And the 6-inch mouth of the tank makes for easy filling.
With a 48-inch hose and 20-inch extendable wand, it's easy to accurately direct the spray up to 30 ft. And the white tank is slightly translucent so you can see how much liquid it contains at a glance.
The electric pump sprayer is easy to use, with a poly-cushion grip shut-off. And 3 adjustable nozzles so you can vary the spraying pattern to suit the job at hand.
Ryobi One+ 18 Volt Lithium Ion Cordless Backpack Sprayer
Ryobi is a brand with an excellent reputation for battery-powered garden tools. And this is another popular item in their range. However, despite many positives, it does also receive some customer complaints.
First, the pluses:
At 60 PSI the chemical sprayer has good pressure and projects a steady stream up to 20 feet away.
It also comes with 2 nozzles. An adjustable cone and a flat fan to vary your spraying pattern.
And the translucent tank lets you keep an eye on the fluid level as you spray.
Comfort is also a big plus, with the unit being easy to carry.
But while not major, there are some drawbacks as well.
The One+ backpack power sprayer has a large 4-gallon tank. With one full charge of its battery being enough to spray around 40-gallons, or about 10 full tanks.
This isn't a problem, but it's less than some of the other models available. Making it less suitable for very big jobs, and maybe not the best choice for professionals or for agriculture.
Some customers also don't like the spray wand. It's made of plastic that's sometimes described as flimsy.
Overall, a good garden sprayer. But I think better value can be found in some of the other models.
The battery and charger are included with the unit.
Choosing A Battery Powered Backpack Sprayer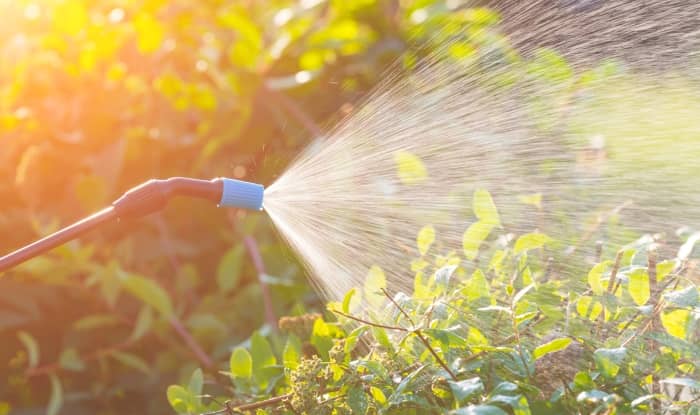 With so many battery backpack sprayers available, how do you choose the one that's right for you?
In this buying guide, we take a look at some of the key things to consider.
Let's dive in.
Comfort
Because you'll be carrying the sprayer it's important to consider how comfortable it is to use.
This is particularly the case if you have big jobs to do and will be carrying the weight on your shoulders for a long time.
What are the straps like? Are they well padded?
Is there a chest clip or belt for stability as you move around?
This is less important for occasional small jobs. But for professionals or heavy users, these features make all the difference.
Not all sprayers come with a padded harness. So sometimes you'll have to buy it separately.
Tank
You can get sprayers in a range of sizes with different tank capacities.
Usually, they carry between 2-4 gallons. But you can get some that are bigger at around 7-8 gallons.
Most of the best backpack sprayers have a 4-gallon tank.
You see, it's a balancing act when choosing the best tank size. Too small, and you'll have to keep stopping and filling it up again as you work.
But, the bigger it is the heavier when fully loaded.
Most people find 4-gallons about right. This can hold enough liquid for you to spray an area of around 5000 to 10000 sq. ft.
Usually, the tank of the battery knapsack sprayer will be polyethylene plastic. This can hold chemicals, acids, and bleach without degrading and leaking.
Wands
The applicator wands attached to the pump sprayer come in plastic, brass, fiberglass, and stainless steel.
Some also have a lock feature to allow continuous spraying.
The wand will get a lot of use as you hold it to direct the spray. So it helps if it's durable and not prone to leakages.
Durability
You want the sprayer to be durable. Particularly if you're a heavy user, but even if you're a homeowner with the occasional job to do.
Some backpacks are built from heavy-duty polyethylene plastic and are robust enough to withstand knocks without damaging their functionality. Others are made from flimsier plastic, and more prone to cracks, leaks, and key features ceasing to work.
Usually, you get what you pay for. With the more expensive models being higher-quality and with a longer expected lifespan.
Battery Life
All batteries that come with battery-powered backpack sprayers are rechargeable. But if you have lengthy jobs to do, then how long they last on a single charge is important to look out for.
The most powerful batteries can last for 8 hours or more. Whereas less powerful batteries might only give you a couple of hours before you need to recharge. This means lengthy delays in the middle of a large job, or the need to carry multiple fully charged batteries with you while you work.
Versatility
What do you need to spray?
It's easy to find a good sprayer for weed killer and fertilizer, most models can do the job. But not all of them can be used for more corrosive chemicals such as acid and bleach.
The best battery backpack sprayers can handle all the above.
Conclusion
So what is the best battery powered backpack sprayer?
Our best rated sprayer is the 105EX by Sprayers Plus. This well-built and durable unit combines ease of use, comfort, and performance, to a professional standard.