If you want to save a lot of time when cleaning leaves and debris from your yard then the best cordless leaf blower is a must-have tool.
They're light, easy to use, quiet, emission-free, and ideal for the home environment.
Our recommended choice is the WORX WG591 Cordless Leaf Blower.
It's a powerful unit with variable speed control, allowing you to easily adjust the airspeed depending on the job at hand. It's also well-balanced and easy to carry and use.
Our top choices at a glance:
All links lead to Amazon, where you can find more information & customer reviews.
The Best Cordless Leaf Blower Reviews
1. WORX WG591 Turbine 56V Cordless Battery-Powered Leaf Blower
The WG591 is the most powerful cordless leaf blower that WORX does in its popular range.
Powered by a 56v rechargeable lithium battery, it has a variable speed control that ranges between 60-125 miles per hour. With 465 CFM (cubic feet per minute) of air displacement at the top end.
This gives you the power to deal with most yard cleanup jobs. Easily moving wet leaves from lawns, patios, driveways, and walkways.
Other common debris such as pine needles, fir cones, and even small landscaping rocks are easy to shift.
Hitting the top speeds requires the use of a turbo button, which will make the battery run out quicker—approximately 15 minutes if it's constantly pressed. But most of the time you don't need it for moving light to moderate leaf fall.
The unit is made of durable, heavy plastic and weighs 8.1 lbs. With an ergonomic handle and well-balanced design that makes it easy to carry without fatigue during larger jobs.
The battery charges quickly, with just 1 and a half hours for a full charge.
It's a reliable unit that doesn't usually need much maintenance. But just in case, it's good to know that it comes with a 3-year warranty.
2. DEWALT DCBL770X1 Handheld Leaf Blower
The Dewalt DCBL770X1 is another leaf blower that's near the very top of the range when it comes to power.
The 60-volt brushless motor can generate airspeeds of up to 129 mph, with air displacement of 423 CFM. The variable speed trigger allows easy selection of speed while you work.
And the unit has a speed lock. So you can easily keep it at the desired level without having to keep the trigger pressed. Which means greater comfort.
It also comes with a concentrator nozzle that's ideal for blowing out small spaces. Increasing speed to 175 mph, but reducing air displacement to 287 CFM.
It's the heaviest unit on our shortlist at 9.8 pounds. But this is still light compared to some gas leaf blowers. And with an ergonomic design that makes it easy to carry, most people should find it easy to use.
It comes with a 9 Ah lithium ion battery that works with other Dewalt tools. And it includes a charger.
The unit has a 3-year limited warranty, with 1-year free service.
3. EGO Power+ Cordless Blower
If you're looking for a lightweight cordless leaf blower with the power to tackle small to medium-sized jobs, then the EGO Power+ is well worth considering.
At just 5 lbs its easy to carry and use for long periods. And it's compact size makes it convenient to store, and simple to transport to locations outside your home.
The turbine fan generates speeds of up to 92 mph, with 480 CFM. And it has a 3-speed selector so that you can vary the power depending on the difficulty of the job.
You have to buy the battery and charger separately. But you can get them on Amazon here:
It comes with a 5-year limited warranty.
The WORX WG584 combines power and ease of use with affordability.
The motor contains a 3-speed selector, plus a turbo option for targets that are harder to shift.
The slow speeds help you to clear debris from pavements and work best for tight corners. And the high-speed options give you the extra power you need for clearing your lawn. But it's best for light to moderate leaf fall, not having the power for heavier jobs.
The airspeed that it generates ranges between 60-95 miles per hour, depending on your selection. With an air displacement between 300-470 CFM (cubic feet per minute).
It's also a light unit at 7.3 lbs. Making it easy to carry around your yard while you work.
But despite its lightweight design, it's still made from heavy-duty and durable plastic that won't damage easily.
The 40v blower uses 2 20v rechargeable batteries that are quick to charge and last a long time on low power. They're included in the package along with the charger and are also compatible with other WORX products.
It comes with a 3-year warranty.
5. Makita DUB182Z 18V Lithium Ion Cordless Leaf Blower
Makita has a well-deserved reputation for making high-quality and efficient home and garden power tools.
This one is a great choice if you're after a small and light handheld blower as it has a very compact design and only weighs 3.9 lbs. It's one of the lightest leaf blowers on our list.
It's easy to use outside on hard surfaces. Indoors in garages for blowing out dust and debris. And for drying your car.
It has enough power for small jobs. Light leaf fall, grass clippings, pine needles, etc. But the 3-speed motor only generates a top airspeed of 116 mph with 91 CFM. So don't expect it to clear thick piles of leaves on your lawn.
The build quality is excellent, and the unit is durable enough to last a long time. It's also comfortable to use, with a rubberized handle to absorb the vibrations.
It uses a rechargeable 18v LXT lithium-ion battery that you need to buy separately.
The manufacturer offers a 1-year warranty.
6. Greenworks 40V 150 MPH Variable Speed Cordless Leaf Blower
This cordless leaf blower is a good choice for the homeowner with a small yard and occasional light work to do. With the company recommending it for properties of up to ½ an acre.
The 40v variable speed motor gives you a maximum airspeed of 150 mph, with 135 CFM.
It also comes with an extension tube. Increasing your reach and making it easier to get to difficult places like gutters.
It's very lightweight at 3.3 lbs making it comfortable and non-tiring to use for the majority of people.
The unit comes with a 2 Ah lithium-ion rechargeable battery and the charger unit. The run time when it's fully charged is only 14 minutes, so it's not a good choice if you regularly have lengthy jobs or a large yard to take care of.
It has a limited 4-year warranty.
7. Echo CPLB 58V2Ah Lithium-Ion Brushless Cordless Blower
This Echo leaf blower is a powerful model you can use to take care of leaf fall on both hard surfaces and on your lawn.
And with its long and well-designed tube, it's easy to get to difficult to reach places such as underneath cars.
The variable speed brushless motor gives you a top airspeed of 145 mph with an air displacement of 550 CFM on turbo mode. And it has cruise control so you don't have to keep your finger on the trigger selector.
It's one of the heavier cordless electric blowers on the market at 9.1 lbs. But this is to be expected with the more powerful models. So people with less strength may find it becomes tiring on their arm after a short time of using it.
It comes with a lithium-ion battery and charger. With a short charge time of just 30 minutes.
It comes with a 5-year consumer warranty and 2-year commercial warranty for professional use.
8. Milwaukee 0884-20 M18 Compact Leaf Blower
This blower is a good choice for home use, quickly and easily clearing leaves off patios and driveways. As well as blowing dust and dirt out of workshops, garages, trucks, and tractors. But it doesn't have the power for bigger yard jobs.
It has 3-speed settings with a top airspeed of 160 mph and 100 CFM. And it has a variable speed trigger and ability to lock the speed without pressing.
The durable unit has a shock-absorbing polymer plastic body. And a nozzle that's crush resistant. Making it good for use around job sites without fear of it breaking.
It's very light at 3.9 lbs. Making it easy for most people to carry without fatigue.
But you have to buy the battery and charger separately. If you already have other 18v Milwaukee tools then it's worth considering getting this as you will able to use the same battery.
It comes with a 5-year limited warranty.
9. BLACK+DECKER 20V Max Lithium Sweeper (LSW221)
This lightweight and low noise cordless sweeper from Black + Decker is a good choice for clearing grass clippings, dirt, and debris from hard surfaces around your property such as decks, patios, driveways, and garages.
But it's not a good choice for dealing with anything more than light leaf fall on your lawn and around your garden.
The top speed of the unit is 130 mph, with 100 CFM.
At 3.7 lbs it's another very light and easy to use blower that won't tire you out as you use it.
It comes with a 20V 1.5 Ampere hour battery and a charger.
The product has a 2-year limited warranty.
10. KIMO 20V 2-in-1 Leaf Blower and Sweeper
This 2 in 1 leaf blower vacuum combo is ideal for quickly and easily clearing light leaf cover, dust, small pieces of trash, and snow.
It's very small and compact, making it easy to use inside to blow dust from hard to clean corners. And for cleaning out the inside of your car, and engine compartment.
It weighs in at an incredibly light 2 lbs. So no matter who you are you won't struggle with the weight of carrying and using this machine.
The unit comes with a 20v 2 Ah rechargeable lithium battery and recharger. And it only takes 60 minutes for a full charge.
With a fully charged battery the blower will run for about 30 minutes.
It has a 2-year warranty from the manufacturer.
Buying Guide: What to Look for in a Cordless Leaf Blower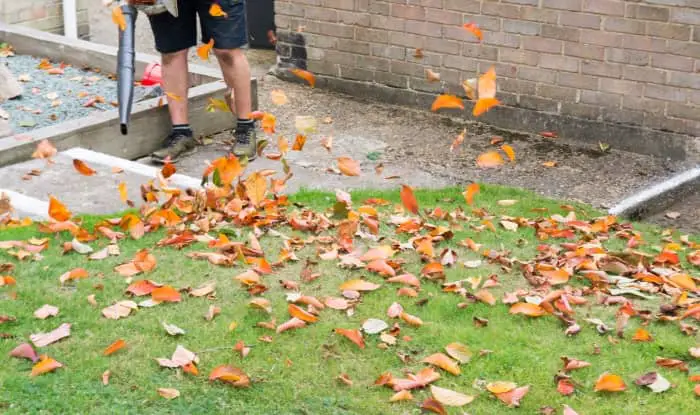 When selecting the best cordless leaf blowers there are a number of things that will help you make the right choice.
Let's take a closer look at the key considerations when making a comparison:
What Do You Intend To Use It For?
Firstly, it's important to think about the kind of jobs you are buying a blower to help you with.
If you just need it to clear grass clippings and dry leaves off your driveway, patio, or walkway then you probably don't need one of the bigger and more powerful models with more features.
Instead a cheaper, lighter, and easier to use machine might be the perfect choice.
However, if you need to regularly clear leaves from your lawn during the fall then it's probably best to get a more powerful unit.
Getting a blower that fits the jobs you need it for is the most important step to being happy with the brand you purchase.
Airspeed & Volume Displaced
When you compare the power of leaf blowers there are 2 important numbers to look for:
Firstly, the airspeed that the motor generates, measured in miles per hour (mph).
And then the volume of air displaced, measured in cubic feet per minute (CFM).
The higher these 2 numbers the more powerful the leaf blower is.
It's also worth considering that even the faster and most powerful cordless blowers are not highly efficient at clearing very thick and heavy carpets of leaves. Instead, they are best suited for light to moderate accumulations of leaves and debris.
If you require more power than the best battery powered leaf blower can provide then you should consider looking at higher-powered alternatives instead. Such as a gas blower or an electric blower.
Speed Settings
Some of the battery operated leaf blowers at the budget end of the market are 1 speed only.
Whereas the better models have multiple speeds you can choose. Or even a variable speed trigger that you can use to adjust the power of the unit as you work.
Having the ability to change the speed setting can be very useful, and is a feature of all the best rated units.
When blowing dirt, dust, and debris from your driveway, garage, or workshop you might not always want a high-powered blast. A more gentle airspeed can be more optimal, giving you control of where you're blowing things.
Weight
There's no getting away from it:
The most powerful units are also usually the heaviest.
This is another good reason to know what you need to use it for first. For small jobs, you can get a lightweight leaf blower that's easier to carry.
Having said that, even the heavier cordless leaf blowers are still fairly light compared to gas powered leaf blowers and walk behind leaf blowers. So you don't need to be as strong to use them for long periods. And most people won't have a problem.
Warranty
Leaf blowers are usually quite sturdy and don't breakdown easily. But they're also not cheap when you buy them new. So it's good to know you're covered if things go wrong.
Respectable brands offer warranties on their products. But the length of these vary. So it's a good idea to check the warranty policy before you buy the best leaf blower.
Are Cordless Leaf Blowers Any Good?
The answer is an emphatic yes. Cordless leaf blowers are good. But it's important to understand their limitations when rating them.
These are not the most powerful leaf blowers you can buy. They are handy for quick and easy work around small yards. And will save you a lot of time compared to using a broom or garden rake.
But they're not the right tool if you have to clear thick piles of leaves in the fall, or inches of snow in the winter. Or if you need to clear large areas of land. So if you're a pro, you'll often need something more.
On the plus side, they are lightweight, portable, and simple to start up and use. Without having to mess around with gas and oil. And with no emissions to worry about.
And without a cord, they don't have the movement limitations that you get with corded electric blowers. Making them more convenient for outdoor use.
They're a good choice for the average homeowner in a residential area as they're also quieter than gas blowers.
Conclusion
There's a number of great brands available, but a blower shootout can only have one winner.
So, what is the best cordless leaf blower for the money?
Our best overall choice is the WORX WG591 Battery Powered Leaf Blower.
This model has the power to clear leaves from your lawn when on turbo mode. But also has variable speed control, enabling you to use a lighter touch when that's all you need. It's also well-balanced and easy to hold and use. As well as being durable and reliable.