Dandelions are a nuisance.
Always popping up where you don't want them.
And while their yellow flowers may be pretty, the fluffy seed puffs easily spread around your garden.
Getting rid of them by hand is difficult. The easiest way is by using the best dandelion killer you can find.
Our recommended product for dealing with them is Tenacity Turf Herbicide.
This highly effective product kills the dandelions in your yard and stops them from growing back. It's safe to use on your lawn without damaging your grass. And it's non-toxic, so it's safe to use around people and animals.
Our top choices at a glance:
All links lead to Amazon, where you can find more information & customer reviews.
The Best Dandelion Killer Reviews
Tenacity Turf Herbicide
Tenacity herbicide gives you the power of a post-emergent weed killer. It can take care of any dandelions currently infesting your garden.
And it also functions as a pre-emergent that prevents them from growing in the first place.
As well as dandelion, you can also use it to kill a large range of common weeds. Including clover, foxtail, henbit, crabgrass, carpetweed, goosegrass, barnyardgrass, purslane, ground ivy, chickweed, thistle, nutsedge, and many more.
The main active ingredient is 40% Mesotrione, an organic compound that's non-toxic. But it can cause eye irritation, so you should still be careful when using it.
It's a selective herbicide that targets broadleaf weeds and certain grass weeds, without killing your grass. With some exceptions—it's not a good choice for bentgrass, bermudagrass, or zoysiagrass lawns.
You can notice it working within a week. But some customers report that it can take over a month for full results. So patience is required.
It comes in a small 8 fluid ounce bottle. But a little goes a long way. With just half a teaspoon being enough to make a gallon of dandelion killer when mixed with water. The manufacturers recommend that 8 fluid ounces can be used to treat 1 acre of land in total.
PBI/Gordon's Speed Zone Lawn Weed Killer
If you're after quick results at an affordable price then Speed Zone is the product for you.
The formula contains dicamba, 2,4-D, carfentrazone-ethyl, and mecoprop-p acid. A combination of systemic and contact herbicides. With visible results seen within days. And then the systemic herbicide taking over and killing the dandelions to the root. With death taking around 2 weeks.
It's a selective weed killer, so it specifically targets broadleaf weeds such as dandelions, plantain, creeping charlie, and clover. And as well as killing established dandelions, it also helps to stop them from sprouting.
If you're looking for the best dandelion killer for lawns, then it's good to know that Speed Zone is safe on most common types of turfgrass. It's recommended to use it on:
Zoysiagrass
Fescues
Bermudagrass
Perennial ryegrass
Kentucky bluegrass
But don't use it on St. Augustine grass as it's likely to cause damage.
If you don't see your grass on the list of recommended types then there's still a good chance it will be fine to use. But it's a good idea to test Speed Zone on a small patch of grass before covering the whole lawn.
It comes in a 20 fl. oz. bottle of concentrate. And when you follow the instructions to dilute it, you can make enough to treat an 18,200 sq. ft area. So one bottle goes a long way for most customers.
Espoma Organic Weed Preventer
Espoma has a good reputation for its line of organic fertilizers and weed preventers. This product combines both together in a 100% natural and organic weed and feed.
It's a good choice if you want to prevent dandelions from growing in your lawn.
It consists of granules made from corn gluten meal. When you apply these to the ground in early spring it prevents weed seeds from germinating.
Ideally you should look to use it when soil temperatures first get to around 65 °F for the best results.
The granules also contain 8.23% slow-release nitrogen. This fertilizes your grass over several weeks, leading to strong green growth.
The weed preventer works to stop dandelion growth for about 6 weeks after each application. And after using it in the spring, many people also choose to re-apply it in the fall at the end of the hot summer temperatures.
A 25 lbs bag provides enough to treat a 1,250 sq. ft. area.
Ortho Weed B Gon Weed Killer for Lawns Concentrate
Ortho Weed B Gon is a broad coverage weed killer that's specially formulated for both Northern and Southern lawns.
So you can safely use it on:
Bermudagrass
Centipedegrass
Fescues
Bluegrass
Ryegrass
Bahiagrass
St. Augustine (most varieties)
Zoysiagrass
Bluegrass
Buffalograss
The one main exception is St. Augustine Floratam grass. The manufacturer recommends avoiding it with this product.
Test any types of grass not mentioned above by applying the weed killer to a small area on the fringes.
The product comes in a bottle of concentrate that's easy to use with a hose-end sprayer. Or you can dilute it in a garden sprayer.
Results are visible within hours as the dandelions start to wilt. And it's rainproof within 1 hour.
The concentrated dandelion killer comes in a 1-gallon bottle that you can use to spray 64,000 sq. ft. And a smaller 32 oz. bottle that covers 16,000 sq. ft.
Bonide Weed Beater Ultra
This is the high-powered version of Bonide's popular Weed Beater.
It's a selective herbicide that doesn't harm lawn grasses. And kills over 200 species of broadleaf weeds. Including dandelion, gumweed, ragweed, clover, chickweed, creeping charlie, nettle, aster, bedstraw, and many other common types that infest lawns.
The weeds show signs of bad health within 24 hours after spraying. But it can take 7-14 days for dandelions to completely die.
You can buy it in a bottle of concentrate, or as a ready-to-spray.
Scotts Turf Builder Weed and Feed Fertilizer
Scotts is a well-known brand that makes a popular range of lawn care products. This one is their highest-strength weed and feed.
It combines a powerful weed killer that effectively controls dandelions, as well as most other garden weeds. And a nitrogen fertilizer that thickens and greens your grass.
The combination helps you to build a healthy and lush lawn that stops new weeds from having a chance to thrive.
The manufacturer recommends using it on these types of grass:
Ryegrass
Zoysia
Fescue
Kentucky bluegrass
Bermudagrass
Bahiagrass
Centipede
It comes in 2 different sized bags. A large bag of granules that can cover 15,000 sq. ft. And a smaller bag that gives you enough for 5,000 sq. ft.
Roundup Weed And Grass Killer
This ready-to-use weed killer features a sure shot wand attachment, so you don't need your own garden sprayer.
It also comes with a protective shield that you can use to fit around the target weeds. This prevents excess spray from coming into contact with grass and plants you want to keep.
And this is important. Because this herbicide not only kills weeds such as dandelions. It will kill any plants it comes into contact with.
Use it with care around your lawn and flower beds. And you can also use it to kill any unwanted vegetation sprouting up in the cracks between your patio, driveway, or walkways.
Results can be seen quickly, within as little as 3 hours. Although it will take longer for the dandelions to completely die as the herbicide works its way through the plant to the roots.
And as long as it's dry when you spray, you don't have to worry about the weather spoiling your efforts, because it's rainproof after 10 minutes.
Each bottle contains enough to cover 400 sq. ft.
Southern AG 2,4-D Amine Weed Killer
This is another systemic dandelion killer that also kills the majority of broadleaf weeds. Other species mentioned by the manufacturer include hawkweed, plantains, and clover. Some customers also claim success with crabgrass.
You first notice results a few days after application. With the usual visible symptoms of wilting and browning of the leaves. But like most systemic weed killers, you can expect to wait for a couple of weeks or so before the plants are completely killed.
Because it's very selective, it's safe to use on most lawns. But be careful if you have St. Augustine grass, because it can stunt its growth temporarily.
And make sure you follow the instructions. Although it's safe to use on lawns at the recommended concentration, if you mix it too strong it can still kill grass.
The 32 oz. bottle will last most homeowners a long time. Containing enough dandelion killer concentrate that when diluted it treats 20,000 sq ft.
Spectracide Weed Stop For Lawns Plus Crabgrass Killer Concentrate
In addition to crabgrass, this weed killer gives you control over more than 250 different types of broadleaf weeds, including dandelions. You can use it to take care of chickweed, spurge, yellow nutsedge, dollarweed, clover, and just about any other type of common weed that infests lawns.
It contains a combination of quinclorac, sulfentrazone, dicamba, and 2,4-D. Results are visible quickly, sometimes in 8 hours or less. And the systemic action of the herbicide kills them to the root to stop them from growing back.
While mainly a post-emergent weed killer that you can use to spot treat problem areas of dandelion growth, it also has a residual effect. Lingering in the ground and stopping some weeds from germinating.
Although it's safe to use on most lawns, it's another dandelion killer that can't be used on St. Augustine grass.
It comes in a 32 oz. bottle of concentrate that can be used for dandelion control over 5,000 sq. ft. when mixed with water.
Green Gobbler Weed & Grass Killer
Green Gobbler is a very fast-acting contact dandelion killer.
It consists of 20% vinegar that's derived from corn. So it's completely natural and doesn't contain any chemicals.
You still have to be careful when using it, as strong vinegar can irritate and burn if it gets on your skin. But once it dries it's immediately safe to let your dogs and children play on the grass again.
Any weeds you apply it to will die within hours. With complete disintegration often visible after a day. Which makes it a lot faster acting than products that rely on chemical herbicides.
But, it doesn't kill to the root. So weeds often grow back, requiring you to use Green Gobbler again. And because it's non-selective, it will kill any plants you apply it to. So great care has to be taken when using it around your lawn or desirable shrubs and flowers.
This is a ready-to-use dandelion killer that doesn't require any mixing. Just take it into your yard, take careful aim, and get spraying.
The 1-gallon bottle contains enough vinegar to cover 1,200 sq. ft.
Buying Guide: Choosing The Best Dandelion Herbicide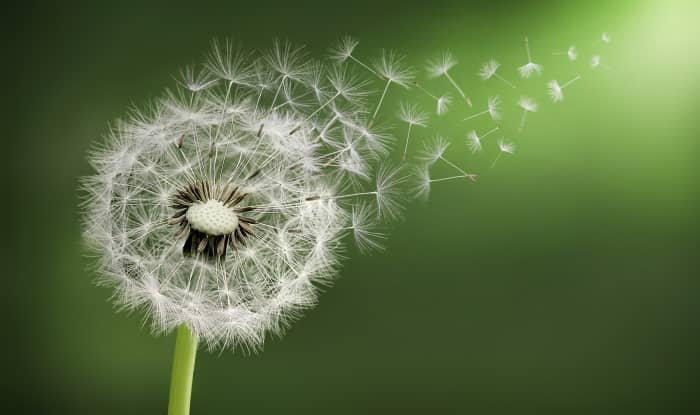 We've recommended our favorite products in the list above. But if you're still having a hard time choosing the best dandelion killer there are a number of things to consider.
Let's take a closer look.
Emergence
Are the dandelions growing right now?
If so, the best dandelion killer will be one that's formulated for post-emergent weed control. Post-emergent weed killers kill weeds that are already growing.
If you're looking to prevent dandelions growing in the first place then you also have options. For this, you need a pre-emergent dandelion killer.
This prevents dandelion seeds from germinating. But it will also stop other plant seeds. And it affects the ground for a period of time, which will stop you from reseeding the area.
So it's a good idea to think in advance when using a pre-emergent. To make sure you lay it down at the right time to be effective, and to fit in with any planting you've planned.
Selectivity
Selective herbicides only kill certain types of plants, such as broadleaf weeds. And dandelion is a type of broadleaf weed.
Some selective herbicides also kill specific unwanted species of grass, such as crabgrass, and leave most common lawn grasses untouched.
But other weed killers are non-selective. These kill all plants they come into contact with. So you have to be very careful when using them around desirable plants.
If you have dandelions on your lawn, then the best dandelion killer that won't kill grass will be selective.
Contact Or Systemic
Dandelion killers can be either contact herbicides or systemic herbicides.
Contact herbicides start to kill dandelions immediately upon contact. These are the fastest acting. But they only act on the area they come into contact with. This means the dandelion roots will usually survive and the plant can regrow.
Still, this is an okay choice if you don't mind having to treat the area again when they reappear.
In our list above, the vinegar-based Green Gobbler is a good example of a contact herbicide.
Systemic herbicides are absorbed by the dandelion, mostly through the leaves. Then they travel through the plant's circulatory system attacking it from the inside. They will kill the dandelion all the way to its roots, preventing it from regrowing.
Systemic weed killers are slower to work. And while the first noticeable results are sometimes visible within days, it can take 2 weeks or more to completely kill the plant. But once it's gone, it's gone. And you won't have to kill it again.
The best dandelion killer for lawns is usually a systemic one. Because contact herbicides often damage the grass as well, so you have to be very careful when you use them.
Chemical vs Organic
Organic dandelion killers and chemical dandelion killers are both available. Of the two, chemical is a lot more common.
Chemical herbicides are very effective, particularly as post-emergent treatments. And the ones that are selective can be used safely on your lawn without killing the grass.
They're also the best dandelion killers if you're looking for the most cost-effective option.
But they do have some drawbacks as well.
With most of them, you have to wait a certain period of time after spraying before the area is considered kid safe and pet safe. Even then, the thought of any chemical residues is offputting for some people.
And if you're not careful when using them, they can also pollute the environment. Particularly aquatic systems.
Organic dandelion killers include products that use corn gluten meal as a weed preventer, and vinegar as a contact herbicide. You can see examples of these in our shortlist above.
They have the advantage of being safer for health and better for the environment.
But they can be more inconsistent in their results. And organic post-emergent herbicides, such as vinegar, are not selective. So they'll harm anything you apply them to, making it difficult to kill existing dandelions on your lawn.
It also usually costs more to treat an area with organic herbicide.
Persistence
Some of the best dandelion killers stay in the soil for a period of time after you apply them and prevent the plant from germinating and growing in the area. These are known as persistent herbicides.
Non-persistent herbicides don't linger in the soil and don't have this preventative effect. And if there's no residual action from your dandelion killer then other seeds may continue to grow, requiring you to treat the area again in the future.
Granules Or Spray
Most dandelion killers come as a liquid that you spray. Either as a concentrate that you dilute with water and use with a tank sprayer or hose-end sprayer. Or as a ready-to-use product that's prediluted. Allowing you to use it straight from the bottle through an attached applicator wand.
These dandelion killers come in either selective or non-selective types, and they mostly act as post-emergent weed killers, directly killing the plants you spray them on.
Some of these also have a residual effect that prevents plants from growing in the area.
You can also get dandelion killer in granules. Usually as a pre-emergent weed preventer such as corn gluten meal. Or as part of a weed and feed product, combined with fertilizer.
Granules have to be watered into the soil after you apply them.
Both spray and granules can do the job. But liquid dandelion killer spray can be a lot easier to use on hard surfaces such as driveways, sidewalks, patios, paths, gravel, etc.
Rainproof
Even the best dandelion killer spray is reduced in its effectiveness if it rains shortly after you apply it, before it has a chance to dry.
For this reason, it's a good idea to spray when you know the weather will be dry.
But, unfortunately, rainfall can be unpredictable. And you might not want to wait until you have a guaranteed day without it.
Some dandelion killers are rainproof in less than half an hour. While others can take all day. So, how quickly the product is rainproof is something to consider.
Conclusion
What is the best dandelion killer?
Our best-rated choice is Tenacity Turf Herbicide. This highly effective pre and post-emergent dandelion killer has the added benefits of being safe to use on grass and non-toxic for people and animals.
Related: Best Brush Killer