Removing excess thatch from your lawn is important to help it grow in good health.
But buying a lawn dethatcher can be pricey.
A good alternative is choosing the best dethatcher blade to install on your lawnmower. Giving you the power to dethatch without needing a separate machine.
My recommended choice is the Oregon 18-inch Universal Dethatcher Blade.
This blade can be installed on almost any mower and makes dethatching a consistently easy and affordable process.
The top choices at a glance:
All links lead to Amazon, where you can find more information & customer reviews.
The Best Dethatcher Blade: Reviews
Oregon 690-618-0 Universal 18″ Dethatcher Blade
Slide
Dethatching is almost effortless with the Oregon Universal Dethatcher Blade.
With an 18-inch length, it gets the job done quickly. And it's excellent at pulling up dead matted grass from your lawn. It's also highly effective at removing moss.
It comes with all the hardware you need to install it on your lawnmower. Including a bolt, and a selection of washers and adapters that makes it easy to attach.
The spring tines fit into slots at either end. And after installation on your mower, you just need to adjust the cutting deck until you find the right working height. So you can thatch without stripping your grass to the roots.
The blade is made from heavy-duty plastic with metal spring tines. And customers report that the product is durable and very efficient.
Arnold 21-Inch/ 22-Inch Universal Dethatching Blade For Walk Behind Mowers
Slide
This is the largest dethatching blade on our shortlist at 21-inches. And as it's also universal it will fit the majority of walk-behind lawn mowers that have a 22 or 21-inch deck cutting width.
Brands it's compatible with include: Toro, Poulan, Ego, Snapper, Troy-Bilt, Craftsman, Husqvarna, Honda, Sears, yard-Man, Yard Machines, and many more.
When attached to your machine with the provided hardware you can use it to dethatch, scalp, rake, and cut grass.
Rather than metal springs, this dethatcher blade uses plastic twines to lift up the thatch. These are highly effective at pulling up dead grass and debris when you get the right deck setting on your mower.
Customers say that the blade does a good job of dethatching as long as the grass isn't too deep.
Arnold 16-Inch Dethatching Replacement Mower Blade
This dethatcher blade from Arnold has some important differences compared to the one above.
It's a budget option that's smaller at 16-inches. And comes with metal spring tines that hook into the ends of the blade, which some customers prefer.
As well as being good at removing and loosening dead grass you can also use the blade to mulch leaves when the deck height is adjusted correctly.
But if you just want to gently dethatch your lawn then this might not be the right tool as the tines will also cut the grass down short at the same time. And you need to make sure the settings are right or it will shave all the way to the soil.
It's a universal blade that you can install on mowers from Ryobi, Craftsman, Murray, Bolens, Yard-Man, Huskee, Troy-Bilt, Yard Machines, Poulan, and Lawn Boy.
New Stens 370-019 Power Rake De-Thatcher
New Stens Power Rake Dethatcher is 16-inches long with a 2 ¼ inch blade width.
It's a good choice for loosening and removing patches of dead grass on your lawn. But as it's fairly short, you can expect it to take longer than our top choices for dethatching your entire lawn. This makes it best suited for small lawns and spot treatment.
The blade can be used with most types of mowers as it's universal. And as it's made from metal and comes with metal spring tines it's durable and can get through plenty of hard work. But tines may need replacing from time to time.
Also included with the blade are ⅜-inch, 7/16-inch, and 5/8-inch I.D. washers.
Maxpower 330100 16″ Universal Power Rake/Dethatcher Lawn Mower Blade
This 16-inch lawn mower dethatching blade from MaxPower makes quick and easy work of excess dead grass in your lawn.
It's made of metal and is built to withstand heavy use. It also comes with spring tines and a number of washers that make it easy to install on a variety of mowers.
It doesn't create suction to help you bag the thatch, so it may occasionally clog the motor causing it to stall if you don't pick it up as you use it.
But when used carefully at the right settings most customers are happy with the results.
Choosing A Dethatcher Blade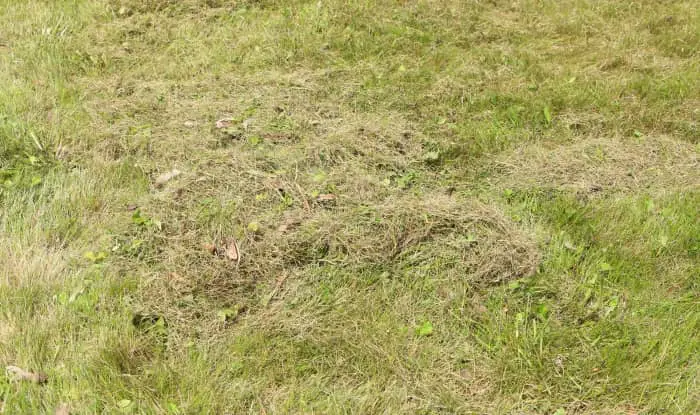 Dethatcher blades aren't very complicated, but there are a few things to consider when choosing the best dethatching blade to buy:
Size
Choosing a dethatcher blade with the right size is important for 2 reasons:
Firstly, it needs to be compatible with your mower. If the cutting deck has less width than the blade then it will be hard to install properly.
And secondly, it's worth considering how big an area you want to dethatch. A smaller thatching blade will take more passes to complete the job, which will take you more time.
For dethatching large lawns it's quicker and easier with a tow behind dethatcher.
The Tines
The tines that come with good dethatching blades are usually of two different types:
Spring tines are made of metal and dig into the thick thatch layer to help remove it. These are quite durable and last a long time. It's easy to get replacements as they wear out through contact with rocks and hard ground.
Plastic twines are a bit more gentle on your lawn. They're also easy to replace, with some people using strimmer line if they want to use a longer twine length.
Is It Universal?
Before buying a dethatcher blade you need to make sure it can be installed on your mower. The sales material for some blades will tell you what brands the product can be used with.
But if in doubt, make sure you get a universal blade. These are designed to be used on a wide range of different mowers and come with the necessary washers and adapters to make installation easy.
Conclusion
If you need to dethatch your lawn and you're on a budget, choosing the best dethatcher blade can be a very effective and affordable option.
My recommended choice is the Oregon 690-618-0 Universal 18″ Lawn Mower Dethatcher Blade. This durable and effective product is a consistently popular choice with homeowners and gardeners. And it's easy to use on a very wide range of lawnmowers, including a walk-behind or riding mower.
If you're interested in a purpose-built machine that can take care of your dethatching then check out our electric dethatcher reviews.