Is a build-up of thatch affecting the health of your lawn?
Grass needs a good supply of nutrients, oxygen, and water to grow. And a thick layer of matted thatch can prevent root uptake.
An easy way to solve the problem is by using the best dethatching rake.
My recommended choice is Bully Tools Leaf and Thatching Rake.
This high-quality and affordable rake makes dethatching an easy task. And it comes with an outstanding lifetime warranty.
The top choices at a glance:
All links lead to Amazon, where you can find more information & customer reviews.
The Best Dethatching Rakes
Bully Tools 92312 Leaf and Thatching Rake
When you want to dethatch your lawn by hand this rake is my top choice.
The head features 24 spring steel tines. And it's attached to a long fiberglass handle that makes it simple to lift up thatch, twigs, rocks, hard debris, and pine cones.
It's a high-quality tool, that's built to last. The triple wall fiberglass makes it flexible, tough, and break-resistant. And the tines are made of commercial-grade steel, so you can rake up hard debris without fear of damage.
The main drawback is that some customers find it to be a bit heavy. So long raking sessions can be tiring for people who are lacking in strength. But you can always view it as a good opportunity for a bit of a workout 😉
Bully Tools is a US company that's committed to making quality products. And it's reassuring to know that even if you do have a problem with the rake that you have a lifetime limited warranty. So if you break the tool during use they will give you a refund or send you a new replacement. You can't say fairer than that.
True Temper 2914000 Adjustable Thatching
This rake from True Temper is great for both dethatching your lawn and cultivating your soil.
The 15-inch rake head features curved steel teeth for when you need to cultivate. And straight steel teeth for dethatching to keep your lawn healthy. You can adjust the rake angle of the head to make it softer or harder on your lawn as you use it.
The 54-inch hardwood handle is strong and sturdy, with no risk of breaking. And a cushion grip at the end makes the rake comfortable to hold and use.
Similar to the rake above, customers comment about the weight. And at 4-lbs it weighs slightly more than the one from Bully Tools.
Ames Self Cleaning Thatch Rake
This 61-inch rake from Ames is made of hardwood, making it strong and durable. And a 10-inch grip at the end makes it comfortable to handle.
The 15-inch head of the rake features curved tines that make it easier to dig in and pull up the thatch and dead grass clippings.
And you can easily adjust the angle of the head by loosening and tightening the screws. Adjusting the head to a steep angle allows you to loosen the topsoil and pull up weeds with a bit of extra effort.
One drawback some customers mention is that the rubber grip isn't glued on and occasionally slips while in use. And using it for long periods can result in blisters — so remember to wear gloves.
At 4.2-lbs it's the heaviest thatch rake on our shortlist so far.
The Groundskeeper II Rake
The Groundskeeper II is a multi-purpose rake that you can use to help take care of your garden and lawn.
It can remove dead leaves from bushes, as well as raking them from your grass. And it can pull up thatch, twigs, sticks, mulch, and even gravel.
It features a 21-inch rake head, 55-inch fiberglass handle, and 28 round and stiff steel tines.
The tines are angled and spring-loaded to make it easy to dig in and rake up without exerting downward pressure. Making it easy to rake while you stand, relieving pressure on your back.
The rake also self-cleans easily. Just turn the head over and pass it once over the ground to remove any trapped debris.
And at 2-lbs this is the best rake for dethatching if you lack strength.
A swivel hanger on the handle makes it easy to hang up and store.
Truper Tools 32120 Tru Tough Thatching Rake
The Tru Tough thatching rake does a great job of combing through your lawn without damaging your grass.
The gray steel head has 19 teeth-like tines that are excellent at raking up thatch. But you have to be careful about applying too much force as they're soft enough to bend under pressure.
But at least you don't have to worry about breaking the handle during use. It's made from North American ash and coated in lacquer to make it strong and durable. And at 54-inches it gives you good reach as you rake.
The head is easy to adjust using the wing nuts on either side allowing you to set it to the perfect angle for your height and raking style.
What To Look For In A Dethatching Rake

Thatching rakes are fairly simple, but there are a few things to look out for when making your choice:
The Handle
How long is the handle? And is it comfortable to use?
A short handle will put more strain on your back as you bend over more.
And it's always nice to have a comfort grip to make the tool easier to wield.
The material of the handle also adds to the weight, with fiberglass handles tending to be lighter than hardwood.
When made to a high quality, they're also more durable. But can be more difficult to replace if they break.
The Head
How wide is the head? And is it adjustable?
A wider head width will make your job quicker to complete. But will also require you to use a bit more strength as you pull it through your grass.
Adjustable heads allow you to alter the angle to make the tool more effective and comfortable to use.
How Big Is The Area You Need To Thatch?
Thatching rakes are well suited for dethatching a small yard. But it does require a lot of exertion.
If you have a large area to dethatch, then it might be best to consider something more powerful and easier to use. Our guide to the best lawn dethatchers will help you find other options.
FAQ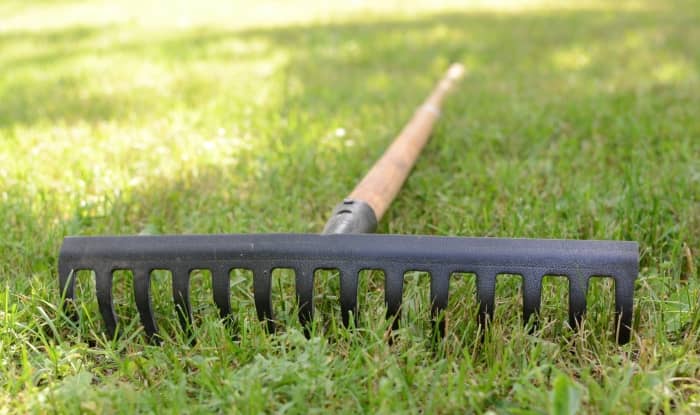 Is Dethatching The Same As Raking?
Raking your lawn helps to clear away debris and leaves, and it can also remove excess thatch.
Dethatching is the specific process of targeting the build-up of dead and matted grass that stops water, oxygen, and nutrients from reaching the soil.
As well as using a manual rake for dethatching, you can also get electric dethatchers to make your life easier.
Can I Use A Regular Rake To Dethatch?
You might be able to remove a small amount of thatch with a regular leaf rake. But it's difficult, and you might damage your lawn.
A dethatcher rake is built for the purpose and has sharp tines that help to pull up the thatch and debris. It's a superior choice.
Are Dethatching Rakes Good?
A well-made dethatching rake is a very effective tool for removing thatch from your lawn.
But, it does require effort to use.  So it's best suited to light thatch and small areas. It's also useful for spot treatment after you've dethatched a larger area with a more powerful tool such as the best tow behind dethatcher.