It's important to remove excess thatch if you want a healthy lawn.
The build-up prevents water, nutrients, and oxygen from reaching the soil. And all are essential for your grass to grow.
Getting rid of that matted layer of dead grass, stems, and roots makes a big difference. With green, strong, and lush growth observed after.
To take care of the job yourself, and save on professional fees, it's a good idea to get the best electric dethatcher.
My recommended choice is the Greenworks 27022 Corded Dethatcher.
This highly-effective and easy-to-use machine makes quick work of most dethatching jobs. And not only is it durable, giving you years of regular use, but it also comes with an outstanding 4-year warranty if anything goes wrong.
The top choices at a glance:
All links lead to Amazon, where you can find more information & customer reviews.
The Best Electric Dethatcher: Reviews
GreenWorks 27022 Corded Electric Dethatcher
This electric dethatcher is my top choice. It's simple to use, effective, and makes dethatching a quick and painless process.
With a 14-inch working width, it's suitable for dethatching small, medium, and large-sized lawns. And 18 tines easily lift up thick and matted thatch as you maneuver the machine. As the tines are stainless steel, they're durable and maintain their sharpness for a long time.
You can adjust the depth to 3 different settings. Allowing you to really dig into thick layers of dead grass. Or to lift the tines out of the way, making it easier to push to a new location before starting work.
Constructed from hard plastic and stainless steel, it's a well-built machine that will get through a lot of work. And at 25.9 lbs provides enough weight for efficient dethatching, while still being easy for most people to move around.
Other features that make it a pleasure to use include an ergonomic handle with padded grips. And an adjustable handle that can be set to the perfect height for comfortable use.
When it's time to store the machine away, the handle folds so the unit takes up less space.
This Greenworks dethatcher also comes with the best warranty of any model on our shortlist. At 4-years it is twice as long as many competing brands.
Sun Joe AJ801E Electric Lawn Dethatcher
This Sun Joe dethatcher and scarifier is a very popular choice with homeowners.
At 12.6-inches the width is narrower than some other brands. Which means it takes longer to complete the job. But it's still a great choice for small and medium-sized lawns.
And it comes with some extra features that not all models have:
To start with, it has 5 depth settings, allowing you to vary depending on the needs of the job, as well as allowing for easy transport.
And it's quick and easy to convert the machine into a scarifier by swapping over the necessary parts using a 10mm socket wrench.
It also comes with an 8-gallon collection bag so you don't have to rake up the dead thatch after you've finished dethatching, saving you time.
The large all-terrain wheels are designed to make it easy to maneuver the machine. But, some customers report that moving the unit over bumpy ground while it's in operation can be difficult.
The Sun Joe AJ801E comes with a 2-year warranty.
LawnMaster GV1314 Electric Scarifier & Lawn Dethatcher
The Lawnmaster GV1314 can take care of multiple problems on your lawn. It's very effective as a lawn dethatcher and scarifier. And it also includes an aerator core to help you aerate areas of soil that are compacted.
It has a 14-inch width, which is fairly standard for electric dethatchers. And a 19-position adjustable dethatching height that varies between -0.39 and 0.19 inches.
Steel tines are powered by a 12.5 amp electric motor. And do a great job of pulling up dead grass, twigs, pine cones, and other debris. Which can be collected as you work in the 10.5-gallon bag that attaches to the unit.
It's easy to start. With a push-button to switch the dethatcher on and off. And although it's one of the heaviest models on our list at 35-lbs, it's still easy for most people to maneuver around their yard. A foam grip and adjustable handle make it comfortable to use.
The product has a 2-year warranty.
Earthwise DT71613 Corded Electric Dethatcher
This electric power dethatcher has a wider working width than most comparable models at 16-inches. Making this a good choice if you want your dethatching jobs to take up as little time as possible.
Powered by a 13-amp motor, it features 45 spring pins that easily loosen up matted grass and lift up debris. The pins are made from zinc-plated piano wires to make them durable and to improve performance.
The adjustable depth varies between -0.4 to 0.4-inches. So you can scratch into the surface of the soil if you feel the need.
A 10-gallon debris collector comes with the dethatcher and is easy to attach to the back of the unit. So you don't need to rake over your lawn after the job.
A bail wire switch makes it easy and safe to start up and turn off again.
The machine comes with a 2-year warranty.
Goplus 2-in-1 Corded Lawn Dethatcher
This 2-in-1 dethatcher and scarifier comes with a 15-inch working width. Making it a good choice for larger lawns.
The 13-amp electric motor offers more power than many other models, giving you an efficient cutting performance. It's also consistent, removing all loose and dead grass, and very little of the healthy grass.
Switching between the dethatcher and scarifier functions is easy — the blades can be changed in just a few minutes.
The tine height adjustment is controlled by a lever that's easy to manipulate while you work. Giving you the choice of 4 levels for working on your lawn with a 5th setting for transport.
Another great feature is an angle adjustment that helps you change the angle of operation when you're thatching on a slope.
The dethatcher is made from durable material with a metal frame and wear-resistant cover. And the dethatching blade is high-quality, made from solid metal with durable springs that don't fall off in use, unlike some cheaper models.
The double safety switch makes the machine easy and safe to start. And the foldable handle makes it convenient to store.
The collecting bag is also the largest of the machines on our shortlist at around 13-gallons.
Sun Joe AJ800E Electric Lawn Dethatcher
The AJ800E is a slightly wider but less powerful version of the AJ801E.
The 11-amp electric motor powers 24 spring steel tines that easily lift up thatch and debris as you push the machine along.
And the 14-inch width means it takes you less time to dethatch your lawn than the AJ801E.
The 5 depth settings allow you to adjust the raking depth between -3mm and 9mm. And a 12-gallon grass bag makes for easy collection, storing more thatch than most comparable units.
But it's still on the small side if you have a large lawn to dethatch, which means you have to stop often to empty it. Consequently, some people prefer to remove it and work without it.
The Sun Joe AJ800E comes with a 2-year warranty.
WORX WG850 Corded Electric Dethatcher
This is a good and reliable electric dethatcher. Similar to some of the other brands on our shortlist, it's powered by a 12-amp electric motor and has a 14-inch width.
The tines can be adjusted to 3 positions between -3mm and 9mm, giving you deeper raking of the soil at the lowest setting, and easy transport on the highest.
And the attached collection bag is good at collecting the thatch and debris. But similar to most other models, customers tend to find it to be a bit small, requiring regular stops to empty it.
A foldable handle reduces the footprint of the unit and makes it easier to store in your garage or trunk.
MARTHA STEWART MTS-DTS13 Electric Scarifier & Lawn Dethatcher
This scarifier and dethatcher has a 13-inch working width, making it a good choice for small lawns.
The 12-amp motor provides enough power for the tines to cut through matted layers of dead grass.
And the 5 depth settings allow you to vary the height of the tines from -0.4-inches to 0.4-inches. Giving you the ability to dethatch, scarify, and easily push the unit over the ground between locations when not in use.
A separate attachment blade for the scarifying comes with the machine and is simple to install.
Also provided is a collection bag that attaches to the back of the dethatcher. But some customers find it to be too small to be practical.
VonHaus Corded Lawn Dethatcher & Aerator
This 2-in-1 dethatcher and aerator combo easily lifts thatch and debris. And with a quick change of attachment, you can penetrate the ground with the aerator.
The 13-inch wide machine has 4 working depths and is powered by a 12-amp electric motor.
The aerator slices into the ground rather than remove a core plug. And as the machine progresses over the lawn it creates a staggered pattern of cuts
This is a very lightweight machine at 22-lbs (9.9 kg) that's easy to pick up, carry, and maneuver around your yard.
A 12-gallon grass box helps you collect thatch as you work for easy disposal.
The box can be removed after you finish work, and the handle can be folded, both of which make the unit easier to store.
Agri-Fab 45-0472 Electric Plug-in Dethatcher
The Agri-fab electric dethatcher has a 14-inch working width and 8-amp motor powering 40 spring steel tines that remove thatch easily and effectively.
A cushioned handle makes the machine comfortable to hold and maneuver while in operation.
But there are also some drawbacks.
Some customers aren't happy with the durability of the unit and quality of the tines.
And there are complaints that the safety switch is in a bad location and is too sensitive.
But another plus is that the electric dethatcher comes with a 3-year limited consumer warranty.
Choosing The Best Electric Dethatcher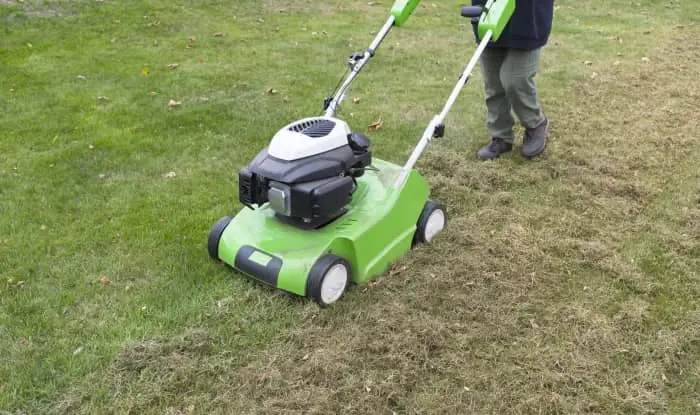 There are many electric dethatchers available on the market. And although largely similar, they do have some important differences.
How do you choose the best one?
Here are some things to consider:
Width
What is the working width of the unit?
The wider the swath it creates with each pass up or down your lawn the quicker you will finish the job.
Most electric dethatchers are similar in size. But if you have a large lawn to dethatch it might be better to get a wider machine.
Power
The number of amps of the electric motor gives you an idea of the power of the machine. This can vary from around 8-amps to 13-amps.
Electric dethatchers are designed to have enough power to do the job. But if your lawn has never been dethatched and has a very thick layer of matted dead grass, twigs, pine cones, etc, to clear, then it might be worth considering a more powerful machine.
The extra power is also useful if the dethatcher doubles as a scarifier or aerator.
Storage
How much space for storage do you have?
Some machines have foldable handles that can reduce the footprint of the unit helping you to store it more easily in a garage or shed.
This is also something to consider if you need to transport the dethatcher in your vehicle.
Warranty
What happens if something goes wrong?
All electrical dethatchers are designed for years of use. But it's good to know that if anything goes wrong the machine is backed by a solid warranty.
It's common to find dethatchers with 1 or 2-year warranties. But some of the best electric dethatchers come with warranties of 3 or 4 years.
Final Thoughts
One thing to remember when choosing to buy an electric dethatcher is that because it runs on electricity you are limited in how far from a power source you can work.
If you have a very large lawn to take care of, you may be better off considering a tow behind dethatcher instead. But for most lawns, electric dethatchers do a great job.
So what's the best electric dethatcher?
My recommendation is the Greenworks 27022. This efficient and reliable model will take care of your dethatching for many years with results you'll be pleased with.