Tilling your garden by hand involves many hours of back-breaking work.
So it makes sense to make life easier by getting the best electric tiller on the market.
Electric tillers are easier to use, quieter, and produce fewer emissions than the larger gas powered tillers.
And they're more affordable. Making them a great choice for tilling small to medium-sized gardens. With their compact size allowing easy access between plants and into raised beds.
Our recommended choice is the Earthwise Corded Electric Tiller Cultivator.
This powerful machine can churn both hard and soft soil, easily cutting through small roots. And with variable depth and width settings depending on the job you need to do. It's reliable, durable, and affordable.
Our top choices at a glance:
All links lead to Amazon, where you can find more information & customer reviews.
The Best Electric Tiller Reviews
Earthwise 13.5-Amp Corded Electric Tiller/Cultivator
Our top-rated selection is the Earthwise corded electric tiller cultivator. This powerful, lightweight, and easy to use machine has proved a big hit with many satisfied customers.
With a 13.5 amp electric motor powering 6 adjustable tines you can till to a depth of 8". But it's possible to go deeper with multiple passes over the same area. And it has an adjustable tilling width of 11" to 16".
It's perfect for preparing your garden for planting, whether it's vegetable beds or flower beds. And it's great for bed cleanup when the season is over.
It's effective at mixing hard-packed soil, improving aeration and water permeability. And it easily cuts through small roots and sod.
It starts easily with a push of the start button and then a squeeze on the lever to set the tines in motion. And it has a safety switch to quickly turn the unit off. But some customers find this to be awkwardly placed.
The 6" transport wheels can be flipped up and down depending on whether you want to dig deep, or just lightly till the surface. And they make it easy to transport to and from storage.
Other useful features include an ergonomic handle, making it comfortable to use, even for long periods.
And a cord retention hook that's effective at keeping the cord out of the way while you work.
With it being so light it's easy to carry and use. But it does jump around a bit on hard-packed ground. But with a bit of effort and a steady grip you can get the job done.
The Earthwise electric tiller comes with a 2-year warranty
Sun Joe TJ603E Electric Tiller
The Sun Joe TJ603E is one of the most popular power tillers on the market.
With a 12-amp motor powering 6 steel angled tines it's ideal for tilling small to medium-sized gardens. Easily preparing your seedbeds ready for you to plant.
The maximum tilling depth is 8" and it has a tilling width of 16". It churns up tough soil without clumping, and slices through thick grass roots.
It's very light at 27 lbs, and its small size makes it easy to maneuver. However the light weight makes it prone to bouncing when it hits an object, so be aware while using it.
The collapsible handle makes it easy to store when you're not using it. However, some customers aren't pleased with the plastic design, as it's slightly flexible rather than completely solid.
The wheel height can be manually adjusted to 3 different settings. Enabling the machine to dig deeper or shallower, or make it easy to transport.
It starts instantly by holding the trigger in the handle. Which has to be kept down as you use it to maintain power.
The Sun Joe TJ603E comes with a 2-year warranty.
Snapper XD 82V MAX Cordless Electric Cultivator
With the Snapper XD, you don't have to worry about trailing a cord around behind you. Because this tiller is powered by a 2 Ah Briggs & Stratton 82V lithium-ion battery.
Giving you 30 minutes of run time when fully charged (even more when you use a 4 or 5 Ah battery). Which is enough time to complete most small to medium garden tilling jobs.
Equipped with an 800-watt brushless motor and a sealed metal gear drive transmission, this tiller has power and durability.
The motor drives 8" tines to a tilling depth of up to 5", easily churning most garden soils.
The machine has a 10" tilling width. But you can reduce this to 5.25" by taking off the outer tines. Making it ideal for tilling in small spaces, around the edge of lawns, and in between narrow rows.
You start it by using a push-button. And large 8" wheels and comfortable handlebars make it easy to steer and control while tilling. You can remove the wheels completely if you want so they don't get in the way as you dig deeper.
You need to buy the lithium-ion battery and charger separately here: Briggs & Stratton 82V MAX Lithium Ion Battery
This product comes with a 5-year limited warranty
Scotts Outdoor Power Tools TC70135S Corded Tiller
Scotts is a well-known and respected brand for its range of high-quality outdoor power tools and gardening products.
This electric tiller is a good choice whether you're tilling small flower beds in your garden, or community gardens and large plots of land. Or even for quick weeding jobs.
It's powered by a 10.5 Amp motor, with 6 steel tines that till to a maximum depth of 8". With enough force behind it that small roots and rocks don't present a problem.
The tilling width is adjustable from 11" to 16" and removing the outer tines to decrease the width is a simple process.
The solid and ergonomic handle makes it comfortable to use. And the 6" flip down rear wheels make it easy to walk the tiller around your garden.
Other features include a push start button and cord retention hook.
It comes with a 3-year warranty.
Mantis 3550 Electric Tiller/Cultivator
Unlike many other electric tillers, this 9 amp tiller cultivator from Mantis gives you the option to select 2 different speeds via fingertip controls. A faster speed for tilling and a lower speed for cultivating.
It's ideal for quickly refreshing your existing flower and vegetable beds. Turning clumpy soil into the right conditions for planting, quickly mixing in compost, and making light work of weeds.
It's compact and lightweight at 24 lbs making it easy to use in small spaces and raised beds. With foldable handles with comfort grips making it simple to store and push around.
The design is flexible but still rigid. Reducing the chance of the tines breaking when they encounter large rocks and solid objects.
The retractable wheels can be set at 3 different heights for depth control of your tilling. With a maximum tilling depth of 8". And the lowest setting that allows the shallow cultivation of the top 1-2" of soil. The machine is 12″ wide.
The Mantis 3550 comes with a 1-year warranty.
Greenworks 27072 Corded Tiller
This compact model is a great choice for small gardens. It's easy to use for tilling raised beds and between narrow rows.
Powered by an 8 amp electric motor, it has a tilling width you can adjust between 8.25"-10". And 4 x 8" forward rotating tines that dig into the earth to a maximum depth of 5".
The machine is capable of a reliable and fast tilling performance. It's capable of working through rocky soil, and quickly churning up sandy soil with thick weed roots.
Adding to its compact size and making it even easier to store, the handle on the unit can be folded down.
The tool comes with a 3-year warranty.
Black + Decker Garden LGC120AM Cultivator/Tiller
This is the second battery-powered tiller cultivator on our list.
The Black + Decker LGC120AM uses a 20V MAX lithium-ion battery. Which holds enough power when fully charged to till 325 sq. ft.
It's a very small and easy to carry machine that's slightly different in design from the other models on our list. There are no wheels to push it around on or to control the tilling depth. Instead, it has an upright design. And as it's exceptionally light for a tiller at 11.73 pounds, it's easy to use for short periods without arm fatigue.
A telescoping tube and adjustable handle give you the ability to adjust the unit to dimensions that are comfortable for you to work with. And it has an auxiliary handle so you can use it with 2 hands if you start to feel tired.
Another nice feature is that it has counter-oscillating tines that stop weeds from becoming entangled around them. A common problem with other electric tiller models.
This one is a good choice for small, quick jobs such as cultivating an existing garden bed or weeding. Or preparing dry spots in your lawn for new seed to be planted. And the two tines are easy to maneuver in small gaps between plants.
But it's not a great choice to use on new ground or hard, compacted soil.
It comes with the battery and charger included. And it has a 2-year limited warranty.
AAVIX AGT307 10 Amp Electric Tiller/Cultivator
A good medium-powered electric tiller at an affordable price, the AAVIX AGT307 comes with a 10 amp motor and 8" steel blade tines. Allowing you to till to a maximum depth of 8.7" and 12.6" in width.
It's a very light unit at 23 lbs. Which does result in the familiar problem of the machine jumping around on hard ground. And it swivels around sometimes when it strikes roots. But it can break up tough soil if you stick with it.
You can easily flip the wheels up and down to transport or for digging to the maximum depth.
It also has a cord hanger attached to the handlebar to keep it out of the way while you work.
Powerworks 60V Brushless Tiller
This is another good lithium-ion battery powered tiller that gives you reliable performance without the limitations of an attached cord.
A 60 volt brushless motor powers 4 steel tines to a depth of 5". Which you can adjust by changing the wheel height to one of 4 positions.
This is a very narrow tiller with a tilling width of 8". Making it a good choice for tilling and weeding in between rows.
Foldable handles help make the design even more compact and easy to store.
But like all lightweight electric tillers, it has problems digging into tough dirt without manual pressure.
The 2.5 Ah battery and charger are included with the tiller. It takes about 2 hours to charge the battery and that provides power for around an hour of work.
The model comes with a 4-year warranty for the tool and 2-year battery warranty.
Troy-Bilt TB154E 6 Amp Electric Garden Cultivator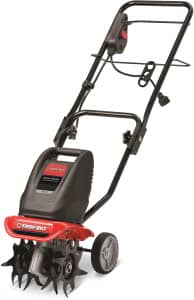 This efficient garden tiller and cultivator from Troy-Bilt is good for tilling and aerating small existing vegetable gardens and flower beds. With some customers also reporting success at tilling through hard dirt and heavy clay.
With a 6 amp electric motor and 4 x 8 inch steel tines it can be used to till the ground up to 5 inches in depth.
The 3-way design of the tines makes them highly effective at digging, tearing, and turning over soil at the same time.
It's another very narrow unit with an adjustable tilling width of 6"-9". Making it good for working between plants and in tight spaces.
The tiller is a robust unit and has a durable gear drive transmission. And it comes with a 2-year limited warranty.
Buying Guide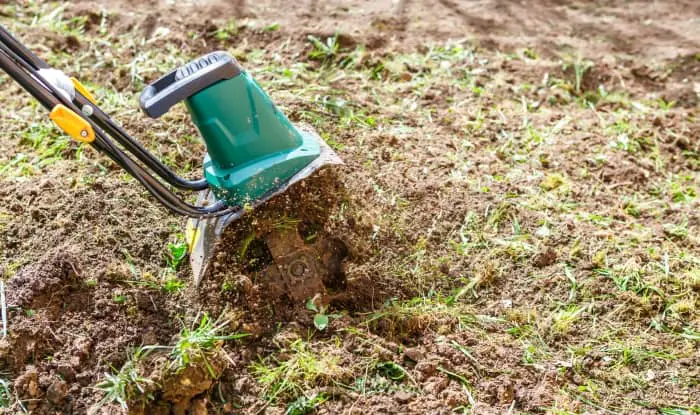 The best electric tillers come with a variety of capabilities and features.
What are the most important things for you to consider before you purchase?
Let's take a closer look:
Corded Or Cordless
The majority of electric tillers work by attaching an extension cord from the mains in your home.
This provides a reliable source of power that enables you to work uninterrupted for as long as you need to.
The one drawback with this is the potential for the cord to get in the way. And it can also limit your movement. Many tillers and cultivators have a cord retention hook to help keep excess cord under control as you work.
But if you want to move freely, then consider getting a battery-powered tiller. These are often not quite as powerful as electric corded tillers, plus they're more expensive. And they only work for a limited time before you need to recharge them. But they're highly portable, and many people choose them for convenience.
Power
Most electric rototiller manufacturers usually tell you how many amps the tiller is. Unfortunately, although power is measured in watts, this number is often unavailable.
But comparing the number of amps does give us some idea of how powerful the machine is likely to be. Anything less than 6 amps, and the unit is probably only good for cultivating and very shallow tilling. 8-10 amps is a standard range, and the higher the number the more powerful it's likely to be.
It's a bit different for cordless tillers. Battery power is usually stated in volts which gives you something to compare. But it's also worth looking at the amp-hour (Ah). The higher the 2 numbers the more powerful the machine is likely to be.
There are more powerful options available than electric tillers, but they usually come at a higher price. Check out the following buying guides:
Tilling Width & Depth
Some electric tillers have a fixed width and others can be adjusted by taking off the outer tines to create a narrower tilling width.
Wider machines till larger areas quicker as it takes less runs up and down to cover the area.
But narrower machines can be very useful for tilling between rows of plants and in raised beds.
Tilling depth is adjusted on many of the best rated garden tillers by setting the height of the wheels. This helps with consistency. Most tillers have a maximum stated depth, but it's often possible to go deeper by flipping the wheels all the way up and tilling the same area repeatedly if you need to.
Warranty
Electric tillers are good value for money and are cheaper than gas tillers, but they're still not exactly cheap. So it's good to know you're covered if anything goes wrong.
Reputable brands offer solid warranties for maintenance and replacements. But there's a difference in length, so it's worth checking how long you're covered for.
Conclusion
Our best rated choice is the Earthwise Corded Electric Tiller Cultivator. It's powerful, reliable, and affordable. With the ability to vary your tilling depth and width to the job at hand. And it's the best electric tiller for breaking new ground.