If you're looking for a big harvest from your citrus trees this year, it's important to use a fertilizer.
And not just any product. But a fertilizer with a nutrient profile that caters to their specific needs.
My recommendation of the best fertilizer for citrus trees is Jobe's Organics Fruit & Citrus Fertilizer.
This organic fertilizer encourages the healthy growth of trees, with increased flowering and fruiting. And builds healthy soil for the longterm.
But if you're growing indoors and the smell of natural fertilizer is a bit much, then we recommend trying the liquid fertilizer by Urban Farm, or the fertilizer spikes by Miracle-Gro or Jobe's.
Our top choices at a glance:
All links lead to Amazon, where you can find more information & customer reviews
The Best Fertilizer For Citrus Trees: Reviews
Jobe's Organics Fruit & Citrus Fertilizer
This 100% natural and organic fertilizer is specially designed for use on citrus and fruit trees. It's an OMRI (Organic Materials Review Institute) listed product. Which is a good credential to look out for if you're interested in organic gardening.
It has a 3-5-5 NPK ratio (Nitrogen-Phosphorus-Potassium). And it's also fortified with 8% calcium, a secondary macronutrient that's heavily used by citrus trees. This will help you to avoid calcium deficiency, which affects tree growth and fruit yield.
While the NPK values might seem on the low side for people used to synthetic fertilizers, because this is organic it also has other benefits.
To start with, the organic material it contains slowly breaks down in the soil to provide micronutrients and secondary macronutrients. Which trees need for optimum growth.
And it's also great for your soil. Not only encouraging the growth of microbes, but also adding extra beneficial bacteria. It also contains mycorrhizal fungi that form a symbiotic relationship with your trees. Enabling the roots to take up more nutrients and water.
And that's not all. Because you'll also be adding a special micro-organism called Archaea to your soil. These are uniquely effective at breaking down complex organic materials. Enriching the soil with a greater amount of available nutrients.
The end result of all this enhanced microbial activity?
Highly biologically active and healthy soil for the long term for your trees to thrive in.
Customers report noticeable improvements in growth within a week of use. With an increased yield as fruit develop.
With just one main drawback:
The fertilizer contains poultry manure, bone meal, and feather meal. So it does have a bit of a smell.
As well as being good for citrus trees such as lemon, lime, and avocado it's also one of the best fertilizers for fruit trees such as apple, pear, or cherry.
You can get this fertilizer in 3 different sizes, 1.5 lbs, 4 lbs, and a big value 16 lbs bag.
Urban Farm Fertilizers Apples & Oranges Fruits and Citrus Fertilizer
This liquid fertilizer is made from a blend of natural ingredients, including bat guano, kelp, worm castings, minerals, and enzymes.
It has a 4.5-2.4-4.2 NPK ratio and contains all the nutrients needed for healthy and optimal growth. It contains added calcium to feed the high demand of citrus trees. And humic acid to improve the availability of nutrients in the soil. With mycorrhizal fungi to increase the nutrient uptake of your trees.
The liquid comes as a concentrate that you dilute before use. With the 1 quart bottle making around 64 gallons of fertilizer. Which is easy to use by dripping, hose-end spraying, and hand watering.
The manufacturer recommends drenching the soil along the drip line of your trees. Or drenching the root ball.
Miracle-Gro Fruit & Citrus Plant Food Spikes
Miracle-Gro is a well-known brand that does a large range of successful fertilizer products.
This one consists of fertilizer spikes, specially formulated for fruit and citrus trees.
They have a 10-15-15 NPK formula.
This contains a high amount of potassium and phosphorus, to encourage your trees to grow, produce flowers, and bear fruit. There's also a large amount of nitrogen, used heavily by trees.
Alongside the high primary macronutrient content, one of the other big selling points of these spikes is their ease of use. You hammer each stick into soft soil around the drip line of your trees. Then they gradually dissolve and breakdown over time, slowly releasing their nutrients.
One advantage of this method compared to other synthetic fertilizers, is that the slow release of nutrients means less is lost from leaching and run-off.
But there are a couple of problems that some people have.
Firstly, not everyone finds them easy to use. With some people complaining that they're brittle, snapping in half easily when forced into the ground. So you really have to make sure the soil is well-watered and soft before using them.
Another issue that has cropped up in a small minority of cases is that the fertilizer is sometimes too strong for people's trees, leading to damage. This can be a problem when synthetic fertilizers are over-applied.
If you're worried about this it's a good idea to use organic fertilizers instead. Although you can still harm your trees if you use some organic fertilizers incorrectly, it's a lot less likely.
The spikes come in a pack of 12, with just 1 or 2 needed per tree.
Jobe's Organics Fruit & Citrus Fertilizer Spikes
Unlike the fertilizer spikes above, these ones from Jobe's are organic and OMRI listed.
The fertilizer is very similar to the Jobe's citrus fertilizer at the top of this list, with a 3-5-5 NPK ratio.
It also contains good bacteria for your soil. Archaea to enrich the nutrient content further. And mycorrhizal fungi to help tree roots take up a greater quantity of nutrients and water.
The nutrients in the fertilizer spikes are released slowly with each spike fertilizing for up to 6 weeks at a time.
According to the company, you should only use these spikes for container grown trees. And as well as citrus you can also use them to grow all other fruit and nut trees.
New growth is usually visible after a couple of weeks of inserting them into the ground.
Are there any drawbacks?
Well, there are a couple. Firstly, they seem to be very appealing to dogs, who might try to take them as a snack.
And similar to the Miracle-Gro sticks, there is a small minority of customers who complain about them damaging their trees.
They come in a pack of 6.
Espoma Citrus-tone Plant Food
Espoma is a company known for its range of organic fertilizers. This one has a good balance of nutrients for citrus trees. But you can also use it to grow other fruits and nuts.
It has a 5-2-6 NPK ratio. And added microbes to improve your soil's health.
It's recommended to use it just 3 times a year, late spring, late fall, and late winter. The slow nutrient release continuously fertilizes for many weeks at a time.
Like other natural fertilizers, it has an unappealing odor. That can take a couple of weeks to go away after it's applied. Making it unsuitable for indoor use for most people.
But as unpleasant as it is to us, it seems that some dogs are attracted to it. So you might find them trying to eat it.
The product comes in a 4 lbs bag.
Dr. Earth Organic Fruit Tree Fertilizer
This well-respected brand makes a number of organic fertilizers. This one's for use on all types of fruit trees, including citrus. And you can also use it to grow berries and fruiting vines.
It has a 5-5-2 NPK ratio and contains all the essential nutrients needed for healthy trees. It also includes probiotic soil microbes and mycorrhizal fungi.
Nutrient release occurs slowly as it breaks down in the soil, fertilizing citrus trees for up to 8 weeks. But many customers see results quickly. With increased flowering and fruiting.
In contrast to most organic fertilizers, this one doesn't have as bad a smell as it doesn't contain poultry manure or sewage sludge.
It's OMRI listed and NON-GMO Project Verified, making it ideal for organic gardening.
The 4 pound bag contains enough fertilizer for a 60 sq. ft. area.
Down To Earth Organic Citrus Fertilizer Mix
This organic 6-3-3 NPK fertilizer mix is both OMRI listed and CDFA (California Department of Food and Agriculture) registered as being suitable for use in organic production.
Although it's designed for citrus trees, it's also great for other fruit and ornamental trees, as well as fruiting vines.
Along with the NPK, it's fortified with the secondary macronutrients calcium and sulfur. As well as a range of micronutrients including iron and zinc. It also contains humic acid.
It's a granular fertilizer made from kelp meal, fish bone meal, alfalfa meal, feather meal. You apply it 3-4 times a year. With the main times being late winter, late spring, and early fall. Apply it along the drip line and mix it into the soil.
The box contains 5 pounds of fertilizer.
Miracle-Gro Shake 'N Feed Citrus, Avocado & Mango Plant Food
This is another of the popular Miracle-Gro fertilizers. This time from their Shake N Feed line.
This one is designed for citrus, avocado, and mango trees. It has a 13-7-13 NPK formula. Which has a high amount of nitrogen for tree growth. And plenty of potassium to produce impressive yields.
It also has a number of secondary nutrients and micronutrients added to it to correct common deficiencies. Including magnesium, sulfur, and iron. But it doesn't contain calcium.
The granules are easy to use and contain fast and slow release nutrients. Giving you quick results, and fertilizing your trees for up to 3 months.
You can get it in 3 sizes: 1.5 lbs, 4.5 lbs, and 8 lbs.
Lilly Miller Citrus & Avocado Food
Citrus & Avocado Food by Lilly Miller has a 10-6-4 NPK formula. The nitrogen is both quick release for fast results, and slow release to fertilize for up to 6 weeks at a time. The company recommends using the product 4 times per year.
It comes in 2 different sizes, 4 lbs and 16 lbs. And if you only have a few trees the larger size will last a long time.
It's simple to use. Sprinkle it around the drip line and then scratch into the dirt. Followed by a good watering. But be careful not to get it on your tree or apply it too close to shallow roots as it can burn them.
Customers report results visible within 1-2 weeks with new leaf growth and flowering, followed by fruit.
A word of warning:
It does contain dried poultry waste. So if you have an indoor Meyer lemon tree it may have a bit too strong an odor to use, if you're sensitive to that sort of thing.
Southern Ag Citrus Nutritional Spray
This foliar spray is a bit different from the products above. It doesn't contain NPK. Instead, it's designed to correct nutrient deficiencies in citrus fruits and tropical fruits such as mango. The elements it contains are Zinc 1.7%, Magnesium 1%, Iron 1.2%, Manganese 1.2%, and sulfur 4.1%.
If you've tested your soil and found it deficient in any of these, then this is good choice to correct it.
Customers report results within days of using it, with plants visibly perking up. And an increase in fruit production within a few weeks. It can even bring old lime and lemon trees that are struggling back to full health.
It comes in a 16 oz bottle that goes a long way. You just need 1 tablespoon per gallon of water.
But be careful when using it. It severely stains masonry, painted surfaces, and concrete.
Choosing The Best Citrus Fertilizer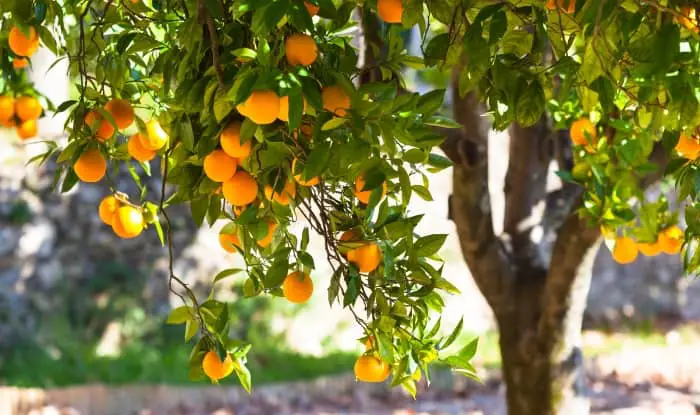 There are many fertilizers available on the market. How do you find the right one for you?
Here are some things to consider before you buy:
The Nutrient Profile
Citrus trees have their own nutrient requirements. So although a top rated fertilizer for trees and plants will probably help you, it's better to get one that's specifically aimed at giving citrus what they need.
When looking at the packaging of a product you'll usually see 3 numbers, such as 6-3-2. These numbers show you the percentage of NPK (Nitrogen-Phosphorus-Potassium) in the fertilizer.
So, in a 30 lbs bag of 6-3-2 there's 1.8 lbs of Nitrogen, 0.9 lbs of Phosphorus, and 0.6 lbs of Potassium.
These are the primary macronutrients. They're needed by plants in the greatest quantity as they grow.
Also needed are the secondary macronutrients calcium, magnesium, and sulfur in smaller quantities.
And a number of micronutrients, that are just as essential, but required in even lesser amounts. Such as iron, boron, copper, molybdenum, and zinc.
The nutrients are often present in sufficient quantity in your soil for your trees to grow. But it's a good idea to add extra to promote optimal growth and health, and fix any deficiencies.
Citrus trees are heavy feeders. Nitrogen is the element used in the largest quantity for growth, development of green leaves, flowering, and the production of fruit. Potassium is also used in large quantities, and using a fertilizer that supplements it will help to increase your fruit yield and quality.
Calcium is another nutrient that citrus trees use heavily. By weight, it's the most abundant mineral element, making up about 1% of the total dry tree weight. If the tree doesn't get enough calcium then citrus fruit growth and yield will be affected. So it's a good idea to get a fertilizer with extra calcium added.
If you're not sure what the nutrient composition of the soil in your garden is, it's a good idea to do a soil test. You can get a soil testing kit to see if there's anything in particular it's lacking.
Another good thing to look for in your fertilizer is the presence of slow release nitrogen. This fertilizes over a period of time and leads to consistent growth.
Quick release nitrogen produces results fast. But because it's water soluble it's lost from the soil quickly as well. Which means you have to fertilize citrus trees more regularly.
Organic Citrus Tree Fertilizer Or Synthetic?
Fertilizers come in 2 different types: organic and synthetic. They both have advantages and disadvantages.
To start with, synthetic fertilizers usually have a larger amount of NPK in them. And being water soluble, they are easily available for root uptake. This often leads to fast and impressive results.
However, they can be lost from the soil quickly, which means you have to apply them more regularly. And they don't do anything to improve the long-term quality of the soil.
Runoff of synthetic fertilizers containing high levels of phosphorus can also cause environmental problems. In particular causing the eutrophication of streams, rivers, and lakes. 
In contrast, organic fertilizers consist of organic matter that breaks down slowly. Gradually releasing nutrients over a long period.
It encourages the growth of beneficial soil bacteria and earthworms. Leading to biologically healthy soil in the long term. With better composition, water holding capacity, drainage, and aeration.
In a nutshell:
If you're looking for fast results during the growing season at an economic price then synthetic is often the way to go.
But if you're interested in organic gardening and building soil health to help with your growing efforts in the long term then choose an organic fertilizer.
Conclusion
Getting a fertilizer with the right blend of nutrients is important for increasing the growth and fruit harvest of citrus trees such as lemon, lime, orange, grapefruit, and avocado.
We recommend Jobe's Organics Fruit & Citrus Fertilizer as the best fertilizer for citrus trees. It contains the full range of nutrients needed for healthy growth. As well as added microbes to improve the health of your soil. And it's ideal for organic gardening if that's your thing.