If you're hoping to grow more fruit this year then there's one simple fact that's hard to ignore:
Using a good fertilizer can be the difference between a tree that struggles to produce and more fruit than you know what to do with.
But not just any fertilizer will do. Fruit trees have their own nutritional requirements. So in this review, we take a look at the best fertilizer for fruit trees available on the market.
Our recommended choice is Dr. Earth's Organic Fruit Tree Fertilizer. This 100% natural and OMRI listed fertilizer increases fruit yield while building healthy soil for the long term.
Our top choices at a glance:
All links lead to Amazon, where you can find more information & customer reviews.
The Best Fertilizer For Fruit Trees Reviews
Dr. Earth Natural Wonder Fruit Tree Organic Fertilizer
Dr. Earth is a well-respected brand with an impressive range of organic fertilizers. This one is specially formulated for use on fruit trees. But it's also good for most fruit bearing plants including berries and fruiting vines.
The fertilizer has a 5-5-2 NPK ratio (Nitrogen-Phosphorus-Potassium), and its nutritional benefits don't stop there.
It also feeds your fruit trees with all the essential micronutrients. And contains probiotic soil microbes that enrich your soil by breaking down plant material and releasing nutrients.
Another big plus is mycorrhizal fungi that form a symbiotic relationship with plant roots.
These fungi grow through the soil obtaining nutrients over a large area. Transferring them to the tree, helping it to grow strong and healthy and produce a greater yield of fruit.
As it's organic fertilizer, the nutrients it contains are released gradually as the organic matter breaks down. So it fertilizes your trees slowly and steadily for up to 8 weeks.
Despite this, many customers report fast results. And it can even bring old trees that have stopped bearing fruit back to life, encouraging them to flower and fruit once again.
Are you concerned about the smell of a natural fertilizer?
Well, you don't have to be with this one. Unlike many organic fertilizers, it doesn't have an offensive odor because it doesn't contain animal waste or sewage sludge.
The product is OMRI listed and Non-GMO Project Verified.
It comes in a 4 pounds bag that you can use for fertilizing a 60 sq. ft. area.
Urban Farm Fertilizers Apples & Oranges Fruits and Citrus Fertilizer
This concentrated liquid fertilizer has a 4.5-2-4.2 NPK ratio. Which might seem low, but it doesn't tell the whole story. Because if dried it's the equivalent of about a 16-8-16 ratio according to the manufacturer.
It's made from organic and natural components, including worm castings, kelp, bat guano, enzymes, and minerals. And contains a blend of all the essential micronutrients needed for the growth of fruit trees. Including fortification with calcium, used in high quantities by citrus.
Humic acid is added to improve nutrient availability in the soil. And mycorrhizae to help the trees access these nutrients.
You dilute the concentrate with water before use. Which makes it easy to use for hose-end spraying, dripping, and hand watering. With the recommended method of application being a soil drench around the tree drip line, or drenching the root ball.
Customers report impressive results. With fast growth, healthy looking trees, and increased fruit yield.
The 1 quart bottle of concentrate makes 64 gallons of fertilizer when you dilute it.
Jobe's Organics Fruit & Citrus Fertilizer
This organic fertilizer is for use on any type of fruit tree. Citrus trees such as lime, avocado, lemon, and orange. As well as fig trees, apple trees, plum, pear, and cherry. You can also use it for all nut trees.
It's OMRI listed, making it a good product to use for organic gardening as long as you don't mind the smell. The granules consist of feather meal, bone meal, and composted poultry manure. So you might not want to use it for indoor fruit trees.
It has a 3-5-5 NPK ratio. And it also contains 8% calcium. This is an important nutrient for citrus trees, as they need a lot of it. And deficiency will stunt tree growth and reduce fruit production.
The fertilizer also provides beneficial soil bacteria. And mycorrhizal fungi that help trees to increase their nutrient uptake.
A unique ingredient in this fertilizer, that most options on the market don't contain, are microorganisms known as Archaea. These have a special ability at breaking down complex matter. Resulting in soil that's richer in available nutrients.
Customers are mostly impressed with the results. With improvements first noticeable within a week, and an increase in fruit yield in the following weeks.
The bag comes in 3 sizes: 16 lbs, 4 lbs, and 1.5 lbs.
Miracle-Gro Fruit & Citrus Plant Food Spikes
These fertilizer spikes have a 10-15-15 NPK formula.
This is high in phosphorus and potassium, the essential elements most needed for flowering and fruiting. And it has a good amount of nitrogen for tree growth.
One of the great things about them is that they're easy to use. You hammer them into soft, wet ground along the drip line of your trees. Where they slowly breakdown, releasing their nutrients into the soil.
This slow release of nutrients means that the nutrients aren't leached from the soil quickly. Which can be a drawback of liquid synthetic fertilizers.
Customers report increased growth and fruit yield.
But, there are some negatives.
Some people find that the spikes are brittle. So the ground needs to be very soft when you hammer them in. Remember to water the ground well before you try.
Another problem that a small minority of people have is that the fertilizer ends up being too strong for their tree and causes it harm. This can sometimes happen with synthetic fertilizers that are over-applied or used incorrectly. So be careful when using these. If you're worried about this happening then it's best to go organic instead.
The fertilizer spikes come in a pack of 12.
Miracle-Gro Citrus, Avocado, & Mango
Miracle-Gro is a well known and respected brand with an extensive line of popular plant fertilizers for trees and bushes.
This product is for citrus, avocado, and mango trees and comes in a 13-7-13 NPK mix. Featuring a good amount of nitrogen for tree growth, and potassium to increase fruit yield.
It also includes many essential micronutrients and secondary macronutrients including magnesium, sulfur, and iron. This helps correct common deficiencies.
The granules contain both slow and fast release nutrients. Leading to quick growth and continuous fertilization for up to 3 months at a time. The company guarantees that it won't burn your trees if you follow the instructions.
You can use it for new or existing trees. And it's a good fertilizer for fruit trees in containers or in the ground.
It comes in 3 sizes: 8 lbs, 4.5 lbs, and 1.5 lbs.
Espoma Tree-Tone Fruit & Shade Tree Food
This 100% natural and organic fertilizer is good for planting and feeding all fruit, shade, and ornamental trees.
It has an NPK ratio of 6-3-2. And also contains a wide range of micronutrients, including added calcium, making it a complete source of nutrition.
As it's an organic fertilizer, it's broken down slowly in the soil. Gradually releasing its nutrients and fertilizing the soil over a long period.
It contains no sludges, toxic, or hazardous material. But it does contain animal waste, and has a slightly unpleasant smell. But it's no worse than most organic fertilizers.
It comes in a 4 lbs bag of granules, that are easy to spread and don't blow away in the wind.
Jobe's Organics Fruit And Citrus Fertilizer Spikes
These fertilizer spikes are only for use with container grown fruit trees such as apple, avocado, plum, lemon, lime, pear, and peach trees. You can also use it for container grown nut trees.
They have a 3-5-5 NPK ratio, with the nutrients released continuously and slowly after you insert the spikes into the soil. With each one fertilizing for about 4-6 weeks.
Also included in the mixture are beneficial bacteria for the soil, mycorrhizal fungi, and Archaea.
Customers report visible new growth within a couple of weeks of using the spikes. With green foliage and an increase in fruit. But there are a couple of drawbacks.
Firstly, some dogs might find the sticks appealing to eat. So you have to keep a careful eye on them.
Secondly, although the majority of customers are happy with their results, there is a small minority of people who report that the spikes were too strong for their trees. Which is surprising from an organic fertilizer.
The product is OMRI listed and suitable for organic gardening. And they come in a 6 pack with a resealable pouch.
Espoma Citrus-tone Plant Food
This natural and organic fertilizer has a 5-2-6 NPK ratio and is designed for use on all citrus and nut trees. But it works well for most fruits, including berries such as blackberry and raspberry.
In addition to the NPK, it also contains secondary nutrients and micronutrients for healthy growth. As well as beneficial soil microbes to enhance the health of your soil.
You apply it 3 times per year for best results, in late winter, late spring, and late fall. With the slow breakdown of the organic matter releasing the nutrients continuously.
The main drawbacks of this fertilizer are to do with the smell.
As it's a natural fertilizer which includes poultry manure, it does have an unpleasant odor. And it can take a couple of weeks to disappear. So it's not good to use indoors if you have a sensitive sense of smell.
But dogs are sometimes attracted to it. So keep an eye on your pets in the days after applying it to make sure they don't eat it.
It comes in a 4 lbs bag.
J R Peters Jacks Classic Citrus Food Fertilizer
This synthetic fertilizer has a 20-10-20 NPK ratio. With a high level of nitrogen for tree growth, and high potassium to encourage a high quality fruit yield.
Specially formulated for citrus trees, it also has many essential micronutrients. But surprisingly, it doesn't include the important secondary macronutrient calcium. Although most soils usually have enough, citrus trees do need a relatively large amount of calcium to grow to their full potential.
The fertilizer comes as a powder that you mix with water before application to the soil. And as there's no unpleasant odor with this fertilizer, it's a good choice for growing a Meyer lemon tree indoors.
Customers report increased growth, flowering, and fruiting after several weeks.
The product comes in a 1.5 lbs tub.
Ross Fruit & Nut Tree Fertilizer
This fertilizer comes in small sticks designed for use with the Ross Root Feeder.
It has an NPK ratio of 9-46-15. With a very high level of phosphorus, which encourages trees to produce flowers and fruit, and is important for root development.
This is a much higher level of phosphorus than you find in most fertilizers. And you sometimes have to be careful about phosphorus in fertilizers, because it can be an environmental pollutant when runoff gets into water sources like rivers, lakes, streams, etc.
But this is less of a concern with this product, as the root feeder system helps to reduce fertilizer run-off.
Are there any drawbacks?
One thing that stands out is that you can't use the fertilizer on its own. You will need to get the Ross Root Feeder.
This is a device that you press down into the ground around the drip line of your tree. You put a fertilizer stick in the chamber and then attach it to your hose.
You can use the feeder to fertilize all your trees and shrubs. And there are different varieties of fertilizer sticks also available: tree & shrub, evergreen trees & shrubs, rose & flowering shrubs.
The fertilizer comes in 3 different size boxes, of 54, 36, and 12. And you can buy the feeder system on Amazon as well.
Choosing The Best Fruit Tree Fertilizer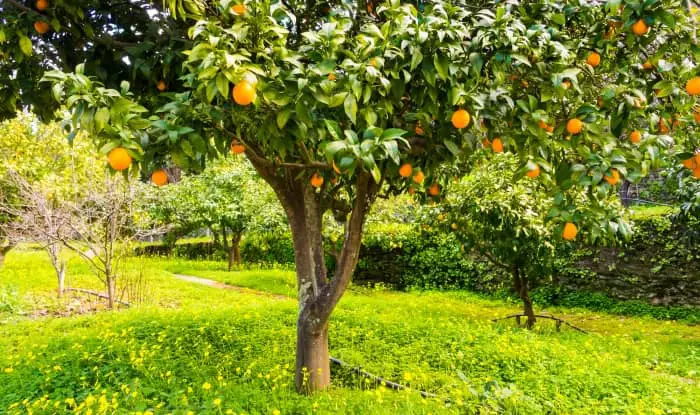 Fertilizers for fruit trees come in a number of types and have different nutritional profiles.
These are some of the important things to consider when choosing a product.
The Nutrients
Fruit trees use a lot of mineral nutrients from the soil. In particular, they are heavy users of the primary macronutrients nitrogen, phosphorus, and potassium. These are represented by the initials NPK. And you will see 3 numbers on bags of fertilizer that represent the ratio of these nutrients in the product as a percentage of the total weight.
So, in a 10 pound bag of 20-10-20 fertilizer, there are 2 pounds of nitrogen (N), 1 pound of phosphorus (P), and 2 pounds of potassium (K).
Each of the primary nutrients has an important role in the development of your fruit tree:
Nitrogen:
Large quantities needed for successful growth
Phosphorus:
Required for strong root development
Encourages the blooming of flowers
Potassium:
Increases fruit production
Needed in adequate quantity for the best quality fruit
Fruit trees also use a lot of secondary macronutrients such as calcium, magnesium, and sulfur. And a smaller quantity of micronutrients, such as zinc, iron, boron, and manganese. And while your soil usually has enough of these for your trees to grow, it's a good idea to get a fertilizer to supplement more, preventing any deficiencies of elements that your soil may be low in.
In particular, citrus fruits use a lot of calcium. So the best fertilizer for citrus trees will be fortified with extra.
Organic Or Synthetic Fertilizer
You can choose to use either an organic fertilizer or a synthetic fertilizer. They both have pros and cons.
Synthetic fertilizers usually contain a higher quantity of NPK, and are easily water soluble. Making it easy for your trees to obtain the nutrients quickly. This can lead to fast and impressive results.
But they leach from the soil quickly. So you need to apply them more often.
They also don't do anything to build the long term health of your soil.
In contrast, organic fertilizers have lower levels of NPK. But the organic matter they consist of encourages the growth of microbes and earthworms. Leading to a more biologically active soil with better composition, texture, drainage, and aeration. This encourages healthy root growth and better nutrient uptake.
They release their nutrients slowly as the material is broken down. And unlike synthetic fertilizers, you don't have to worry about them damaging your plants.
They are often fortified with bacteria and fungi that increase nutrient availability for your trees.
Many people also prefer organic gardening when growing fruit and vegetables for consumption.
To sum it up:
If you're looking for fast results at an affordable price, then synthetic fertilizers do a great job.
But, if you want to build a healthy, nutrient and microbe rich soil for the long term, then organic gardening is the best choice. And although compost helps, a good organic fertilizer will improve your results.
The Type Of Fertilizer
You can buy fertilizers in a few different forms:
Liquid fertilizer is easily available for root uptake. Which helps to produce fast results. Many synthetic fertilizers are liquids. And as mentioned above, the disadvantage is the way they leach from the soil.
Both organic and synthetic fertilizers are available as granules. These are usually spread around the soil near the tree, often just under the surface of the soil. When watered they slowly breakdown, gradually releasing their nutrients. If the granules contain synthetic fertilizer, they usually have slow-release nitrogen in the mix to prolong the fertilizing.
You can also get fertilizer spikes. These are easy to use for fruit tree fertilizing. You just hammer them into the ground, usually along the dripline of the tree. They dissolve and release their nutrients slowly.
Final Thoughts
If you're looking to increase your harvest in the growing season, then getting a high-quality fertilizer that can enrich the soil in your garden is the most effective thing you can do.
Our recommended choice of the best fertilizer for fruit trees is Dr. Earth Natural Wonder Fruit Tree Organic Fertilizer. It's perfect for organic gardening. And builds healthy and productive soil by adding the full range of necessary nutrients, as well as beneficial soil microbes. And unlike most natural fertilizers, it doesn't have an unpleasant smell because it doesn't contain any animal waste.