Tilling a garden by hand is hard work.
It can take many hours with a shovel. And a great deal of physical strain.
Fortunately, you can save most of that time and effort by getting the best front tine tiller.
Our top choice overall is the Earthquake 20015 Versa FTT.
This compact, powerful, and easy to use unit makes quick work of garden tilling. It also has the build quality and affordability to give you great value for money.
The top choices at a glance:
The Best Front Tine Tiller Reviews
Earthquake 20015 Versa FTT
Our top recommended choice is the Earthquake 2015 Versa Front Tine Tiller.
This well-built and durable machine offers great power and performance at a high-value price.
Although it's small, it still offers the performance and power that you'd expect from much bigger models. And tilling is a quick and easy process on most soil types.
It's powered by a 4-cycle 99cc Viper engine. Making it more fuel-efficient, less noisy, and easier to operate than a 2-cycle engine.
The tines easily cut through the ground tilling to a depth of 11". With a drag stake to maintain tilling consistency. And you can adjust the tilling width between 11", 16", and 21".
Its compact design makes for easy maneuverability on its 8-inch wheels. And with its perfect balance and low center of gravity, it easily hugs the ground for efficient tilling.
This compact design also has the benefit of making it easy to steer around curves, in and out of tight corners, and other small spaces. So no matter what the dimensions or layout of your garden you'll be able to till the areas you need to.
Additional features that make it easy to use include bicycle-style handlebars that you can adjust to suit your height. A throttle control built into the handlebars that allows you to change the power output depending on the ground you're trying to till.
And if you just need a tiller cultivator for the job at hand, you can quickly remove the outer tines and shields without the use of tools.
The cast aluminum gear transmission makes this a durable unit that will give you many years of use.
But just in case you have any problems, it comes with a 5-year warranty.
Champion Dual Rotating Front Tine Tiller
This model is a great choice for preparing vegetable gardens and flower beds. As well as weeding in between garden rows, mixing in compost, and loosening the soil to allow aeration and water to get to plant roots.
The 4-cycle 212cc engine provides the power to get stuck into tough ground, transforming it into good planting soil. And it's CARB compliant and EPA certified.
It features an adjustable width ranging from 16"-22", with the outer tines being easy to add and remove. The 4 x 13" hardened steel tines are dual rotational, and make it easy to till the ground up to 8" in depth.
The handle controls and easy-adjust depth gauge make it simple to operate. And it has forward and reverse gears, although it won't till in reverse. The 8" wheels make for good balance and maneuverability in wet soil and on uneven ground.
The Champion front tine tiller comes with a 2-year limited warranty, and lifetime technical support.
YARDMAX YT5328 Compact Front Tine Tiller
YARDMAX is a popular brand with many gardeners, known for a range of quality and affordable outdoor power tools.
The YT5328 is a popular tiller that's a great choice if you have a small or medium-sized garden.
The 4-cycle 79.77cc engine is powerful enough to tackle most jobs on soft soil or previously tilled soil. And it's fuel-efficient, environment friendly, and quiet to use.
The tilling width is variable, with options to set it at 11", 16", and 21". With an adjustable tilling depth from 7-11 inches. With a drag stake to maintain the consistency of depth.
Similar to the Earthquake 20015 it has a very low center of gravity, allowing it to hug the ground as it tills. And the compact design makes it easy to use between garden rows and in tight spaces.
The 8-inch wheels help you to move the unit over uneven and rocky terrain. And provide traction when steering on soft and wet soil.
The lightweight design and self-propelled tines make this an easy front tine tiller for most people to use regardless of age and strength. And it has height-adjustable handlebars that can be set in 3 positions to make it easier to steer.
The rust resilient design is aimed at making the machine highly durable. But some customers still have doubts about the build quality and durability of the unit.
The transmission is a ball bearing gear drive, making it a good choice for prolonged use.
YARDMAX offer a 2-year residential, 90-day commercial warranty.
Troy-Bilt Colt 208cc Forward Rotating Front Tine Tiller
This Troy-Bilt tiller comes with a 4-cycle 208cc OHV engine with a chain drive transmission and a standard recoil start.
The machine has one forward speed. And features forward rotating steel tines that can till up to a depth of 7 inches.
The tines have a bolo curve design, allowing it to chop and slice through tough soil as it pulls the unit through the soil. Creating richly tilled paths with just a single pass over the ground. And making it suitable for breaking new ground, although not as effective as a powerful rear tine tiller.
A drag stake maintains tilling depth and consistency. And it has an adjustable tilling width with 13", 22", or 24" settings.
The 8" wheels make it easy to maneuver. And a comfy handle grip makes steering and using the machine more comfortable.
If you don't have a lot of storage room, the plow style handle folds down to make the machine easy to store.
The Troy-Bilt Colt comes with a 2-year limited warranty.
Husqvarna TF224, 208cc Front-Tine Tiller
Husqvarna has a strong reputation for making premium outdoor power tools. If you're looking for power, reliability, and a heavy-duty build, and are willing to pay extra for quality, then this might be the tiller for you.
It features an easy start 208cc engine and liquid combustion technology. It's EPA and CARB approved.
Standard rotating tines till to a depth of 6.5". And the unit has a tilling width of 24", making it a great choice to quickly till large spaces.
A drag bar helps to maintain tilling depth, and help with balance and stability as you maneuver the machine. And it has both forward and reverse gears, changed with one switch of a lever located near the handle.
With removable wheels and carrying handles, it's easy to transport this machine between locations in the back of a vehicle. But you'll need to be able to manage the 100 lbs weight.
It comes with a 3-year warranty.
Southland Outdoor SFTT142 Front Tine Tiller
Southland is a well-known and respected brand at making outdoor power tools. And their front tine tillers are popular sellers with homeowners and gardeners.
This model is a great choice if you're looking for an affordable, powerful, and compact tiller for your garden.
The 4-cycle 150cc engine is sturdy and durable. And the machine features a gear drive transmission system with a Poly-V belt system for extra durability and longer life.
And if you're concerned about the environment, you'll be pleased to know that the engine is EPA and CARB certified.
Tilling width is adjustable between 11", 16", and 21". And the 11" self sharpening tines have a tilling depth of up to 8". This is enough depth for most of your garden needs. And the 4 metal tines are self-sharpening, strong, and durable.
For easy maneuverability over uneven and wet terrain, the machine is equipped with 6.5" rear tires. And it comes with a swing tail, drag stake, and folding loop grip handles.
The small and compact design makes it lightweight and easy to store without taking up too much space.
The machine comes with a 2-year warranty.
Cub Cadet FT24 Front Tine Tiller
The Cub Cadet FT24 is a perfect choice for homeowners who are looking to till flower beds and gardens of up to 2,500 sq. ft.
With a 208cc 4-cycle OHV engine, it's got plenty of power, closer to some of the larger rear tine rototillers. And can break up compact and heavy soils.
However, as it's fairly light at 100 lbs, it does jump around occasionally when it encounters roots. But it still manages to eat through them.
It has 3 width settings: 13", 22", and 24". And comes equipped with 12" forward rotating steel tines that have a maximum working depth of 6.5", and 6 depth adjustments. And it has a belt engagement clutch that allows you to stop the tines without slowing or stopping the engine.
The plow style handles give you good control while steering the self-propelled unit. With just one hand necessary as you guide it on its 8" pneumatic wheels.
It's made from stamped steel construction to give it great durability. With a cast-iron drive with bronze gears.
It comes with a 3-year limited residential warranty.
Dirty Hand Tools 101571 Adjustable Front Tine Tiller
This small and versatile dual rotating front tine tiller is ideal for working in smaller gardens. The 15" tilling width makes it easy to till in between rows, around your lawn, and to maneuver in tight spaces.
The 149cc engine is easy to start and provides enough power to till most garden soils. And it's EPA approved and CARB compliant.
The counter-rotating tines have a tilling depth of 10". And easily chop up most soil types without fuss to create finely-milled and well-aerated soil ready for planting.
The tines can also be used as forward rotating for when you just want to weed or mix in compost and vegetation at the end of the season. Helped by an adjustable depth regulator to keep the right depth for the job.
It features 6" treaded wheels designed for stability when moving over difficult ground. But, some customers report handling issues due to the wheels being close together.
Storage is easy because of its small size and folding handlebars.
The handlebars also have a throttle control attached and a safety control lever for easy and safe use of the machine.
Buyer's Guide: Choosing The Best Front Tiller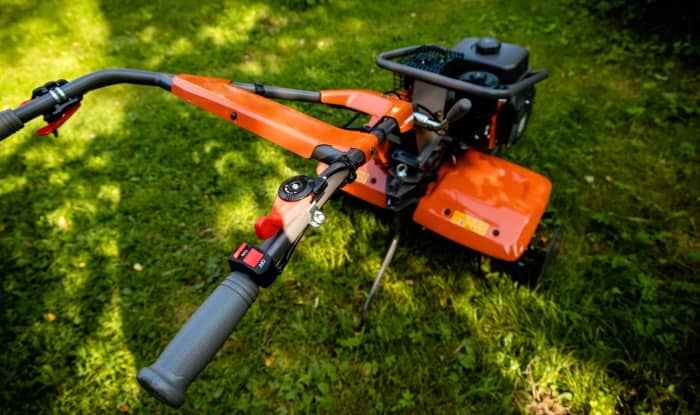 Choosing the best front tine tiller depends a lot on your intended use. For example:
Do you need it to till large areas?
If so, you might be better off getting a wider unit that can complete the job quicker.
Do you need it to break new ground? Or is it for an already established vegetable garden or flower bed?
This will change your power and tine requirements.
There are a number of things to consider when making your choice.
Let's take a closer look:
Engine
Gas powered tillers are far more powerful than electric. An electric tiller is more like a cultivator, and only suitable for light work.
So the best front tine tiller will usually have a 2-cycle or 4-cycle engine (also sometimes referred to as 2-stroke and 4-stroke).
Although 2-cycle engines are lighter and sometimes produce more power, they're also noisier, have more fuel emissions, and are less efficient. You also have to mix the oil and fuel together yourself.
For this reason, 4-cycle engines tend to be more popular with homeowners and gardening enthusiasts.
All of the top front tine tillers on our list above are 4-cycle.
The other key thing to consider is how powerful the engine is. High-quality front tine rotary tiller engines range from around 79cc to 250cc.
The more power the better suited the machine is likely to be for breaking new ground and compact soil.
But if you need to use it for tilling soft soils and already tilled ground then the lower end of the range will be perfectly adequate.
Tines
The best garden tiller brands come with 3 different types of tines:
Forward rotating (or standard rotating) tines turn in the same direction as the wheels. This is the best type to choose if you only want to till to a relatively shallow depth of 5" or less.
Counter-rotating tines rotate in the opposite direction to the wheels. These dig into the ground deeper and harder than forward rotating tines, and are a better choice for breaking up tough and compact soil.
Some machines on the market come with dual rotating tines, that allow you to select whether you want to use them as forward rotating or counter-rotating. These units are the most versatile.
Tilling Width & Depth
You also need to consider how deep into the soil the tines can dig.
Some tillers come with an adjustable setting that allows you to till different depths. But they all have a maximum depth.
If you're starting a brand-new plot or the soil is particularly heavy, you might want to get a good tiller that digs a bit deeper. Some tillers can dig up to 11" in depth.
Whereas for tilling an area that's previously been tilled, or for weeding and mixing in compost, a shallower depth is all that's required.
It's also worth considering the tilling width. With a wider tiller, you can cover a large garden quickly. Whereas a smaller tiller is better for tilling between narrow rows and into small spaces.
On the best front tine tillers, the tilling width is adjustable. Allowing you to take off the outer tines to narrow the width.
Weight
There are advantages and disadvantages to having a heavy front tine tiller.
On the one hand, the extra weight can help a machine to do a better job of breaking up tough ground.
But to push it to and from your storage area, or hauling it in and out of a truck or trailer to transport it around, then it will need to be a weight you can manage.
Front tine tillers usually range between 100-130 pounds in weight.
Related: The Best Tillers For Breaking New Ground
Drag Stake
Also known as a drag bar. This is found at the back of the tiller.
Its purpose is to drag in the soil, acting as a brake that slows the forward momentum of the tiller and helps you to have greater stability and control while tilling and turning.
You can usually adjust the depth of the drag stake to your needs. And this helps to set a consistent depth of tilling.
EPA Certified & CARB Compliant
If you care about the environment, or live in California, this is important to look out for.
A product that's CARB compliant has cleaner emissions than one that's just EPA certified.
Warranty
The best front tine tillers aren't cheap, so look for a company that provides a good warranty.
It provides peace of mind to know that if anything goes wrong with the model you select that the company has a good warranty that allows you to get free replacements or repair work.
Storage
Consider the storage space you have available for keeping the tiller.
If you're short on space, then consider getting a front tine tiller with folding handles. Alternatively, you might like the best small rototiller instead.
Conclusion
Manual tilling is hard work. It's far easier and convenient to get a tool that can do the job.
So, what is the best front tine tiller for the money?
Our best rated rototiller is the Earthquake 20015 Versa FTT. This affordable and well-built tiller has the power to tackle most garden tilling. And comes in a compact unit that's easy to maneuver and use.
But if you're looking for a premium brand with more power then we recommend the Husqvarna TF224.