Are you ready to prepare your soil for planting?
Then it's time to get tilling.
You could do it by hand. But it takes a long time, and it's hard work.
So it makes sense to get the best garden tiller to turn the job into a quick and pleasant experience.
For small gardens, we recommend the Earthwise Electric Tiller.
This easy to use and lightweight machine can take care of most tilling jobs and comes at a great value price.
But if you're tilling medium to large-sized plots, and particularly if you're breaking new ground, we recommend the YARDMAX Rear Tine Tiller.
And if you're looking for something in the middle of these in terms of power and performance then check out the Earthquake Front Tine Tiller.
Our top choices at a glance:
All links lead to Amazon, where you can find more information & customer reviews.
The Best Garden Tiller Reviews
Earthwise TC70016 Corded Electric Tiller
Specifications:
Tiller Type: Electric
Motor: 13.5-Amp
Tilling Depth: 8"
Tilling width: 16"
Weight: 34.8 lbs
Warranty: 2-Years
The first selection on our shortlist is the Earthwise TC70016.
This easy to use and very popular electric tiller cultivator combines a lightweight design with the power to take care of most garden tilling jobs.
It features a 13.5 amp electric motor and 6 tines that you can adjust to vary the tilling depth up to a maximum of 8". But with repeated passes over the same area, you can till deeper.
The tilling width can be adjusted between 11" to 16".
This is a great tiller for preparing flower beds and vegetable beds for planting. And it makes end of season bed cleanup a quick and easy job.
Electric tillers sometimes struggle to deal with hard-packed soil, lacking the power and weight. But this tiller has good performance on tough soils. Effectively churning it to produce fine soil with improved water permeability and aeration.
It has 6" wheels for easy transport that can be flipped up to help set the tilling depth. All the way up gives you the maximum depth. Whereas leaving them down allows you to cultivate the top few inches of the surface.
It's a comfortable tiller to use, with a well-designed ergonomic handle. And a cord retention hook that helps to keep the cord out of your way while you're working. And with it being such a light machine it's easy to carry.
One of the main drawbacks of using an electric tiller is of course the fact that you need to use an extension cord to power it. Which does limit your maneuverability.
And like all electric tillers, it jumps around a bit when used on hard ground. Requiring a steady grip and a bit of effort to get the job done.
If you're planning on breaking new ground it's worth considering a more powerful tiller, such as the rear tine tillers on our shortlist below.
It comes with a 2-year warranty.
Schiller Grounds Care 7940 Mantis 4-Cycle Tiller Cultivator
Specifications:
Tiller Type: Gas-powered Tiller
Cultivator
Engine: 25cc
Tilling Depth: 10"
Tilling width: 9"
Weight: 24 lbs
Warranty: 5-Years, Lifetime Warranty Against Tine Breakage
The Mantis is a gas-powered tiller cultivator that offers extra power compared to the electric models, while still retaining a lightweight and easy to use feel.
With a 25cc Honda engine powering the steel tines, it can dig into the earth to a depth of 10". Easily powering through compacted dirt and sod.
Turning the tines around manually then allows you to use the machine as a cultivator to till the top 2-3 inches and aerate the soil. As well as easily dealing with weeds around your seedlings and plants.
It's easy to use. With a finger controlled throttle to adjust the power. And the 9" tilling width makes it suitable to till in tight spaces, in raised beds, and between rows of plants.
The unit also features ergonomic handlebars. That are foldable so you can save space while storing it.
This is a highly durable and well-made machine that is built to withstand heavy use. But just in case there are any problems, it comes with a 5-year warranty. With a lifetime warranty against tine breakage.
Sun Joe TJ603E 12 Amp Electric Garden Tiller Cultivator
Specifications:
Tiller Type: Electric Tiller Cultivator
Motor: 12-Amp
Tilling Depth: 8"
Tilling width: 16"
Weight: 27 lbs
Warranty: 2-Years
One of the best selling electric tillers on the market, the Sun Joe is a great choice for working on small to medium-sized gardens.
It's powered by a 12 Amp motor. And has 6 steel tines that have a maximum tilling depth of 8" and a 16" tilling width. As is common with the best electric tillers, the adjustable wheels help you to set tilling depth.
It's a lightweight model at 27 lbs. But like most small tillers, the light weight makes it bounce at times when trying to dig into hard ground. And when hitting large stones. But it does have the power to churn up tough soil and slice through small roots.
It has a foldable handle for easy storage. But some customers find the plastic design to be more flexible than they'd like. With a more solid design allowing you to more easily apply force to the tiller when tilling tough ground.
The tiller comes with a 2-year warranty.
Snapper XD 82V MAX Cordless Electric Cultivator
Specifications:
Tiller Type: Battery-Powered Tiller Cultivator
Motor: 800-Watt
Tilling Depth: 5"
Tilling width: 10"
Weight: 30 lbs
Warranty: 5-Years
The Snapper XD is probably the easiest and most convenient to use tiller on this shortlist.
That's because you don't need to add oil and fuel to operate it. Or trail around an electrical cord.
Instead, the machine runs on a 2 Ah Briggs & Stratton 82V lithium-ion battery. You can also use 4 or 5 Ah batteries to give yourself even more than the 30-minute running time that you get with the 2 Ah battery at full charge.
This makes it easy to maneuver around your garden while you work. And the compact size makes it portable. It's perfect for sticking in the back of your truck to take to another location, without needing access to an electric socket.
And it has good power with its 800-watt brushless motor. With a sealed metal gear drive transmission that's durable and reliable.
With it being a small and light tool that's great for backyard use. With an adjustable tilling width of between 5"-10", it's a good choice for tilling in tight spaces, between rows, and around the edges of your lawn. And the tilling depth of 5" is sufficient for most garden tasks.
It's simple to use. With a push-start button, 8" wheels, and comfortable handlebars.
The battery and charger have to be bought separately: Briggs & Stratton 82V lithium-ion battery.
The Snapper XD has a 5-year limited warranty.
Earthquake 20015 Versa FTT
Specifications:
Tiller Type: Gas-Powered 4-Cycle Front Tine Tiller
Engine: 99cc
Tilling Depth: 11"
Tilling width: 21"
Weight: 75 lbs
Warranty: 5-Years
A front tine tiller of the size of the Earthquake 20015 Versa offers more power and a higher level of performance than the electric and battery-powered tillers above.
It's better suited to tilling larger plots of land. As well as breaking new and hard ground. Although it still won't provide the same level of performance as a rear tine tiller.
It's a well-built machine, suited for heavy use. And despite its relatively small size, you can expect to get the power and performance from this machine to rival that of some bigger and more expensive models. Making tilling an easy process on most types of soil.
The power is provided by a 4-cycle 99cc Viper engine. With the advantage over 2-cycle models of being easier to operate, more noise friendly, and with better fuel efficiency.
The tines operate in a forward rotation, with a digging depth of 11". And it has a drag stake at the back to help you adjust it to the level you want and maintain consistency as you till.
The tilling width can be adjusted between 11", 16", and 21" by removing the outer tines. So you can have the full width for tilling larger gardens. And a narrower width for tilling and weeding between rows, and working in small spaces.
Other features that enhance its usability include a throttle control. And height-adjustable, bicycle-style handlebars.
The gear transmission system is made of cast aluminum, making this a durable unit that's built for many years of work.
The Earthquake 20015 Versa FTT comes with a 5-year warranty.
Husqvarna TF224 208cc Front-Tine Tiller
Tiller Type: Gas-Powered 4-Cycle Front Tine Tiller
Engine: 208cc
Tilling Depth: 6.5"
Tilling width: 24"
Weight: 100 lbs
Warranty: 3-Years
Husqvarna is a brand with an excellent reputation for building powerful and durable outdoor power tools. And this tiller is a premium product for those who are happy to pay extra to get the highest quality.
It comes equipped with a 208cc engine and standard rotating tines that can dig 6.5" into the soil. With a drag bar to set the depth at 6 different levels.
And it has a tilling width of 24", the widest on our shortlist. Making it a great choice for tilling large areas quickly with fewer passes.
Another nice feature of this self-propelled unit is forward and reverse gears that can be easily changed using a lever on the handle. Making it easier to maneuver around your garden with minimum effort
The machine is EPA certified and CARB compliant. And it comes with a 3-year warranty.
Southland Outdoor SFTT142 Front Tine Tiller
Tiller Type: Gas-Powered 4-Cycle Front Tine Tiller
Engine: 150cc
Tilling Depth: 8"
Tilling width: 21"
Weight: 105 lbs
Warranty: 2-Years
This powerful and compact tiller is a great choice if you're looking for an affordable tiller with more power and ease of use than an electric model.
It features a 4-cycle 150cc engine that's EPA and CARB approved. And a gear drive submission with Poly-V belt system for longer working life.
The tilling width can be varied between 11", 16", and 21". And the self-sharpening tines easily churn through hard soil to a depth of 8".
Other useful features include:
6.5 inch rear tires to help you maneuver over difficult ground.
An adjustable drag stake to control tilling depth.
Folding loop grip handles that are comfortable to use and make the unit easy to store.
The tiller comes with a 2-year warranty.
YARDMAX YT4565 Dual Rotating Rear Tine Tiller
Tiller Type: Gas-Powered 4-Cycle Rear Tine Tiller
Engine: 208cc
Tilling Depth: 6.5"
Tilling width: 18"
Weight: 205 lbs
Warranty: 2-Year Residential Warranty, 90-Day Commercial
If you just want to walk behind your tiller while it does the job then a rear tine tiller is the way to go.
As the heaviest and most powerful type of tiller available, rear tine tillers are ideal for tilling large areas. And are the go-to choice for breaking new ground.
The YARDMAX YT4565 is a compact and powerful tiller that offers a great performance for the price.
It's powered by a Briggs & Stratton 208cc engine. And it has dual rotating tines that give you the capabilities of both standard rotating and counter-rotating tines. The standard rotating tines are best for shallow tilling. While the counter-rotating tines really dig into the earth for tilling deep.
Combined with the 205 lbs weight of the unit this gives you an effective tilling performance even on hard ground. With little effort from you as you walk behind or to the side steering the self-propelled machine single-handed.
At 6.5" the tilling depth is not as deep as some of the front tine tillers on our list. But it's sufficient for most garden jobs. And it has an 18" tilling width for quick tilling with fewer passes.
The machine is easy to maneuver. With forward and reverse gears, 13" agricultural style wheels, and a front counterweight to provide balance to the tiller.
The manufacturer provides a 2-year residential warranty and a 90-day warranty for commercial operation.
CRAFTSMAN CMXGVAM1144036 Rear Counter Rotating Tine Tiller
Tiller Type: Gas-Powered 4-Cycle Rear Tine Tiller
Engine: 208cc
Tilling Depth: 6"
Tilling width: 14"
Weight: 164 lbs
Warranty: 2-Years
The Craftsman is a lighter and smaller rear tine tiller than the YARDMAX above. Which makes it a bit easier to use and store. And more suitable for tilling small spaces. But not quite as good at tilling tough ground, where the extra weight comes in useful.
Similar to the YARDMAX, it has a 208cc engine. But it only has counter-rotating tines. And the compact size means it has a 6" tilling depth and 14" tilling width (also available in a 16" model).
The 11" pneumatic tires and padded loop and ball handle make it comfortable to steer as it moves forward in self-propelled fashion. But, there's no reverse gear unlike some of the rear tine models.
The Crafstman comes with a 2-year limited warranty.
Troy-Bilt Pro-Line CRT Gas Powered Counter Rotating Rear Tine Tiller
Tiller Type: Gas-Powered 4-Cycle Rear Tine Tiller
Engine: 160cc
Tilling Depth: 6"
Tilling width: 16"
Weight: 158 lbs
Warranty: 2-Years
Equipped with a 160cc Honda engine and weighing in at 158 lbs, this tiller is a good choice for tilling already established plots in your garden with minimal effort. Such as a previously tilled vegetable garden or flower bed.
But, there are better rear tine tillers available if you're looking to break new ground.
Counter-rotating tines provide a 6" maximum tilling depth. And the unit has a 16" tilling width.
Forward and reverse gears and 13" agricultural tires make for easy maneuvering. Making it simple to back out of closed spaces, difficult terrain, and away from obstacles.
The tiller comes with a 2-year limited warranty.
Buying Guide: Choosing The Best Garden Tiller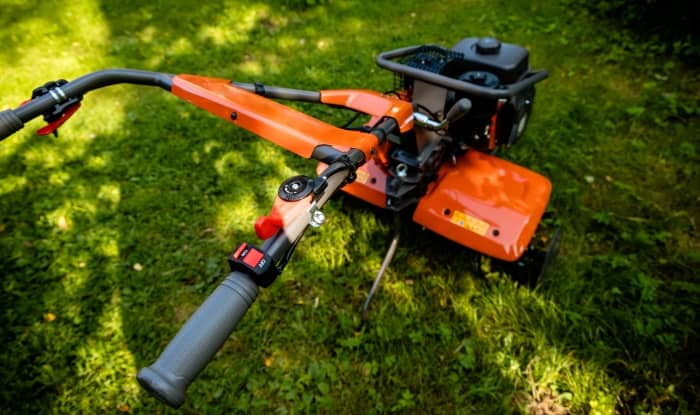 There are many different garden tillers available, of different types and with different specifications.
To find the one that's right for you, think about what you need it for and the features of the machine that are best suited to your situation.
Let's take a look at the key things to consider when buying the best garden tiller.
Type of tiller
The 3 different types of garden tillers that you'll come across are electric tiller cultivators, front tine tillers, and rear tine tillers. There are pros and cons to each of them.
Tiller cultivators are very popular with homeowners. They're the smallest, lightest, and cheapest models available.
You can use them for deep tilling of the soil to prepare it for growing. And as a cultivator for shallow mixing of already tilled soil, weed removal, and mixing in compost.
They usually have electric motors, and some are gas-powered. But they're the least powerful of the 3 types. And combined with the lightweight design, this makes them the least suitable for breaking new ground.
And although the best models can till hardened and compact soil, it does take manual effort on your part as they are prone to jumping around.
For tilling small areas, between rows, and in raised beds, they're a good choice. But for working on larger plots you'll want something that's easier to use and more powerful.
Front tine tillers are the next step up in size and power. These are gas-powered machines, and are more comfortable and effective to use when tilling larger areas and hard soil.
But the easiest to use and most powerful of all the options are rear tine tillers. They're also the biggest and heaviest, making them ideal for tilling tough ground and heavy clay soil.
As they're self-propelled, all you have to do is stand beside or behind them and steer the unit as it churns its way over the land at a steady speed. This makes them ideal for tilling large plots.
But if you can afford it, they're the most comfortable and efficient tillers to use for medium and small-sized plots as well. They're easily the best if you need to break new ground.
Tines
Front tine tillers and rear tine tillers come with different types of tines.
Standard (forward) rotating tines turn in the same direction as the wheels and are the best option for shallow tilling and tilling areas that have been tilled before.
Counter-rotating tines move in the opposite direction to the wheels. They really dig into the ground and are best for deep tilling and breaking new ground.
Dual rotating tines give you the choice of standard or counter-rotating depending on the job you're doing.
Power Source
Electric tillers can be either corded or cordless (battery powered) making them convenient to use. Although the cord on corded tillers can sometimes restrict your movement (not such a problem in small gardens) and you have to be careful to keep it out of the way.
Gas-powered tillers are 2-stroke or 4-stroke. They are more powerful than electric tillers, but require fuel and oil to run. They have more emissions and are noisier. They're also usually more expensive.
Tilling Depth & Width
Different tillers come with different maximum tilling depths and widths. These are sometimes adjustable.
If you're tilling a large area, then a wide garden rotary tiller will help you get the job done quicker.
But a tiller with a narrow tilling width will be easier to use in small spaces, between garden rows, and in raised garden beds. For such use, the best mini tiller cultivator might be a good choice.
Other Features
The best garden tillers often come with a number of useful features that improve your tilling experience:
Ergonomic handles make it comfortable to hold and use the tiller while you work.
Foldable handles make it easier to store the unit.
Some rear tine tiller brands have a counterweight for extra stability and balance.
A drag bar/stake helps to reduce the forward momentum of front and rear tine tillers and control tilling depth and consistency.
Warranty
The best garden tillers usually provide good value for money as you can use them for many years.
But, even the best tillers sometimes breakdown. So it's a good idea to choose a brand with a good warranty. It's common to find 2-3 year warranties but some companies offer as many as 5 years.
Size Of Garden
If you only have a small garden, then it might work out better value for you to buy an electric roto tiller. Instead of a larger and more expensive rear tine tiller.
But if your garden is large, then you'll find it a lot quicker and easier to use a front or rear tine tiller.
Type Of Soil
If the soil in your garden is fine, loamy, and relatively free of tree roots and rocks then you probably won't need a bigger, more powerful, and more expensive tiller. The best electric tiller will probably do the job.
But if the soil is heavy and compacted, or you're breaking new tough ground, then consider getting a more powerful model for gardening.
Conclusion
So, what is the best garden tiller on the market?
The model to choose really depends on your situation.
If you have a small garden then we recommend the Earthwise TC70016 Corded Electric Tiller. Particularly if the garden has been tilled before and you're looking to save money.
For small to medium-sized gardens with tougher soil then the Earthquake 20015 Versa FTT is a good choice at a mid-range price point.
If you've got a big garden to till, are breaking tough soil for the first time, or just want the best performance and are willing to pay the extra cost, then our best rated garden rototiller is the YARDMAX YT4565 Dual Rotating Rear Tine Tiller.