When you're dealing with thorny and spiky plants you need gloves that give you extra protection.
The best gardening gloves for thorns are Exemplary Gardens Rose Pruning Gloves.
These gloves find a good balance between thorn prevention and flexibility. Making it easy to handle plants and tools. They're comfortable gloves to wear. And they protect up to your elbow. So you can extend your arms into bushes without getting scratched.
The top choices at a glance:
Best Overall: Exemplary Gardens Rose Pruning Gloves
Best For Flexibility & Comfort: Hexarmor Thornarmor
Best Budget Choice: Legacy Gardens Leather Gardening Gloves
Popular With Women: Bionic Women's Rose Gloves
All links lead to Amazon, where you can find more information & customer reviews.
The Best Gardening Gloves for Thorns Reviews
Exemplary Gardens Rose Pruning Gloves
These comfortable gauntlet-style gloves for thorns do a great job of protecting your hands and forearms while gardening.
The hand area of the gloves is made from natural goatskin leather. Giving you flexibility and puncture protection. And the extended cuff is made from flexible cowhide suede. A material that easily deflects spines that are projecting from leaves and stems. So you can reach deep into prickly bushes without fear of cuts and scratches.
For extra comfort and ease of use, the gardening gloves are treated with lanolin. This gives the gloves a soft texture and increased flexibility. Making it easy to use garden tools and plant seeds.
If you grip lightly, the gloves offer good protection from thorns. But there's a trade-off for the extra flexibility. The gloves are thinner than stiffer brands. And if you grip tightly, large thorns sometimes poke through. So you need to take care when using them.
Overall, these gardening gloves offer great value for money when you consider the quality, durability, and ease of use.
Hexarmor Thornarmor
Hexarmor Thornarmor is a high-quality pair of gardening gloves that offer excellent protection from thorns. The gloves are made from synthetic fabric that allows your skin to breathe. And provides easy movement while replicating the puncture resistance and durability of leather.
The gloves have reinforced palms, with a triple layer of fabric to give you extra protection when gripping thorny stems. The palm protection extends to the tips of the fingers, with extra reinforcement in the index finger.
Because they're made from synthetic fabric, the gloves fit snugly and comfortably to your hands. With Velcro straps at the wrists that make sure the gloves stay in place while you work.
The back of the gloves is made from breathable fabric, which helps to keep your hands cool. But because this is a thinner layer of fabric than the palms it's not thorn proof.
This is one of the best gloves for thorns, offering great flexibility and comfort while you work. But because the gloves don't have a gauntlet they're less suitable for reaching into prickly bushes.
Legacy Gardens Leather Gardening Gloves for Women and Men
Legacy Gardens leather gardening gloves are my top budget choice. But rest assured you won't have to compromise on quality. These gloves for thorns combine a high level of comfort and protection. With grade A goatskin leather that's comfortable on your hands without needing a break-in period.
These are durable gloves that are made to last. An extra double-stitched layer reinforces the thumb and top two fingers. Providing extra protection when grasping thorny plants and making it more comfortable to use tools.
The gloves have a long and heavy-duty gauntlet. With large cuffs that allow plenty of air circulation. And although these gardening gloves are made from leather, they're also breathable.
Bionic Women's Rose Gloves
Bionic women's rose gloves are built to withstand all thorns. They're made from premium synthetic and natural materials. With Composite Tough-Ex — a more flexible but just as durable material as leather — making up the gauntlet. And Cabretta leather to cover your hands and palms.
Webbing between the fingers gives you more maneuverability than most gardening gloves. And the back of the hand has motion zones that provide greater flexibility, making it easier to close and bend your hands.
Padding in the palms of the gloves gives you enhanced comfort and protection against thorns. And a reinforced thumb protects you from friction while using gardening tools and pruners.
These well-designed and comfortable gloves come in a range of sizes. With some customers finding that they're slightly smaller than expected. So you may want to get a bigger size than usual.
NoCry Long Leather Rose Pruning Gardening Gloves
Are you struggling with overgrown brambles? How about prickly weeds such as thistles?
It's often difficult to remove thorny plants without scratching your skin. But these long leather gloves give great protection further down your arm so you can safely reach through the stems and branches without injury.
The gloves are made of quality goatskin leather. This is two times thicker than many other gloves. And although the materials feel lightweight, they're durable and can withstand heavy use.
The gloves have Canadian-style sleeves that extend 6-inches up your arm. And you can buy these gloves in 3 sizes.
Magid Professional Rose Pruning Thornproof Gardening Gloves With Extra Long Forearm
These professional gardening gloves are made from puncture-resistant synthetic leather. They're a great choice if you want a durable gardening glove that withstands thorns and prickles, but don't want the maintenance involved in keeping leather gloves in good condition.
The synthetic leather palm and reinforced fingertips make it easy to grab hold of spiny stems during weed removal. And the back of the gloves is reinforced with an extra protective layer to stop any scrapes to your knuckles as you reach into bushes.
This is a very comfortable pair of gardening gloves to wear and use during long sessions in your garden. The synthetic material is woven to provide breathability, which can be a problem with leather gloves that get hot and sweaty. The gloves are also a snug fit due to the spandex that fits your form.
Amazon Basics Thorn Proof Gardening Gloves
These gardening gloves offer good value for money. They're comfortable to wear. And because they're not stiff, it's easy to handle tools and plants with dexterity.
The gloves provide good protection. They have long sleeves that go up to the elbow and cover your forearms. Palm padding allows you to easily grip hold of and remove spiky weeds and burrs. And knuckle guards protect your hands as you reach into bushes.
The gloves are made from a combination of nylon, polyester, and aramid. And unlike leather gloves, they're machine washable, so it's easy to keep them clean after use.
Hense Durable Leather Rose Pruning Gardening Gloves
One of the best features of Hense gardening gloves is that they're extra long. Providing better protection than most gauntlet gloves if you find yourself regularly reaching into the foliage of plants and bushes.
The gloves go beyond your elbow, providing the majority of your arm with protection. The glove is also wide enough for you to tuck your shirt sleeves inside, making them comfortable to use.
The gauntlet part of the glove is made from cowhide leather that's strong enough to resist any thorns, spikes, or prickles. So you don't have to worry about thorns coming through the material and scratching your hands.
The glove itself is made from goatskin. This is a more supple material than cowhide. So it allows easy movement of your hands and fingers while still providing good protection.
Extra padding in the palm helps you grip prickly stems and leaves with confidence. And provides extra comfort while using tools.
Parva Garden Rose Gloves Gardening For Women & Men
Parva gardening gloves provide good puncture protection allowing you to safely work around rose bushes, bramble bushes, and spiky weeds such as thistles.
The gardening gloves are made from 2 different types of material. With goatskin leather on the hand area. And suede forearm protectors that stop thorns from scratching your skin if you accidentally brush against them.
They also have an extra-wide cuff. Making it easier to prevent your sleeves from snagging on thorns by tucking them inside.
Because they're made from goatskin, the gloves are very flexible. So it's easy to move your hands, use tools, and grab branches and stems without stiffness. And because they're not thick and bulky, you can still use garden scissors and hand pruners.
The gloves are highly durable. With Kevlar stitching and double reinforced padded palms. And the manufacturer stands by its ability to withstand a heavy workload, offering a 100% satisfaction guarantee.
The gloves are suitable for men and women and are available in a range of sizes.
FirTree Brand Leather Work Gloves
FirTree gloves are a good choice for budget-conscious customers who want a pair of gardening gloves for thorns that are made from goatskin. They offer good flexibility and are durable enough to last you for many years.
They're a comfortable pair of gloves to wear. With a snug fit and an elastic band around the cuff to keep them in place. And they offer good puncture resistance.
But they don't have forearm protection. So the gloves are good for occasional pruning or pulling small weeds. But not a good choice if you have to stick your arms into thorny overgrown places.
What To Look For When Buying Gardening Gloves for Thorns?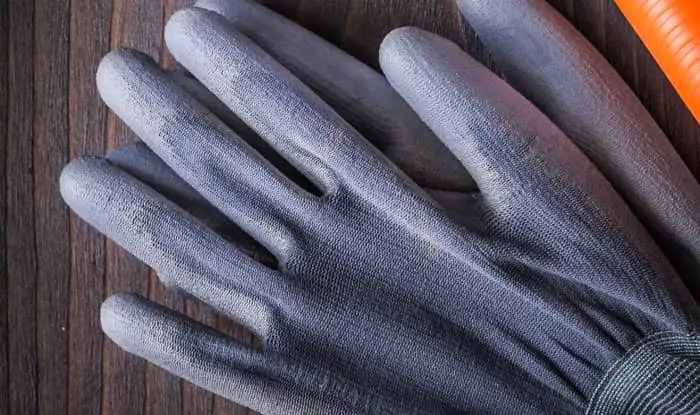 When dealing with thorny plants you need gloves that enable you to work safely and effectively. Here are the important features to look for in the best thorn-proof gloves:
The Material
It's important to choose gloves that are made from materials that offer adequate protection.
It's no good using cotton gloves when dealing with thorny weeds. You need a more robust material that allows you to press against the thorns without puncture and injury.
Instead, look for leather gloves made from goatskin and cowhide. These give you better protection from sharp spines and prickles. You can also get gloves that are made from thorn-resistant synthetic fabrics.
Reinforced Fingertips
Your fingertips are used a lot. So this area of your gloves is going to get the most wear, and it's often the first part to fray or tear.
Reinforced fingertips have extra layers of fabric that help your gloves to withstand heavy use for longer. Making sure you get good service out of your purchase. And providing extra protection.
Padding In The Right Places
The best garden gloves for thorns have extra padding in the palm and fingers. Padding also makes working with garden tools a lot more comfortable
The knuckles are another area where it's useful to have extra padding as they often catch on spines when you reach into bushes.
Strength & Flexibility
Leather gloves give you more protection. But the thickest and most thorn-proof leather also limits the flexibility of your hands and fingers, making it harder to use tools and grip plants.
To deal with this problem, some manufacturers use goatskin leather. This provides good protection from thorns, but it's also quite supple.
Cowhide is also commonly used. This is thicker and tougher. But gives you reduced flexibility.
Some gloves combine both types of leather, goatskin for the glove and cowhide for the gauntlet that protects your arm.
Does The Glove Have A Gauntlet?
Some gardening gloves come with gauntlets to protect your forearms. If you sometimes reach into bushes and brambles this is an essential feature to look for.
Some gloves have gauntlets that extend up to the elbow and beyond. Preventing cuts and scratches as you work.
Double Stitched Seams
Double stitching the seam of the glove provides extra durability. Even if one of the seams starts to come undone you've still got the other one to provide strength.
Good Wrist Closures
Having a velcro or elastic wrist band helps to keep the glove in place as you work. It also prevents dirt, leaves, and small insects from falling inside the glove.
Snug Fitting
Snug-fitting gloves are more comfortable and easy to use. Gloves that are loose move around more easily as you work.
FAQ
Are Rigger Gloves Thorn-proof?
Rigger gloves are often thorn-proof. And you can use them to clear brambles and thorny weeds. Rigger gloves are made from leather and other tough materials. And they're built to protect every part of your hand from punctures and scratches.
Are Kevlar Gloves Thornproof?
Kevlar gloves are thornproof. Because they're cut-resistant gloves, they're a good choice for pruning thorny plants, such as roses, as well as cutting back brambles. Kevlar gloves are also comfortable and flexible.
Do Leather Gloves Stop Thorns?
Leather is one of the best materials for stopping thorns. Leather gloves prevent scratching from thorns and spikes. And allow flexibility of your hands and fingers while gardening. Extra layers of leather are sometimes added to important areas such as the palms and fingertips for increased protection.