Clearing leaves and debris can be hard work.
Even with a small yard, it can take hours with a rake. And hurt your back in the process.
And for a bigger piece of land there's really no other choice:
You need the right tool for the job.
And that's where finding the best gas leaf blower comes in.
With more power than electric or cordless blowers, a high-quality gas blower can take care of leaves, debris, sticks, and snow. Allowing you to complete the job in a fraction of the time and with minimum effort.
Our recommended choice is the Husqvarna 350BT Backpack Gas Leaf Blower. This powerful blower can easily tackle big jobs and small. And it's comfortable to carry and use for long periods.
The top gas leaf blowers at a glance:
All links lead to Amazon, where you can find more information & customer reviews.
The Best Gas Leaf Blower Reviews
Husqvarna 350BT Backpack Gas Leaf Blower
This powerful backpack leaf blower from Husqvarna is our top choice.
It has 2 big advantages over handheld blowers:
Firstly, the gas-powered 2-cycle engine is more powerful than any handheld. It's 50cc and can move air out of the tube at up to 180 mph. With 692 CFM (cubic feet per minute) of air displaced.
Although we have some powerful handhelds on our list, none of them can match up to that.
And secondly, despite being heavier at 22.5 lbs it's actually easier and more comfortable to carry and use for long periods.
This is because it comes with a padded harness system that distributes the weight across your shoulders and hips in a cushioned way.
And it has dampeners that absorb the vibrations between the engine and the chassis when the machine is running.
This makes it a perfect choice for clearing leaves and debris over large areas of land. And it's ideal for jobs that take a long time, where carrying a handheld can tire out your arm. With its large volume 42.27 ounce tank, you can work for hours without stopping to refuel.
The extra power of this unit is necessary if you have large piles of leaves to clear. But if you only have occasional small clear up jobs to do, then you might want to consider a handheld instead.
The speed is easy to adjust using the built-in trigger control that enables you to match the amount of power you need to the job at hand without having to pause.
And another great thing about this gas-powered leaf blower is that the x-torque engine increases fuel efficiency by 20%. While at the same time, exhaust emissions are minimized by around 60%.
Does it have any drawbacks?
There are a couple of small things to consider. Hard to get to places, such as rooftops and gutters, can be difficult to clear with a backpack blower.
And along with the power comes a certain level of noise. In this case, 104 decibels.
ECHO PB 2520 Handheld Light Weight Leaf Blower
This handheld gas leaf blower combines power with durability. And compared to a backpack, it has a relatively lightweight design.
The 25cc 2-stroke engine creates airspeeds of up to 170 mph. And it displaces 453 CFM of air. Which places it among the top end of handheld blowers for power.
It has an 18.6 fluid ounce tank, which is large enough to keep the engine running even for quite big jobs.
And it comes with a variable speed controller built into the handle so that you can adjust the amount of power you use while you work.
The leaf blower weighs 8.6 lbs. And to make it easier to carry, the unit comes with a padded shoulder harness. So you can take the strain off your arm when doing longer jobs.
To make it even easier to use, the blower tube is curved giving you more rotational control. Which reduces fatigue from using it.
Hitachi RB24EAP Gas Powered Handheld Leaf Blower
Another handheld blower we highly recommend is the Hitachi RB24EAP. This model has proved to be very popular with consumers and it's easy to see why.
The gas 2-stroke 23.9cc engine generates airspeeds of 170 mph out of the tube. With a 441 CFM air displacement.
This is enough power to tackle most clean up jobs you'll have in your yard. Making it easy to move light to moderate leaf cover, grass cuttings, and loose debris.
The unit also scores highly on ease of use. With a 2-finger throttle lever for increasing and decreasing the engine's power. And a well-balanced design, so even though it's 8.6 lbs it's comfortable to carry.
And if you're worried about the environmental impact of exhaust emissions, you'll be pleased to know that the Hitachi has a low emission engine that's CARB Tier III compliant. So this is a good model to choose if you live in California.
It's slightly quieter than the Husqvarna and ECHO above at 96 decibels. Which is similar in volume to a lawn mower.
Poulan Pro 967087101 Backpack Blower
The Poulan Pro is a good backpack blower to choose if you're on a budget.
It might not be quite as powerful or fuel-efficient as a Husqvarna, but it will get most jobs done.
It has a 48cc 2-stroke engine that pushes air out of the tube at 200 mph, and 475 CFM. With a variable speed throttle to give you complete control of the power you use. But some customers report that getting full performance requires additional tweaking.
It's comfy on your back for long sessions of use. With a load reducing harness to help you carry the 22 lbs weight for long sessions with minimal strain.
The noise level is similar to the Hitachi at 96.7 dB(A). A common level for gas-powered leaf blowers.
Tanaka THB-260PF Handheld Leaf Blower Vacuum
This well-balanced gas leaf blower and vacuum is designed for comfort to reduce the fatigue you feel as you work.
It has a soft elastomer grip to absorb vibrations and make it easy to hold in your hand for long periods. And a secondary handle allows you to use 2 hands, making it easier to carry.
It weighs 10.9 lbs, which is a little heavier than standard gas-powered blowers. But the extra features are worth it.
The 25cc 2-cycle engine is commercial grade and low emission (CARB compliant). And it generates air velocities of up to 180 mph with 393 CFM of air displaced. You can easily increase and decrease the speed using the large two-finger trigger throttle.
One of the great things about this model is its low noise. At just 68 dB(A) it's good for use in residential areas as it won't annoy your neighbors as much.
It also has a special high-volume fan nozzle that allows you to directional-blow leaves and debris. Making cleanup quicker and easier.
When vacuuming leaves it also works as a mulcher, easily shredding them with its steel blade impeller.
You can also buy the unit in a non-vacuum capable version which is cheaper.
Jonsered BB2250 Backpack Leaf Blower
This user-friendly backpack blower has the power to take care of most yard cleanups.
The 2-cycle 50cc engine blows air at 251 mph, with 434 CFM out of the pipe. And it has a variable speed adjuster, with cruise control to set the speed at your preferred level for long periods.
To make it easier to carry the 22.3 lbs weight it has a load-reducing harness, with wide padded shoulder straps and a hip belt. And the handle has a soft grip.
Despite these features, some customers still find it a bit awkward. And a heavy blower like this is really only needed if you have regular decent sized jobs to get done.
For ease of use, you can quickly adjust the tube length to improve your reach and make it easier to work in small spaces.
Like most backpack blowers, it's not a quiet unit, with a noise level of 104 dB(A).
All in all, this is a good leaf blower for moderate use with the occasional big job thrown in. But if you're trying to clear large amounts of leaves and debris every day then get something a bit more powerful and comfortable.
CRAFTSMAN BV245 Gas Powered Leaf Blower Vac
Are you looking for a gas blower vacuum combo?
Do you usually just have light to moderate jobs to do around your garden?
And have you already decided you don't want to invest in a more powerful and expensive model?
If so, then the Craftsman is a good choice.
The 27cc 2-cycle gas engine generates airspeeds of up to 205 mph and 450 CFM.
Its user-friendly design includes variable speed control and anti-vibration handle. And at 9.8 lbs it's not too heavy for a combo model. However, some customers report that the vibrations of the unit are quite strong.
The easy-start technology is simple: just prime, choke, and pull, and you can quickly get to work.
And it comes with a 1.5-bushel bag to collect the debris you suck up in vacuum mode.
It's a relatively quiet blower at 74 dB(A) according to the manufacturer.
You can also buy it in a non-vacuum version.
Remington RM2BV Handheld Gas Leaf Blower Vacuum Mulcher
This 3 in 1 leaf blower vac is excellent for blowing and vacuuming leaves, pine needles, grass clippings, and any other loose debris you want to remove from your yard.
The 2-cycle gas-powered engine shifts air at 205 mph, with 450 CFM. It has a variable speed throttle trigger and cruise control so your finger doesn't get tired out from pressing down on the throttle.
An over-mold handle helps to reduce vibrations on your hand, making it more comfortable to carry.
And it has an extended nozzle which you can use to reach the ground without bending while you vacuum. However, one drawback of the vacuum is that it's powerful enough to suck up small sticks that can jam the motor.
A spring-assisted coil makes the unit easy to start. And it's a relatively quiet leaf blower at 74 dB(A)
Overall, customers seem to be happy with the leaf blowing side of this model. But there are mixed reports about how good the vacuum is. So if your primary purpose is to use the vacuum then it might be best to look at a different model.
You can also buy the unit without the vacuum accessory.
SENIX BL4QL-L Gas Powered Leaf Blower
The Senix BL4QL-L is different from the other leaf blowers on our list—it has a 4-stroke gas-operated engine.
It moves air at a speed of 125 mph with 410 CFM. And it has a variable speed throttle. It also comes with an anti choke release that makes it easy to start.
As it's not one of the more powerful options on our shortlist it's best for taking on light to moderate leaf fall, and small loose branches and rocks. Or small jobs around your house and garage.
And as it doesn't have a cruise control feature you have to keep the trigger pressed on the throttle to operate it. Which can get tiring after a while, so it's best used for short jobs.
But it does have some advantages as well.
To start with, its low in vibrations. Making it comfortable to hold and use.
It's also quieter than most 2-stroke models. With its 69 dB(A) noise level making it good for residential use.
And you don't have to mess around mixing oil and fuel, which makes it more convenient.
Also of note is that this is a low emission and CARB Compliant unit.
Troy-Bilt TB2MB JET Gas Leaf Blower
This is the most powerful handheld blower that Troy Bilt makes.
It has a 27cc 2-cycle gas engine. With a Prime, Flip & Go 3 stage starting mechanism that makes it quick and easy to get up and running.
Air speeds go up to 130 mph and air displacement is 650 CFM. Although the airspeed is near the bottom end of our shortlist, the volume of air displaced is near the top. And it can take care of most jobs in your yard including moving heavy, wet leaves.
It also has a variable speed control along with the ability to maintain the optimal air volume at any speed you set it to.
It's one of the lighter models on our shortlist at 8.5 lbs. And to make it easier to use, it has a comfort grip handle. But some customers do complain about the vibrations of the product.
Buying Guide: Choosing A Gas-Powered Leaf Blower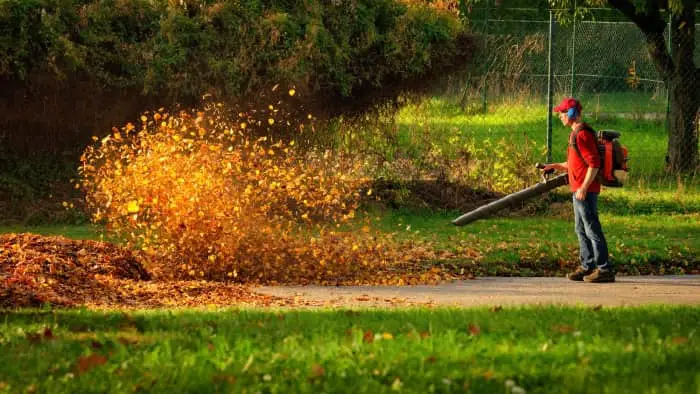 Gas-powered leaf blowers come in different types, with different features and capabilities.
Here are the important things to consider when making your selection:
The Type Of Leaf Blower
The best gas leaf blowers come in 2 different types:
Backpack blowers are the best choice for heavy use over larger areas of land. The best ones are the most powerful leaf blowers you can buy. And they are ideal for clearing thick and heavy leaf cover.
They tend to be the heaviest of the options. But they have a harness that helps you to carry the weight more comfortably. Making them easier to use for lengthy jobs than handhelds.
Handheld leaf blowers are the lighter choice. They usually weigh somewhere between 8-11 pounds. They don't have as much power as the better backpack blowers. But they're a good choice for light to moderate work around your yard.
Sometimes they're less noisy, making them good for home use in residential areas. But if you're going to be carrying it for a long time it can be tiring on your arm.
Both backpack blowers and handhelds can be bought as 3 in 1 units that include a vacuum and mulcher as well. These are usually a bit heavier than a regular handheld. But they can be very useful if you'd rather vacuum and shred leaves and debris instead of blowing it someplace else.
CFM & MPH
When assessing the power of a leafblower the air speed in miles per hour (mph) and the volume of air displaced in cubic feet per minute (CFM) are the key numbers to look out for.
The higher these 2 numbers the greater the ability to shift leaves and debris.
The best models come with variable speed control built into the handle so you can adjust the power you use depending on the size of the job you have at hand.
Not all leaf blowers will cope with thick carpets of leaves. So if you regularly have big jobs to do you should look to get one of the most powerful units.
For occasional light work clearing your yard, blowing out your garage, or clearing light snow off your driveway then you can choose a smaller and less powerful unit. It will save you money and you'll find it easier to use.
Noise
The best leaf blowers can be quite noisy tools. It's common for them to have a similar volume as a lawnmower, somewhere in the 90-105 decibels range.
Consider your living arrangements and what you need if for when making a choice. If you're a homeowner in a residential area and care about disturbing your neighbors we've listed some quieter options above around 70 dB(A).
Conclusion
So, what is the best gas leaf blower on the market?
Our top rated choice is the Husqvarna 350BT Backpack Gas Leaf Blower. It's a high quality and durable machine from a highly respected brand. It has the power to clear even heavy leaf fall. And it's comfortable to carry for long periods.
With its large fuel tank, it's great for big cleaning jobs, making it useful whether you're a homeowner or a professional. And it's also more economical with fuel than most similar units, with less emissions as well.