Dethatching is important for keeping your lawn in perfect health.
When it builds up, thatch becomes a thick layer of matted grass, roots, and stems.
Removing it allows more nutrients, water, and oxygen to reach the soil. Helping your grass to grow quicker and stronger. And it helps your lawn to drain.
To get the job done, I recommend the Greenworks Corded Electric Dethatcher.
This easy-to-use and highly-effective machine significantly reduces the time it takes to dethatch your lawn. It's well-built, quiet to use, and environmentally friendly. And it offers great value for homeowners.
The best lawn dethatcher at a glance:
All links lead to Amazon, where you can find more information & customer reviews.
The Best Lawn Dethatcher: Reviews
GreenWorks 27022 Corded Dethatcher
This corded electric dethatcher is easy to assemble, easy to use, and very effective. It significantly reduces the amount of time it takes to dethatch your lawn.
The majority of customers are very happy with its performance. And it represents great value for homeowners with small, medium, or large-sized lawns.
The machine features a 14-inch raking width and 18 tines, which you can set to 3 different depths. Making it easy to clear thick matted layers and to push around between locations. And as they're made from stainless steel they stay sharp, giving you reliable performance each time.
It's a durable unit. With a robust design that's made from stainless steel and hard plastic. And although the weight is sufficient to do the job at 25.9-lbs, it's still easy to lift and carry.
The ergonomic design and padded grip make it comfortable to maneuver. And the handle is adjustable and foldable. So you can set it at the right level for your height while working. And store it away easily in small spaces.
As it's an electric model it comes with a few big advantages over gas-powered models:
Firstly, it's very easy to start. With a push-button in the handle to switch it on and off.
Secondly, it's also relatively quiet. Making it a good choice if you're living in a residential area as it won't annoy your neighbors.
And if you're concerned about the environmental impact of your tools, then it's good to know this unit has a zero carbon footprint.
It comes with a 4-year warranty — twice the length of most brands.
Brinly DT-40BH Tow Behind Dethatcher
For dethatching medium or large lawns, you can't do better or easier than using a tow-behind dethatcher. And the Brinly DT-40BH offers excellent performance at a great price.
With a 40-inch width and 2 rows of 10 spring steel tines, it provides maximum thatch removal.
The tines flex as they comb through your lawn and against the ground. And they're attached to springs to make sure there's enough resistance to easily lift thatch out of the ground without hindering movement.
Once pulled up and out, you can either mulch it to provide nutrients back to the soil. Or collect and remove it using a lawn sweeper.
You can use the unit for 2 main purposes depending on the settings you choose:
As a straight dethatcher — where the tines comb through your lawn grass and pull up the thatch as they go.
And more aggressively, where the tines are set to scrape the soil, scarifying it as they lift up debris. This is especially useful if you want to reseed after.
There's also a setting for transporting the unit across walkways and drives.
The steel design makes the dethatcher sturdy and durable. And the tray on top of the tines can hold an additional 70 lbs allowing you to be even more aggressive.
The dethatcher comes with a universal hitch pin. Making it easy to attach to a riding mower, tractor, or ATV.
Bully Tools 92312 Leaf and Thatching Rake
If you've only got a small lawn and would rather do the job by hand then this dethatching rake from Bully Tools is my pick of the available options.
In contrast to using a power rake, you'll have to be prepared to put some effort in. But the 24 spring steel tines attached to a long and flexible fiberglass handle make it easy to lift up thatch as you run it through your lawn.
This is one of the toughest rakes you can get, with triple wall fiberglass that's highly resistant to breaking. And the commercial-grade steel tines are strong enough to rake up rocks and hard debris without bending.
Customers report that it's quite heavy to use. And dethatching with it will give you a bit of a workout. But it's great at doing the job.
The rake is made in the USA by a company with a commitment to quality. It comes with a limited lifetime warranty — if the tool breaks during normal use the company will send you a replacement or refund you.
Sun Joe AJ801E Electric Lawn Dethatcher
This very efficient machine has the ability to perform as a dethatcher and scarifier.
The 12.6-inch raking width is slightly smaller than many other electric dethatchers. But it's perfectly adequate for small to medium-sized lawns.
It's made from plastic and stainless steel. But at 27 lbs it's still easy to lift and carry.
A 5-position depth control allows you to adjust your raking depth for the job at hand. And when you want to switch to the scarifier, it's easy to replace the necessary part using a 10mm socket wrench.
The attached 8-gallon collection bag makes it easy to clean up as you work. So you won't need to go back over your lawn with a rake after you've finished.
Rugged all-terrain wheels help you maneuver the unit around your yard. But some customers find that pushing it over bumpy ground can be difficult while the machine is in operation.
The dethatcher comes backed by a 2-year warranty.
Sun Joe AJ800E Electric Lawn Dethatcher
This is another corded electric model. This one is the slightly less powerful version of the AJ801E above, and comes powered by an 11-amp electric motor.
It's slightly wider at 14-inches. And features 24 spring steel tines that make it easy to pull up thatch as the unit moves along, aided by the AirBoost technology system.
Do you want to scarify your lawn?
Or just loosen and lift up the matted debris?
The ability to set the depth at 5 different settings allows you to adjust the raking from 3mm beneath the soil to 9mm above depending on your need. The top setting also makes it easier to transport.
And to make the clean-up easier, it comes equipped with a 12-gallon detachable bag to collect and store the thatch clippings as you work.
Similar to other electric dethatchers, it has the benefits of being quiet, easy to use, and environmentally friendly.
The machine comes with a 2-year warranty.
Mantis 7321 Power Tiller Aerator/Dethatcher Combo
The Mantis dethatcher and aerator combo is designed for use with the Mantis 7000 tiller/cultivator. Giving lawn care functionality to this very useful garden tool.
The lawn aerator works great on dry and compacted soil. Cutting down beneath the lawn to a depth of 1.5-inches to aerate and allow water and nutrients to penetrate to the roots of the grass.
And with an impressive 60 spring steel tines, the dethatcher attachment is efficient at removing even the thickest of thatch. The 15-inch width is slightly larger than some of the comparable models available, so will help you get the job done slightly quicker.
Agri-Fab 45-0295 48″ Tine Tow Dethatcher
The Agri Fab has the widest raking width of the dethatchers on our shortlist. At 48-inches it's the best choice for getting large lawns dethatched quickly.
It features a robust steel deck above the tines that can hold up to 70-lbs of additional weight. And 24 rust-proof tines that are heat-treated to make them as durable and long-lasting as possible. But they're also replaceable if they get damaged over time.
The tines easily lift up anything in your lawn, including thatch, small sticks, leaves, pine cones, and pine needles. These are left on the surface for you to quickly clean up after.
A universal hitch makes it easy to attach to your riding mower or ATV/UTV. And an easy-to-operate cantilever transport handle makes it simple to raise and lower the unit while seated on your machine.
The dethatcher is easy to put together and comes with a 3-year warranty.
WORX WG850 Corded Electric Dethatcher
This WORX electric dethatcher is similar in style to the other corded machines listed above. The 14-inch raking width is a common design. And the 12-amp motor provides enough power for the tines to lift up thick and matted thatch.
3 settings allow you to vary the depth of the tines to -9mm, -3mm, or +3mm. Allowing you to rake deeper or lift the tines out of the way for easier transportation.
At 18.6 lbs this is a lightweight dethatching machine that's easy for most people to move around. But some customers report occasional problems with the wheels, which can get clogged up with grass preventing them from turning. And as it isn't power assisted this can make it harder to maneuver.
It also comes with a collection bag attached, which collects up all the dead grass, roots, and twigs that are raked up by the tines.
The unit is easy to store. The handles are foldable to reduce the footprint, making it easy to place in a corner of your garage or shed.
Craftsman CMXGZBF7124315 Tow Lawn Dethatcher
If you're looking for a tow behind dethatcher and you're on a budget then the Craftsman Tow Lawn Dethatcher is an excellent choice.
It features a 40-inch raking width with 20 spring tines to pull up matted thatch. And a weight tray above them that can hold an additional 70-lbs for times when you need greater lawn penetration.
A cantilever transport handle makes it simple to raise and lower. And it comes with a universal hitch, making it easy to attach to the vehicle of your choice.
The main drawback seems to be the assembly. With some customers complaining that the instructions make it difficult to put together.
MARTHA STEWART MTS-DTS13 Scarifier and Lawn Dethatcher
This small electric corded dethatcher has a 13-inch width, making it best suited for homeowners with small lawns.
The 12-amp motor is standard for this type of machine and provides enough power to pull up thatch, sticks, leaves, and stems from your lawn.
There are 5 different heights ranging from -0.4 inches below the soil to 0.4 inches above. Allowing you to scarify, dethatch, and easily transport the unit. To scarify you have to install a separate attachment that has the blades required. But this is easy to do.
It comes with a collection bag to catch the dead grass, which easily attaches to the model. But some customers find it very small, filling quickly as they work.
Choosing The Best Lawn Dethatcher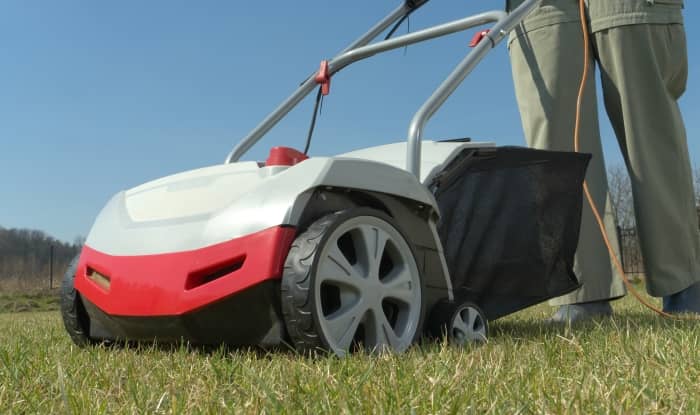 Having trouble deciding which is the best lawn dethatcher for you?
Here are some things to consider to help you choose:
What Type Of Lawn Dethatcher Is Best For Your Lawn Size?
The size of your lawn will play a key part in the type of lawn dethatcher you choose to buy.
If you only have a small lawn then you might find it convenient to use a dethatching rake. But the drawback is that doing it yourself by hand requires some extra effort.
This is good if you want the exercise. But if you'd rather minimize your work then you might prefer to get an electric lawn dethatcher.
These are a good choice for small and medium-sized lawns. They're quick and easy to maneuver, while the electric motor powers the tines to drag up thatch that's clogging up your lawn.
They're also useful for large lawns. But because they're usually quite narrow it takes many passes to complete the job.
This is okay if you don't mind spending a bit of time and fancy the walk. But if you have a large lawn and want to do the job as quickly and easily as possible then the best choice is a tow behind dethatcher.
You can attach it to your riding lawn mower or ATV and pull it behind, dethatching as you drive. Because they have a large raking width you can dethatch a large area quickly.
Electric vs Gas
As well as electric dethatching machines you can also buy gas-powered models.
My preference is for electric dethatchers for the following reasons:
Easy to use — Electric dethatchers are lightweight, easy to maneuver, and easy to start.
Eco-friendly — because they use an electric motor rather than gas-powered they don't produce the same emissions that pollute the environment.
Less expensive — electric dethatchers offer great value for money and are significantly less expensive than gas-powered machines.
Quieter — This is particularly useful if you're living in a residential area and don't want to annoy your neighbors.
But there are also some disadvantages compared to gas-powered dethatchers:
The electric cord —.you have to move it around with you while you work. This can get in the way and limits the range you can work away from your power supply.
Smaller — gas-powered models are often bigger with a wider working width allowing you to complete the job quicker.
Less powerful — you can get gas-powered dethatchers that are more powerful than electric dethatchers.
The Weight It Can Carry
This is specific to tow behind lawn dethatchers. Why?
Because they usually have a rack over the top of the tines that allows you to add extra weight.
Some of the best models can carry up to 70-lbs. But others might limit you to 40-lbs or so.
Why is this important?
Well, being able to load additional weight above the tines makes it easier to detach thicker areas. Whereas with less weight, the model might only be suitable for light dethatching.
Conclusion
One of the tasks of good lawn maintenance is to prevent thatch from building up. Why?
Because it prevents nutrients, oxygen, and water from reaching the soil where it can be taken up by grass roots.
If you don't want to hire a professional landscaping and lawn care service to take care of it for you, then the best lawn dethatchers can make this job a lot quicker and easier.
My top choice for small-to-medium size lawns is the Greenworks Corded Electric Dethatcher.
For large lawns, I recommend the Brinly DT-40BH tow behind dethatcher for those with a riding mower, ATV, or lawn tractor to pull it.