If you're having trouble growing that perfect lawn then fertilizer is a must-have.
Increasing the dose of essential macronutrients leads to increased growth of thick, strong grass. With well developed root systems and deep green color.
The best lawn fertilizer that we recommend is Scotts Turf Builder Lawn Food. It has an excellent reputation with customers for fast, strong growth. Turning even patchy and yellowing lawns into healthy and thriving carpets of grass in a short space of time.
Our top choices at a glance:
All links lead to Amazon, where you can find more information & customer reviews.
The Best Lawn Fertilizer Reviews
Scotts Turf Builder Lawn Food
Scotts is a company with an established reputation for high-quality fertilizers.
This one has a high nitrogen 32-0-4 NPK (Nitrogen, Phosphorus, Potassium) formula that encourages fast growth of lush, green lawns.
It makes use of Scotts special all-in-one particle technology that helps to provide even distribution of the nutrients to the ground.
It also contains 2% iron, which helps with greening. And 7% sulfur, which unlocks inaccessible nutrients in the soil, making them available for uptake by roots.
You can use it on most grasses, including:
St. Augustine
Bermuda grass
Centipede grass
Zoysia grass
Bluegrass
Fescue
Ryegrass
Bentgrass
Buffalo grass
Bahiagrass
Customers report significant results in about a week after application.
Just one word of caution:
Although it's formulated to not burn your grass, customers report that it can if you over-apply it. So it's best to cover your lawn with just a thin layer.
The pellets themselves are smaller than many other companies. And are absorbed quickly into the ground within a few days after watering.
The bag contains enough fertilizer to cover 5,000 square feet.
The Andersons Innova Organic Fertilizer
This 100% natural and organic fertilizer from The Andersons is derived from plants and doesn't contain any animal parts, manure, or biosolids.
It has an NPK formula of 7-1-2. This is lower in nitrogen, phosphorus, and potassium than chemical fertilizers. But the results are still impressive. With customers reporting strong, green growth within a month of using it.
But the benefits of going organic don't stop there:
The organic material added to the soil encourages microorganism growth and worm activity. Resulting in healthy soil for the longterm in a way that synthetic fertilizers can't replicate.
The breakdown of organic matter slowly releases the essential macronutrients, along with many micronutrients, into the soil. And the company recommends using it every 6 weeks for the best results.
The low-dust granules are easy to spread and quickly absorb into the soil after watering. And you don't have to worry about it burning your grass, even when used in hot weather.
The fertilizer is MORI listed for organic use and is a USDA biopreferred product.
And it's safe for you to allow children and pets in your garden immediately after application. As well as being environmentally friendly to use near waterways, lakes, rivers, ponds, and wells.
It comes in a 40 lbs bag that even at a high rate of application provides enough fertilizer to treat 4-5,000 sq. ft. area of lawn.
Miracle-Gro Water Soluble Lawn Food
Miracle-Gro lawn food is a high nitrogen fertilizer that causes fast grass growth. It also contains added chelated iron for a deep green color. The NPK values are 30-0-6.
It's safe to use on all grass types without worry about it burning your lawn. As long as you follow the directions given on the container.
It comes in a powder that's designed to be mixed with water to make a liquid fertilizer. And it's best used with a Miracle-Gro dispenser. But any hose-end sprayer will do the job, as you connect it to your hose to spray it around your yard.
Customers report fast results, with thick, green growth visible within a week after application. Apply it again every 2-3 weeks for longterm results.
It comes in a 5 lbs package that you can use to treat 4,000 sq. ft. of lawn.
Greenview Fairway Formula Lawn Fertilizer
Greenway Fairview has a 27-0-5 NPK formula.
The special extended-release nitrogen it contains feeds your lawn for up to 12 weeks at a time. Enabling consistent growth without a sudden big surge.
This is a longer time than most fertilizers. But it also contains fast-release nitrogen, so you don't have to wait long before results.
Customers report that their lawn starts greening up in less than a week. And you can use it to quickly take a lawn from looking patchy to thick coverage.
You can use it on any grass, and it's advertised that it won't burn your lawn. But be careful to follow directions when applying it as high nitrogen fertilizers can cause problems when overused.
It comes in a 33 lbs bag that will cover 10,000 sq. ft. And you can also purchase it in a smaller 15.5 lbs bag.
The company promises your money back if you're not happy with the product.
Milorganite Organic Fertilizer
Milorganite is a brand that's been well-known for more than 80 years for keeping golf courses looking lush and green.
This organic fertilizer comes in a 5-2-0 formula that's made from dried sewage sludge.
This means that it does have a bit of a smell when it's first applied to the ground. But it disappears after 2-3 days.
It also contains 4% non-staining iron, which helps develop a deep green lawn. It's important for your grass not to have an iron deficiency as this element is important for chlorophyll production.
Because it's organic, the nutrients are released into the soil slowly. Meaning steady growth over time and reducing the frequency of mowing.
But don't expect big overnight results: it can take a week or more for significant improvements to become visible.
And because the nutrients take a while to break down in the soil, you don't have to worry about burning the grass by over-applying it.
The 32 lbs bag covers around 2,500 sq. ft.
Safer Brand Lawn Restore Fertilizer
This organic fertilizer has a 9-0-2 NPK mix that helps to promote grass growth and strengthen the root systems for sustainable results.
Not only that, but it helps to enrich the soil by encouraging the growth of beneficial microorganisms.
With the slow release of nutrients, each application is enough to last up to 8 weeks before you need to use it again.
Results are often noticeable within a week, and you can allow children and pets to use the area after application without concern.
However, as it's a natural fertilizer that contains animal waste it does have a strong smell. But that goes away after you water the fertilizer into the ground.
The main drawback?
It's quite dusty and contains different sized material that makes it difficult to apply evenly to your lawn using a spreader.
It comes in a 25 lbs bag that you can use to fertilize 6,250 sq. ft.
Simple Lawn Solutions Natural Liquid Fertilizer
This all-natural liquid fertilizer from Simple Lawn Solutions comes in a 3-18-18 NPK formula.
This makes it ideal for use on soil that's deficient in phosphorus and potassium. Helping grass to grow healthy and with strong roots.
You can use it on all grass types and it provides fast results within days of use.
It's easy to use, although some customers have had problems with the attached sprayer.
It's made in the USA by a company that has many years of experience in making commercial products for the professional lawn care industry.
The bottle contains enough liquid fertilizer to cover 3,200 sq. ft.
Espoma Lawn Food
Espoma is well known for its range of organic fertilizers and weed preventers.
This fertilizer is good for all types of grass and any season. The same company also does specific formulations for spring, summer, and fall that are worth checking out if you're looking for something targeted to a particular season.
This formulation has an NPK value of 18-0-3 and is made from poultry manure and feather meal.
The fertilizer comes in small granules that lie on top of your lawn until they're absorbed. Nutrient release occurs slowly as the organic material breaks down in the soil. Which means it continues to fertilize for a long period of time after application.
Most customers report significant improvement in lawn growth within a few weeks, with thick, healthy and green grass.
There are a couple of drawbacks though:
Because of the ingredients it's made from it does have a strong odor.
And some customers report that the granules have difficulty breaking down and absorbing into the soil. Even after a number of waterings and exposure to rain.
The bag contains 20 pounds that can cover a 5,000 sq. ft. area. You can also buy it in a 40 lbs bag.
Simple Lawn Solutions High Nitrogen Natural Liquid Fertilizer
This is the second fertilizer from Simple lawn Solutions on our list. This one is a high nitrogen formula with 28-0-0 NPK numbers. It's made from natural and organic ingredients.
70% of the nitrogen is fast release to rapidly stimulate growth and greening. With the other 30% being slow release to continue fertilizing your lawn in the weeks to come.
This is a great fertilizer to use if your lawn is suffering from a nitrogen deficiency. And you can use it on any grass type according to the manufacturers.
It's an easy-to-apply product that you can spray immediately. With many customers reporting significant results within a week.
Scotts Turf Builder Starter Food
Our second product from Scotts is specifically designed to provide a good balance of nutrients for new lawns.
Phosphorus is a very important element for newly planted grass seed to grow. It helps strong roots to form and is essential for early plant development. That's why this product has a 24-25-4 NPK formula, which is high in phosphorus compared to most lawn fertilizers.
It's safe to use on any grass type, but make sure to follow the instructions carefully. Because some disappointed customers report it burning their new grass. This is often a side effect of over-applying synthetic fertilizers.
The package contains enough for 5,000 sq. ft.
Buying Guide: How To Choose A Lawn Fertilizer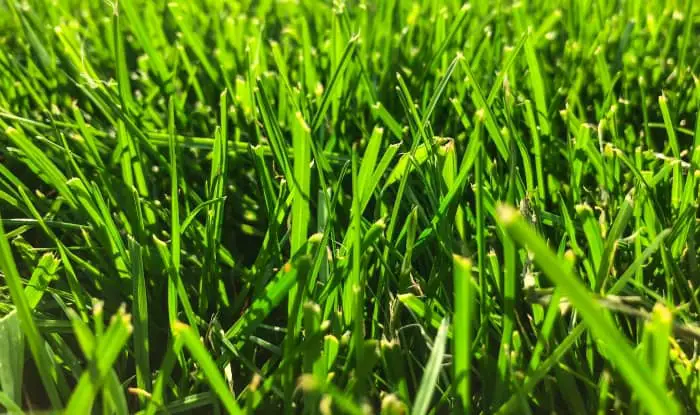 Fertilizers come in a number of different types. These are the important things to consider when choosing the best fertilizer for lawns:
Synthetic Or Organic?
Fertilizers can be broadly split into 2 different groups: synthetic fertilizers and organic fertilizers.
Synthetic fertilizers are water-soluble and because they are taken up easily by plants they are also usually fast-acting.
They can be manufactured to have high levels of nutrients and often provide effective growth and rapid greening.
But they don't help to improve the longterm quality of your soil. Doing nothing to encourage the growth of beneficial microorganisms, or to improve soil texture and composition.
They are also lost from the soil quickly, which means you have to apply them more regularly. And overapplication can lead to burning.
In contrast, organic fertilizers often take longer to show results. They add a lot of organic material to your soil that needs to be broken down over time, and usually have lower NPK values. But you need to apply them less often. And importantly, they improve the health of your soil for the longterm by encouraging the growth of microorganisms, worms, and fungi.
Structure and texture of the soil are improved, leading to better drainage and aeration, and enhancing root growth.
They also contain a wide range of micronutrients besides NPK. And when used properly, they won't damage your grass.
The best organic lawn fertilizer brands often cost more than synthetic ones. But because you end up using them less often the expense can end up evening itself out over time.
So, what's the best fertilizer for grass?
In a nutshell, if you're looking for fast, impressive results then synthetic fertilizers might be the best choice.
But if you have more patience, are looking to improve the longterm quality of your soil, and care about the environment, then organic fertilizers are the way to go.
NPK: The Essential Nutrients
Most fertilizers will tell you what their NPK values are. These are usually listed on the packaging.
NPK stands for Nitrogen, Phosphorus, and Potassium. These are primary nutrients that all plants need for growth. The ratio tells you the percentage of each element in the bag. So a 20 lbs bag of fertilizer with an NPK ratio of 10-2-2 contains 2 lbs of nitrogen, 0.4 lbs of phosphorus, and 0.4 lbs of potassium.
Here are some of the important things they do:
Nitrogen
Needed for the proper growth of plants.
Helps grass to develop a deep green color. One of the ways you can often see a nitrogen deficiency is yellow colored grass caused by chlorosis.
Phosphorus
Needed for plants to develop strong root systems. Particularly important for grass seedlings.
Phosphorus deficiency results in slow growth. You can also spot it by blades of grass starting to turn from dark green to purple.
Potassium
Helps nitrogen and phosphorus fulfill many important functions in the growth of the plant.
Helps to protect the plant from drought, disease, and cold.
A deficiency results in slow growth.
Nitrogen is the most important element for rapid growth of healthy grass and a greener lawn. Especially for established lawns. And so most lawn fertilizers contain a larger amount of this compared to other nutrients.
But for new lawns, phosphorus is also very important.
If you suspect that your lawn may have a deficiency in any of these nutrients you should test the soil yourself using a testing kit. Or take a sample for testing to your local co-operative testing office.
You can then choose a fertilizer that corrects any deficiencies.
To find a good fertilizer for new grass with the right mix of nutrients, check out our buying guide.
Liquid Or Granular?
Liquid fertilizers usually come in 2 types:
'Ready-to-spray' that you can immediately spray from the bottle without dilution.
And a concentrate that you need to mix with water. Usually, you attach it to your hose using a special attachment that you can buy separately. Sometimes the bottle has an area to attach the hose built into it.
The other common type of fertilizer is granules or pellets. These are usually applied using a spreader to get an even covering of granules on your lawn. They break down after watering and release their nutrients into the soil.
Both types work well, but many people find that even application can be easier when spraying a liquid. They also often act quicker.
Many synthetic fertilizers contain different nutrients in separate granules that can lead to uneven application over the ground. Whereas the nutrients are mixed together in a liquid.
However, granules are usually cheaper to buy in bulk. 
Most organic fertilizers come in granules or pellets of organic material.
Fast Release Or Slow Release?
Nitrogen is often found in 2 different types in lawn fertilizers: fast release or slow release.
Fast release is available for your grass to use immediately after application and can result in very rapid growth and greening. If you're after fast results, this is the stuff to go for.
But it does have some drawbacks as well.
Because it's soluble it's easily lost from the soil as runoff. Requiring regular application for continuous fertilization. 
And over-application has the side-effect of burning your grass.
In contrast, slow release nitrogen will fertilize your lawn gradually over a period of time creating a more even rate of lawn growth. You'll need to fertilize less often as it's not leached from the soil as quickly. And it's less likely to burn the grass in your garden.
Organic fertilizers act as a type of slow-release fertilizer because they naturally release nutrients slowly over time. Why?
Because microorganisms in your soil have to break them down before the nutrients are available for grass to use.
Related: The Best Weed & Feed
Final Thoughts
The best lawn fertilizers can turn even a patchy, dead-looking lawn into a vibrant and lush, green bed of grass.
If it's quick results you're after, then a synthetic fertilizer high in the most important nutrients is a good choice. In this case, we think the best lawn fertilizer is Scotts Turf Builder.
If it's more gradual fertilization with the longterm improvement of soil health you want, then it's best to go organic with The Anderson's Innova.
For starter lawns, Scotts again provide a great solution with their Turf Builder Starter being the best lawn feed.