Clearing snow by hand can be tiring work.
Fortunately, there are tools that can make it easier.
Leaf blowers make short work of a cold, winter job that would otherwise take a long time.
And when not using them for snow, they make cleaning your yard of leaves and debris a simple task as well. So you really get your money's worth.
The best leaf blower for snow removal is the Husqvarna 350BT Backpack Leaf Blower. It's a powerful and reliable unit, that's comfortable to use and carry. And made by a brand that's one of the leading names in leaf blower design.
Our top choices at a glance:
All links lead to Amazon, where you can find more information & customer reviews.
The Best Leaf Blower For Snow Removal: Reviews
Husqvarna 350BT 2-Cycle Gas Backpack Blower
This backpack leaf blower from Husqvarna is our top choice.
Compared to handheld leaf blowers it has extra power and airspeed, enabling you to clear snow more easily. And it does a better job of dealing with leaves and debris.
The gas-powered 2 cycle 50cc engine generates air speeds of around 180 mph. With the volume of air being pushed out of the tube at 692 CFM (cubic feet per minute). You can adjust the speed with the controls without having to pause.
Using it is an easy and pleasant experience:
The padded harness system makes it comfortable to carry on your back. And the dampeners between the chassis and the engine absorb and reduce vibrations to a gentle level.
While the offset handle makes it easier to control the blowing force and stops your arm from being pulled down.
As it's a cordless leaf blower, you can move around with freedom without having a limited range. And it makes it easy to reach hard to get to locations such as gutters and rooftops.
It has an x-torque engine that's designed to increase fuel efficiency by around 20%, and minimize emissions from the exhaust by up to 60%.
The main drawback?
It is quite loud at 104 dB(A). So if you live in a residential area and need to clear snow early in the morning or late at night it might be better to consider a handheld model instead.
It comes with a 1-year warranty.
Poulan Pro PR48BT Backpack Blower
The Poulan Pro offers the power of a backpack leaf blower for the budget-conscious.
The manufacturer claims that the 48cc 2 stroke engine generates an airspeed of up to 200 mph, with 475 CFM of air being displaced. Although some customers suggest that it may need tweaking out of the box to reach that level of performance. A variable speed throttle gives you full control.
The load reducing harness makes it easy to carry on your back in comfort with minimal strain.
Customers report that it does a great job on snow as long as it's not hard-packed. And as well as snow, it also does a good job in its ordinary capacity at clearing leaves, old piles of manure, and general debris.
But similar to the Husqvarna, it's noisy. Which is something to bear in mind when you consider the time of day you're likely to use it.
It comes with a 2-year warranty when used for household purposes. Which drops down to 60 days for commercial or professional. And 30 days if it's rented out.
Hitachi RB24EAP 2-Cycle Gas Powered Handheld Leaf Blower
If you're looking for a handheld leaf blower then this Hitachi model is a great choice.
Why would you choose a handheld blower rather than a backpack blower?
Well, to start with they're lighter in weight, and are easy to maneuver in small spaces. As well as blowing snow, they're also ideal for small jobs around your yard such as blowing leaves from your lawn and flower beds.
The downside is that they're less powerful. But even so, this Hitachi unit is not far off the capabilities of the bigger engine backpack blowers.
It has a 23.9cc gas-powered engine that creates an airspeed of 170 mph, and a volume displacement of 441 CFM.
The engine is low emission. And it's CARB Tier III compliant for use in California.
At only 8.6 lbs it's easy to carry around. Although it can still get tiring on your arm after a while without a harness to help you carry the load.
It has a 7-year warranty for consumer use (parts only). With a 2-year commercial warranty, and 1 year for rental.
EGO Power+ LB4800 3-Speed Cordless Electric Blower
The EGO Power+ LB4800 combines ease of use, a weather-resistant construction, and the power to shift light snowfall from your driveway, lawn, or walkways.
The turbine fan can be used to deliver an airspeed of up to 92 mph, with a CFM varying between 250-480 depending on the setting. This is a lot less powerful than the backpack blowers, so it won't be able to take on the same size of jobs.
It's a cordless electric blower, battery powered by a rechargeable 56-volt lithium ion battery. But you have to buy the battery and charger separately. You can find them here:
This is a quiet leafblower, with a noise rating of under 65 decibels, so it's less likely to annoy your neighbors. And the compact and lightweight (5 lbs) design makes it easy to carry and use.
The leaf blower comes with a 5-year limited warranty.
Greenworks 24012 7 Amp Single Speed Electric Blower
This electric leaf blower generates an airspeed of 160 mph, with 150 CFM. This is less powerful than some of the models reviewed so far, and so you should only consider it for light snow removal.
The 4.5 lbs lightweight design makes it easy to handle. And there are almost no vibrations compared to a gas leaf blower.
The electrical cord that provides its power has a cord lock to prevent you from unplugging it accidentally. And because it has a cord it can run indefinitely. But it does limit your movement, so this unit is only useful for small yards.
It's recommended for clearing leaves and debris from hard surfaces. But apparently doesn't work well at quickly blowing them off your lawn.
Choosing The Best Leaf Blower For Blowing Snow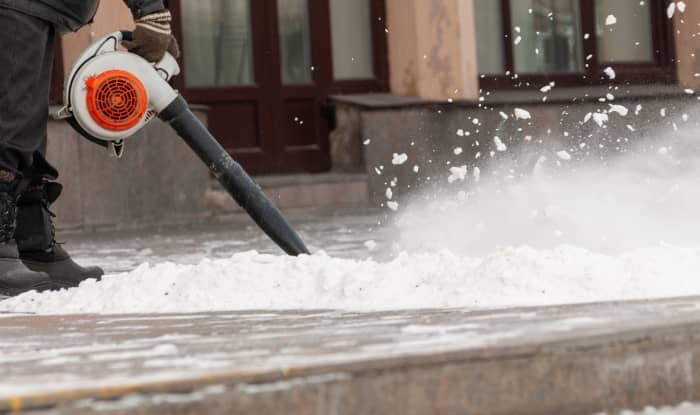 With so many leaf blowers available on the market, how do you choose the best product for snow removal?
Here are the key things to consider:
The Engine
The heavier the snowfall the harder it is to clear. So the size and power of the engine is an important consideration. More powerful leaf blowers are more likely to handle the garden maintenance jobs you need them for.
When choosing a handheld or backpack leaf blower, engines range from around 20cc to 50cc and over.
Airspeed And Volume
After you've checked out the engine, the other 2 important numbers you need to look at are the airspeed it generates (measured in mph) and the volume of air displaced (in cubic feet per minute, CFM).
The most powerful blowers will have high numbers for both of these.
The Weight
Another thing to think about is the weight of the leaf blower. You're going to have to carry it around with you as you use it. So think about how big the area of snow is likely to be that you'll need to clear, and consider what weight you'll be able to manage.
Although they're large, most backpack leaf blowers are comfortable to use for hours at a time. And handheld leaf blowers are generally lightweight and not difficult to carry for small jobs.
The Warranty
Although the best leafblowers are usually very reliable and have a long life, they can occasionally develop problems. And a high-quality leaf blower isn't a cheap purchase. So it's important to know that the company offers a good warranty in case anything goes wrong with the machine.
Are Leaf Blowers Good For Snow?
Leaf blowers are good for clearing light to moderate snow on walkways, driveways, patios, porches, or stairways. As well as other small areas of your yard.
But it might be more of a struggle after heavy snowfall. And snow that becomes compacted can be hard to shift.
The more powerful your leaf blower, the better the success you'll have.
Conclusion
So, what is the best leaf blower for snow?
In our opinion, the best leaf blower for snow removal is the Husqvarna 350BT Backpack Leaf Blower. It's powerful, reliable, effective, affordable, and easy to use.
We prefer this model over the other popular leaf blowers you might come across from companies such as EGO, Worx, Greenworks, Hitachi, and Stihl br.
Getting a model that can double as a leaf and snow blower combo often works out better for people than doing the hard work with a snow shovel. But if you regularly have big jobs to do, it might be worth getting a snowblower or a snow plow instead.