Clearing leaves and debris in the Fall is tiring work.
But fortunately, you can save a lot of time and effort by getting the best leaf vacuum mulcher.
Rather than just blowing the leaves around and away from your yard, you can remove them completely by turning them into a fine mulch. That's easy to dispose of in the trash or by adding it to your compost.
Our recommended choice is the Toro 51621 UltraPlus Leaf Blower Vacuum.
This powerful and easy to use machine is a 3 in 1 leaf blower, vacuum, and mulcher. It's exceptional at shredding and mulching leaves. And it has a high quality and durable build.
Our top choices at a glance:
All links lead to Amazon, where you can find more information & customer reviews.
The Best Leaf Vacuum Mulcher: Reviews
Toro 51621 UltraPlus Leaf Blower Vacuum
The Toro 51621 UltraPlus can do it all. It's a powerful leaf blower, vacuum, and mulcher rolled into one effective and efficient unit.
The 12 amp electric motor generates airspeeds of up to 250 mph in both vacuum and blower mode. With 350 CFM (cubic feet per minute) of air displacement when blowing and 410 CFM when vacuuming.
Variable speed control allows easy adjustments so you can apply the right amount of power to the job at hand.
It comes with a special tube for vacuuming that has to be attached before you start. You then stop and change to a different tube if you want to use it as a blower.
A bottom-zip bag collects the particles of shredded leaves when using the vacuum. And it's easy to put the bag on and take it off again.
This machine is the most effective at shredding leaves and small twigs on our shortlist. The metal impeller reduces 97% of leaves and debris to less than ½ inch in size. So you don't have to keep emptying the bag while clearing your yard.
Most customers find that the machine doesn't jam often when vacuuming. But if you do find that you suck up too many leaves and sticks in one go, it's easy to turn the suction power down and let the material fall out. Sometimes you'll have to stop and take the tube off to unclog it, but it's easy to do.
It comes with a concentrator nozzle so you can concentrate the power in a smaller area such as crevices and corners.
It also has a power insert that can help you to move wet and heavy leaves for when the main blower tube can't quite do the job.
The drawbacks?
At 8.9 lbs it can be tiring on the arm to use for long periods. It's lighter than a gas powered vacuum mulcher. But if you're looking for something even lighter then it's a good idea to look at one of the battery powered units on our shortlist.
This machine requires an electric cord to power it while you work. But, like all electric vacuum mulchers, the extension cord is not provided with the product. So if you don't have one already, you'll have to buy it separately.
The cord needs to be polarized and UL listed. You can get one at Amazon here.
WORX WG518 Leaf Blower Mulcher & Vacuum
The WORX WG518 is an electric handheld 3 in 1 tool which has proved very popular with customers for yard clearance.
The power specifications are almost at the same level as the Toro above. With 250 mph airspeed and up to 400 CFM.
But it doesn't have a variable speed control. Instead, it has a 2-speed selector switch that allows you to drop the power down to 160 mph for lighter work.
The mulcher has a steel impeller and mulches at a 16:1 ratio. Making the leaf fragments compost ready when you're done.
Switching between blowing and mulching requires the attachment of different nozzles.
And it comes with a concentrator nozzle to increase blowing power in a concentrated area when you need it.
This is one of the heaviest electric corded models on our list at 10.8 lbs. So people with less strength might find it awkward to use for longer cleanup jobs. But it's well-balanced. And the ergonomic handle makes it easier to hold.
If you're looking for an inexpensive leaf vacuum mulcher with good power and build quality, and don't mind the limited features, then this is an excellent choice.
It has a 3-year warranty.
Tanaka THB-260PF Handheld Leaf Blower Vacuum
The Tanaka THB-260PF is gas powered with a 25cc 2-cycle commercial grade engine. Generating airspeeds of 180 mph and 393 CFM at its top level.
Speed is controlled by using the 2 finger trigger throttle, allowing you to vary it as needed. And it has cruise control.
The engine is low emission and CARB Compliant. Meeting California emission levels without any reduction in power.
Using the vacuum function involves attaching the suction tube to the unit, along with a discharge tube and bag.
And when in vacuum mode, the steel blade impeller easily shreds leaves. Reducing them at a ratio of 14:1. With the material being collected in the 2 cubic feet bag.
It also comes with a special fan nozzle that gives you the option of directional blowing of leaves and debris.
A big advantage over electric corded models is that it doesn't have a cord. Making it easier for you to move around your property while using it.
At 13 lbs it's heavier than electric models, but lighter than most gas powered units. And the soft elastomer grip makes it easy to handle. It also has a second handle, making it easier to turn to the left and right using both hands.
It comes with a 2-year commercial use warranty and 3-year consumer warranty.
Poulan Pro PPBV25 Gas Handheld Leaf Blower Vacuum
Electric leaf vacuum mulchers are good for light to moderate jobs. But if you're looking for more power, with the ability to take on tougher jobs in the fall, then it might be a better idea to get a gas powered model.
The Poulan Pro PPBV25 has a 25cc 2-cycle gas engine. Generating an airspeed of 230 mph and 450 CFM of air displacement.
It has a variable speed trigger. And a cruise control to give your finger a rest when you've found the right output.
Changing between the leaf blower and vacuum requires changing tubes first. Which some customers find a bit cumbersome.
The vacuum mulcher reduces leaves and small bits of twig and wood in a 16:1 ratio, which collects in the zipper bag for easy disposal. Some customers report the bag being awkward to open and empty as it doesn't unzip all the way down.
But the vacuum mode works well, even sucking up wet leaves from the grass.
The main drawback is that like all gas powered leaf blower vacuums it's heavy, weighing 17 lbs. And as it's handheld, it might be awkward for some people to use for lengthy jobs.
But to make it easier, it does have a soft grip handle and reduced vibration technology making it comfortable to hold.
It comes with a 2-year warranty.
BLACK + DECKER BV6000 Electric Leaf Blower Vacuum Mulcher
A powerful and reliable performer, the BLACK + DECKER BV600 offers great value for money.
The 2-speed control provides a maximum speed of 250 mph with 180 mph on the lower setting. But the CFM isn't stated by the manufacturer.
The steel mulcher reduces leaves and debris at a 16:1 ratio. But twigs sometimes jam the vacuum tube. It's easily solved by switching the power off and shaking the tube to empty it.
While it does work to vacuum and mulch wet leaves, there is one small problem. The mulched particles fill up the housing and eventually reduce the suction of the unit. So occasional cleaning is required when taking on bigger jobs.
Like other 3 in 1 models, the tubes have to be swopped when changing between blower and vacuum modes.
At 8.1 pounds it's fairly light. And carrying it is made easier by the attachable shoulder strap.
Another great thing about it is that it's a low noise machine. At just 68 dB(A) it's not much louder than the volume of an average conversation. Making it a great choice for residential areas.
It comes with a 2-year warranty.
Remington RM1300 Mulchinator 12 Amp Electric Vacuum, Mulcher/Blower Combo
Another 3 in 1 leaf blower vacuum mulcher, the Remington RM1300 has a 12 amp motor that moves air at speeds of around 150 mph at its top setting. With 350 CFM.
This places it towards the bottom end in terms of power when comparing the tools we've shortlisted. So it's best for light work.
It easily picks up grass clippings, leaves, pine needles, and other loose debris from your lawn, driveway, patio, sidewalk, and garage floor. With the impeller turning 10 bags of leaves into 1 bag of chopped mulch.
An attachable rolling nozzle makes it easy to glide the vacuum over hard surfaces picking up leaves and debris without having to hold it inches above the ground yourself.
One big advantage of this model is that it's very easy to shift between vac and blower modes. You don't need to change the tube as you do on many 3 in 1 combo units. You just flip the QuickShift lever and it's instantly done. So there's no wasted time or effort.
Another great thing is that it's incredibly light. It weighs just 4 lbs. Making it easy for anyone to use, even for long cleanup jobs.
It has a 2-year limited warranty.
Worx WG509 TRIVAC Electric Blower
WORX is a brand with a strong reputation for building some of the best leaf blowers. And this is the second of their 3 in 1 combos on our shortlist.
The TRIVAC has a 6 position switch for varying the speed. With airspeed ranging between 80-210 mph and a maximum air volume of 350 CFM. Making it less powerful than the WG518 we looked at above.
This is powerful enough to pick up most leaves around your yard. But it works best with dry leaves.
Wet leaves sometimes pose a problem when mulching as they can be difficult to suck up. And they leave a muddy residue inside the tube, impeller, and housing that builds up. Making you stop occasionally to clean it out.
On the positive side, it has an innovative design. With an angled vacuum tube that makes it easy to blow and suck up leaves from under patio furniture and decks, without having to bend down.
And the metal impeller and shredding blades give the best reduction of leaves and debris of our selected models. Reducing 18 bags into just 1. Which means less time wasted unclipping and emptying the collector bag as you work.
It's designed to be used with one hand. And has an ergonomic design that makes it easy to handle despite its 9.3 pound weight. But as it's built for one-handed control it can get tiring after a while.
One big advantage it has over the WG518 is that it's far easier to change between blowing and vacuuming. You just flip a switch to quickly convert it.
It has a 3-year warranty.
GreenWorks 24322 G-MAX 40V 185MPH Variable Speed Cordless Blower/Vac
This is the only battery-powered leaf vacuum mulcher on our list.
As it runs from a 40v lithium ion battery, it has the advantage over corded electric leaf blowers in your ability to easily maneuver around your backyard. And it's easily portable.
Advantages it has over gas powered leaf vacuum mulchers include being a lot lighter at 5.6 lbs. It's also low in noise and doesn't have any emissions.
The main disadvantage of battery powered units is that they usually have less power. But although this model doesn't quite match up to the more powerful electric and gas models it still compares quite favorably.
The 185 mph airspeed with 340 CFM air volume displacement is enough to move most leaves and debris on hard surfaces. But it will struggle with heavy leaf fall on your lawn.
It has a variable speed trigger control and cruise control. With a turbo button for hitting the top speed. Which is needed to mulch well.
Keeping it at top speed will run the battery down quicker, after about 15 minutes. But at lower speeds, the leaf blower will last between 45-60 minutes.
To change between the vacuum and blower modes you need to change the tubes and add or remove the collection bag.
In vacuum mulcher mode, it reduces debris at a 10:1 ratio. But you have to be careful not to pick up twigs as they stop the vacuum from working and can damage the plastic impeller over time.
And although it's very effective for dry leaves, it doesn't work well for wet leaves as they quickly clog the impeller.
The battery and charger come with the leaf vacuum mulcher.
It comes with a 2-year tool warranty and 4-year battery warranty.
Sun Joe SBJ605E 14-Amp Electric Blower/Vacuum/Mulcher
This electric handheld leaf vacuum mulcher has a 14 amp instant start motor that generates speeds of 250 mph with 440 CFM in vacuum mode, and 150 CFM when blowing. With 6 speed settings.
It's powerful enough to vacuum good-sized piles of leaves, including wet leaves.
It mulches fast. And has wheels on the front to help stabilize the machine as you vacuum, keeping stress off your back from carrying its 8.6 lbs weight. The aluminum alloy impeller efficiently shreds leaves, reducing them in a 16:1 ratio.
Switching between blower and vacuum involves changing the tubes and attaching the collector bag. Which has an 18-gallon capacity. But some customers report they have problems with the bag's durability, and it sometimes needs replacing.
You can get a gutter attachment to go with this model to increase its functionality.
It comes with a 2-year no questions asked warranty for repairs or replacement.
BLACK+DECKER BEBL7000 Back Pack Leaf Blower Vacuum & Mulcher
This leaf vacuum and blower features a comfortable to carry backpack collector bag that's twice as big as most comparable models. And it's zipper free, with a wide opening that makes for quick and easy emptying.
The machine has good power with 250 mph and 400 CFM in turbo mode.
It's ideal for clearing leaves and debris from hard surfaces, and quickly sucks up leaves from your lawn.
The impeller is made from plastic and sometimes struggles when picking up twigs and sticks. It reduces leaves at a 16:1 ratio.
At 11.1 lbs it is one of the heavier models on our list. So it might not be a good choice if you're lacking in strength and know that you will be using it for long periods.
Buyer's Guide: Comparing The Best Leaf Vacuum Mulchers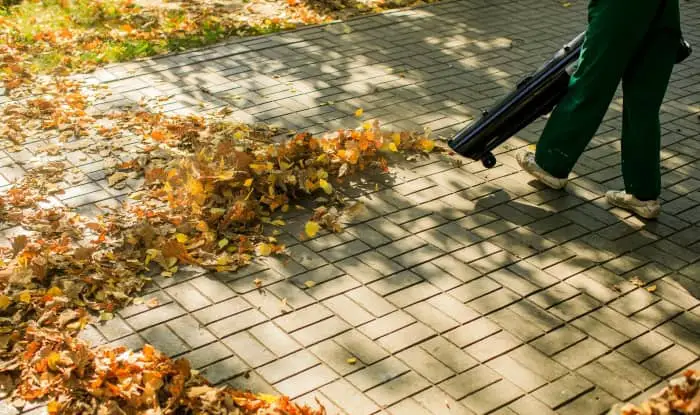 When shopping for the best leaf vacuum mulcher there are a number of things to look at:
The Type
Leaf vacuum mulchers are available in 3 different types, categorized by the power source they use: electric, gas, and battery powered.
Each has its own advantages and disadvantages. And depending on how you'll use it, one type may be a better fit for you than the others.
Let's take a closer look.
Electric Leaf Vacuum Mulchers
These are the most common type available on the market. They use an electric cord plugged into the unit to provide continuous power.
The best models are quite powerful, but they don't generate the same airspeeds and volume displacement as the top gas powered units. So they're best suited for moderate leaf fall.
But they're lighter and less noisy. With zero emissions, and no need to mess around with fuel and oil to get them started. Making them very convenient.
One obvious downside is the cord. This can hamper your movement and reach slightly as you move around your yard.
Electric leaf vacuum mulchers are the most popular choice with homeowners.
Gas Leaf Vacuum Mulchers
These are the most powerful models you can get. So they're the best leaf vacuums for outdoor use on moderate to heavy accumulations of leaves.
If you only have occasional light work to do in your garden it's probably not worth getting one because they tend to be the most expensive. And their weight and noise make them less convenient machines to use.
Battery Powered Leaf Vacuum Mulcher
The lightest, smallest, and easiest to use of the three types of leaf vacuums. But also usually the least powerful.
They're great for small cleanup jobs around small yards. Particularly on hard surfaces such as decks, patios, driveways, and garage floors, where it's easy to collect leaves and debris
But the cheaper units sometimes struggle to work well on grass.
Because they're cordless this variety is easy to use wherever you go. And they're often small and easy to store.
Suction Power
When judging the power there are 2 numbers you need to pay close attention to:
The air speed in miles per hour (mph).
And the air displacement, measured in cubic feet per minute (CFM).
Models with the most suction and blowing power will have high numbers for both of these.
If you just need it for the occasional small cleanup job, then any of the models on our shortlist above will take care of it for you.
But if you often have a pile of leaves to get rid of from your lawn then go for one of the more powerful options.
Mulching Ratio
Leaf vacuum mulchers shred leaves and debris into smaller pieces. This helps you to carry the waste in your collection bag without having to constantly empty it into the trash.
The best leaf vacuum mulchers have reduction ratios ranging from around 10:1 to 18:1.
Weight
The majority of leaf vacuum mulchers are handheld. And if you're going to carry it around while you work it needs to be a weight you can handle with ease without tiring.
Light weight models are available. But they tend to be the less powerful units.
Some heavier models come with a shoulder strap to help you.
Impeller
You can get mulchers with metal or plastic impellers. Metal is more durable and will do a better job of grinding debris such as small twigs. But a unit with more metal pieces will be heavier to carry.
Switching capability
The best leaf vacuum mulchers also usually have leaf blowing functionality. And the way in which you change between the vacuum and leaf blower modes can be different depending on the model.
Most require you to change between blower and vacuum tubes. And either attach or remove the collection bag. But this is sometimes awkward and takes up time.
If you'd rather not have to mess around changing attachments on your machine then some models have a lever you can press to make the change
Warranty
The best leaf vacuum mulchers aren't cheap. So it's important to know that you're covered if anything goes wrong.
The best brands offer a warranty for repair and replacement of the unit if necessary. But the length differs from one brand to the next. So it's a good idea to check it so you know how long you're covered on your new machine.
Conclusion
So, what is the best leaf vacuum mulcher?
Our best rated recommendation is the Toro 51621 UltraPlus Leaf Blower Vacuum. It's a well-built and durable unit that has the power to take on most yard cleanup jobs. With 97% leaf reduction when mulching.