Whether it's clearing leaves from your lawn, or blowing away debris from your driveway, patio, or workshop, a leaf blower is the perfect tool for the job.
Because they come in many different types and sizes, we've done the research to find the best ones that combine a lightweight design with power and ease of use.
Our top choice is the ECHO PB 2520 Handheld Light Weight Leaf Blower. This highly durable and lightweight unit packs plenty of power to tackle big jobs. And it's comfortable to use, even for long periods.
The best lightweight leaf blower – our choices at a glance
All links lead to Amazon, where you can find more information & customer reviews.
The Best Lightweight Leaf Blower: Reviews
ECHO PB 2520 Handheld Light Weight Leaf Blower
This lightweight and highly durable handheld leaf blower weighs in at 8.6 lbs. And comes with a shoulder harness to make it comfortable to carry.
It also has a curved blower tube that gives you extra rotational control, reducing fatigue as you use it.
With a 25.4cc 2-stroke engine it generates airspeeds of around 170 mph, with 453 CFM (cubic feet per minute) of air displaced. Placing it among the top end of handheld blowers for power.
The fuel tank can carry 18.6 fl. oz. Which is enough to keep it going even for quite large jobs. And the variable speed control allows you to use only as much power as you need for the task at hand.
It has a 5-year consumer warranty, with a 2-year warranty for commercial use from the manufacturer.
Husqvarna 130BT Back Pack Blower
The Husqvarna 130BT is a powerful leaf blower. And importantly, it's the lightest backpack leaf blower you can get at this level of power.
It weighs 14.55 lbs. Which is heavier than the handheld leaf blowers on our shortlist. But as you carry it on your back using the comfortable attached harness, most people find they can use it for significantly longer periods without fatigue.
And when it comes to performance, it's superior to most handhelds. The 2-cycle 50cc gas engine creates an air speed of 145 mph out of the pipe, with 360 CFM air displacement.
Because of this power, it's ideal for clearing leaves, debris, gravel, and sand from large areas of land.
The X-Torq engine uses fuel very efficiently. And reduces exhaust emissions by around 60%.
It comes with a 1-year warranty.
Hitachi RB24EAP Gas Powered Leaf Blower
Another great handheld blower is the Hitachi RB24EAP. It's built to make even big yard cleanup jobs, such as autumn leaf removal, quick and simple to carry out.
This gas-powered unit has a commercial grade 2 stroke 23.9cc engine that blows air out of the tube at 170 mph. And displaces 441 CFM. Easily moving leaves, debris, and grass cuttings from your yard.
If you're concerned about polluting the environment, then you'll be pleased to know this is a low emission engine. Which has been passed as CARB Tier III compliant. So you can use this if you live in the state of California.
The lightweight unit weighs only 8.6 lbs. And it's well-balanced, making it very easy to carry around for long periods without suffering fatigue.
With its large 2-finger throttle lever, it's easy to use.
It comes with a 7-year parts only warranty for consumer use. Which changes to a 2-year warranty if you intend on using it for commercial operations. And 1-year if you rent it out.
Makita DUB182Z Mini Leaf-Blower
Makita is a Japanese company that's well known for its power tools. And this high-quality leaf blower is proof of their expertise in outdoor power equipment design.
If you're looking for an effective and durable unit that won't break the bank, then this is a good choice.
The cordless leaf blower weighs only 3.9 lbs, making it the lightest leaf blower on our shortlist.
And despite its compact design, it still generates good power. With a 3-speed motor that produces airspeeds of up to 179 mph, with a volume displacement of 91 CFM. This is enabled by Makita's 18V lithium-ion rechargeable battery.
While the power is decent for small jobs, if you have heavy leaf fall to clear, it probably won't satisfy you and you should look at one of the more powerful units above.
It's easy and comfortable to use. It has a rubberized grip that absorbs vibrations. And its small size makes it easy to maneuver when cleaning in tight spaces.
The manufacturer provides a 1-year warranty from the purchase date.
Greenworks 24012 7 Amp Single Speed Electric Blower
This budget electric leaf blower is worth considering if you only have small jobs to do. It's very light at 4.5 lbs. So you know that it will be easy to carry.
The motor blows air at 160 mph. With air displacement of 150 CFM. This is powerful enough for clearing debris, leaves, and even light snow from patios, driveways, and walkways. But, it doesn't work as well for clearing things off the grass in your garden.
One of the main drawbacks of this model is that it has an electrical cord, which limits your movements. However, on the plus side, this means you can run it indefinitely. And it features a cord lock that prevents it from being unplugged by accident.
One of the benefits compared to gas-powered leaf blowers is almost no vibrations. So it's very comfortable to use.
The product has a 4-year warranty.
How To Choose The Best Light Leaf Blower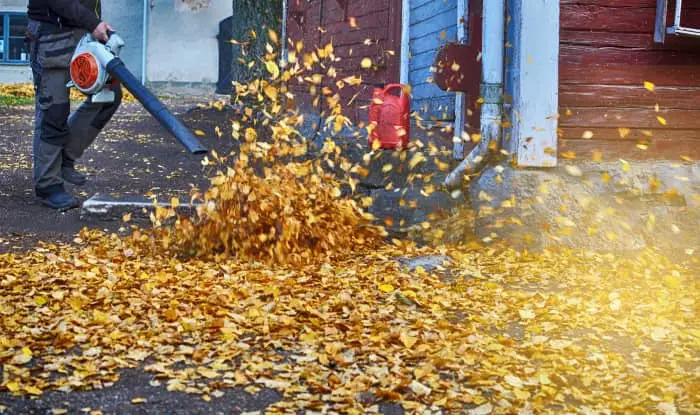 When looking at the best leaf blowers, weight isn't the only important thing to consider.
Here are some more things to think about before you buy:
The Type
Blowers come in 3 different types, that each has its own advantages and disadvantages:
Battery operated (or cordless) leaf blowers are light and easy to use. You can carry them anywhere you need to use them, and as they're fairly small they can be used in tight spaces.
But they're usually not the most powerful option. And the battery often runs out in less than an hour and then needs charging again. So a cordless blower is only good for small jobs.
Electric blowers have a cord attached and will run for as long as you have them plugged in. But the cord limits the range you can use them over.
They're also very lightweight. And they usually have more power than the battery blowers, but not as much as a gas-powered.
Gas powered blowers have the most power of the available options. But they're also often the heaviest and make the most noise. You can get them as backpack blowers and handheld blowers. And they are the best option for big jobs.
If you're going to use your blower for many hours over large areas of land then a backpack blower is the best choice, because they're more comfortable to carry.
Airspeed & Air Volume
The heavier the leaf fall you've got to clear the more power you'll need your leafblower to have.
The 2 most important numbers are the airspeed (in miles per hour) and the volume of air displaced (measure in cubic feet per minute).
The higher these 2 numbers are the better.
Conclusion
So, what is the best lightweight leaf blower?
We recommend the ECHO PB 2520. This popular choice is powerful, very lightweight, and easy to use.