Excess thatch affects the health of your lawn, preventing it from growing to its full potential.
But if you have a large area to dethatch it can take a lot of time to do it by hand.
The quickest and easiest solution is to use the best tow behind dethatcher.
My recommendation is the Brinly DT-48BH Tow Behind Dethatcher.
It's excellent at pulling up thatch, twigs, leaves, grass clippings, and pine cones. The wide 48-inch width means you'll spend less time on the job than with a narrower unit. And the durable design will give you years of use.
The top choices at a glance:
All links lead to Amazon, where you can find more information & customer reviews.
The Best Tow Behind Lawn Dethatcher: Reviews
Brinly DT-48BH Tow Behind Dethatcher
For the maximum thatch removal on large lawns, you can't do better than the Brinly DT-48BH.
With a wide 48-inch raking width and 2 rows of 12 flexible spring steel tines, it easily pulls thatch out of your lawn as it combs through your grass.
The wide width means fewer passes to completely cover your yard. Which means less time spent doing the job.
It's a durable unit, with an all-steel frame and 8-inch never-flat rubber tread wheels that are made to last.
It also features a universal hitch. Making it easy to hook up to your tractor, riding mower, ATV, or ZTV. With the adjustable mounting positions of the drawbar making it easy to use whatever your vehicle height.
Brinly Hardy provides a 2-year warranty with the dethatcher.
Brinly DT-40BH Pull-Behind Dethatcher
The Brinly DT-40BH is the slightly smaller version of the tow-behind dethatcher above.
Despite having a narrower width it still doesn't take much time to dethatch large and medium-sized lawns. And because it's smaller it's often available at a better price.
It has a 40-inch working width with 2 rows of 10 tines. It offers great performance, easily pulling up thatch as the spring tines are dragged through your grass.
You can adjust the depth of the tines to fulfill different purposes. Allowing you to use it as a straight dethatcher or, with a more aggressive setting, it can perform as a scarifier by scraping and loosening the soil. This is particularly useful if you're planning on reseeding the area.
If you need extra weight so the tines can dig in a bit more, the tray above them can carry an additional 70-lbs.
And to make it easy to transport, there's also a setting that lifts the tines out of the way while you move across driveways and walkways.
It's made of steel and is very sturdy. So you should get years of use out of it.
A universal hitch pin makes it easy to attach to a mower or ATV. Or for use as a tractor dethatcher.
Agri-Fab 40-Inch Tine Tow Dethatcher 45-0294
There are 2 dethatchers from Agri-Fab on our list, this is the smaller one with a 40-inch width. It's a good choice for the budget-conscious.
20 spring-loaded tines are responsible for easily penetrating and turning up thatch, weeds, and soil. They're rust-proof and heat-treated so they last a long time. And they're replaceable if they finally become damaged.
The rest of the dethatcher is made from heavy gauge steel. With a deck that can carry 70-lbs. And with good care and appropriate use, this is a tool that will last you for many years.
A transport handle allows you to raise and lower the tines. Making it easy to move from location to location on its 7-inch flat-free wheels. And it features a universal hitch so you can tow it with your tractor or ATV.
The product comes with a 3-year limited warranty.
Agri-Fab 45-0295 48-Inches Tow-Behind Lawn Dethatcher
This is another extra-wide tow behind dethatcher with a raking width of 48-inches.
The 24 tines easily lift up thatch, leaves, sticks, pine needles, and pine cones from your lawn. And as they're rust-proof and heat-treated they're highly durable and long-lasting. But if you do have any problems with them, it's good to know they're easily replaceable.
A steel deck above the tines can carry an extra 70-lbs, which is standard for a good pull-behind dethatcher.
The cantilever transport handle is easy to operate while seated. And the universal hitch allows you to attach it to your vehicle.
This is an easy to assemble dethatcher. And it comes with a 3-year warranty.
Strongway Tow Behind Dethatcher
This is another extra-wide model with a 48-inch raking width. 24 heat-treated spring steel tines, each 7-inches long, are highly effective at raking up thatch, grass clippings, leaves, and other vegetation that's getting in the way.
The metal tray allows you to add an extra 60-lbs of weight for deeper penetration.
The adjustment handle is easy to reach from your seat, giving you the ability to safely control the height of the tines while you're using the dethatcher.
7-inch poly wheels make it easy to tow even on bumpy surfaces. And a pin-style hitch makes it easy to attach the unit to your pull vehicle.
The only drawback is that you have to stop quite often to clean the thatch from the tines.
Precision Products 42-Inch Dethatcher DT42GY
This 42-inch lawn dethatcher is an extra sturdy design that's made from 12-gauge powder-coated steel. And if you're looking for better penetration of the soil, the weight tray can carry an additional 150-lbs. Making this the best option on our shortlist for scarifying the soil.
22 heat-treated and durable spring steel tines make easy work of pulling up thatch. And the cantilever handle allows you to lift and lower them. And it's easy to reach while you're seated on your vehicle.
A universal trailer mount makes it easy to connect to your riding lawn mower, ATV, or lawn tractor.
This is an easy-to-assemble model that you can put together in less than 30 minutes.
Precision TT500 40-Inch Dethatcher
This Precision dethatcher is slightly narrower than the one above at 40-inches.
The body and tray are made of 15-gauge steel, with the tray suitable for carrying an extra 100-lbs.
2 rows of 10 steel tines are effective at lifting up thatch. And because they're heat-treated they're resilient and long-lasting.
7-inch semi-pneumatic wheels make it easy to steer around your yard, even over bumpy and difficult terrain.
The single lever control is easily reached while seated and makes it easy to lift the tines up and down depending on whether you're working with the unit or transporting it.
A reinforced steel hitch with a pin is also included, making it easy to attach to your vehicle.
Yard Tuff DT-48T Tine Dethatcher
Yard Tuff's 48-inch lawn dethatcher offers durability and efficiency at a good price.
For pull behind dethatching, it features 24 heat-treated steel tines arranged in 2 rows of 12. With each tine made from premium spring steel for long life.
And the steel frame and tray provide a sturdy and reliable product that you'll get years of use from.
If your lawn is uneven, or you need to transport the thatcher over bumpy ground, then it's good to know the unit comes equipped with rugged 7-inch poly wheels.
It also has a pin style hitch to attach the dethatcher to your utility tractor, lawn tractor, ATV, or UTV.
Yard Commander 40-Inches Tow-Behind Tine Dethatcher
Made from steel and with rust-resistant powder coating, the Yard Commander is designed to be a unit that can withstand the rigors of heavy use over many years.
The 40-inch width is a good size for most lawns. And it features 20 steel spring tines with 20 teeth.
A handle with 2 positions allows you to lift the thatcher when you're transporting it, and drops it down to the ground again when it's time to start work.
To adjust the depth you have to manually alter it by loosening or tightening the brackets.
A ½-inch pin-type hitch enables you to hook the dethatcher up to a garden tractor, UTV, or ATV.
It comes with a 1-year limited warranty.
Craftsman 40 Inches Tow Lawn Dethatcher
The Craftsman Tow Lawn Dethatcher is a great choice for the homeowner on a budget.
It has a standard 40-inch working width and 20 steel-spring tines. And shows good efficiency at pulling up matted material from your lawn.
For deeper penetration, the tray above the tines holds an extra 70-lbs.
It's easy to raise and lower from a seated position due to its cantilever handle, making it easy to transport across hard ground to the right location.
And you can easily attach it to your vehicle with the universal hitch.
Are there any drawbacks?
The main complaint from customers is that the quality of the instructions makes it time-consuming to assemble.
Choosing A Tow Behind Dethatcher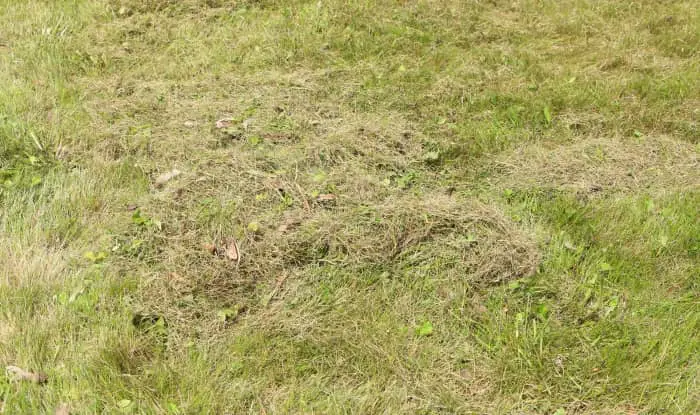 How do you choose the best tow behind dethatcher?
Here are some things to consider:
Width
Tow behind dethatchers come in a variety of widths. This affects the swath created with each pass up and down your lawn.
Wider dethatchers will get the job done quicker than narrower ones. But, they usually cost a bit more money as well.
How Much Weight Can It Carry?
Pull behind dethatchers usually have a weight tray above the tines that allows you to add extra weight.
This can help to clear thick and matted thatch more effectively. And can also be used to help you scarify and till the surface layer of the soil.
The weight that can be carried varies between brands. With around 70-lbs being standard. But some able to carry 150-lbs or more.
Is It Easy To Transport?
Some of the best pull behind dethatchers come with a lever that helps you to raise and lower the unit.
Raising makes it easier to transport along roads and over hard ground. And then you can lower it to the ground when it's time to start dethatching.
Warranty
Although the best tow behind dethatchers are built to last, sometimes things can go wrong.
Pulling your dethatcher up and down and dragging the tines along the ground can cause parts to bend and break.
So it's good to check how long the warranty is before you buy.
1-2 year warranties are standard among the top-rated models. But you can occasionally find products with longer warranties as well.
FAQ
Can Dethatching Hurt Your Lawn?
When you do it properly, a dethatcher is great for the health of your lawn. It helps nutrients, oxygen, and water enter the soil for root uptake.
But you should use it at the right times of the year when the grass is vigorously growing to avoid damage to your lawn.
When the grass is growing it can quickly recover from any injury caused by the dethatching. The best times to do it depend on the grass type.
For cool-season grasses, such as Kentucky bluegrass, early fall or late summer is the best time. For warm-season grasses, such as Zoysia grass, early summer is the best time.
Are There Alternatives To A Tow Behind Dethatcher?
One of the most popular alternatives is a good electric dethatching machine.
A budget choice is to get a dethatching lawn mower blade. These easily attach to most mowers. But, you won't get quite the same results as you will with a tow behind. 
If you have the budget and a large area to dethatch, then a tow behind is a better choice.
Another cheap alternative is to get a dethatching rake.
Should I Pick Up Thatch After Dethatching?
After dethatching the thatch will be left lying on the top of the grass along with any leaves, twigs, pine cones, etc, that are pulled up.
So it's a good idea to clean up. You can use a lawn rake or lawn sweeper to collect the debris. Another good option is a leaf vacuum mulcher.
What Is The Difference Between Dethatching And Power Raking?
Using a power rake is an aggressive way of removing thatch from your lawn. It's only really needed for lawns with very thick thatch.
Whereas using a dethatcher is usually a lighter process that removes a thin layer of thatch from a healthy lawn to help with fertilizer absorption.
However, because you can add extra weight on top of a tow behind dethatcher you can dig through matted thatch and even into the top layers of the soil if you need to.
How Often Should You Dethatch Your Lawn?
A small amount of thatch is healthy for your lawn. So you only really need to dethatch when excess starts to build up. This will take a different amount of time on different lawns.
You should leave it until it's an inch or more before taking action.
Featured image source: Agri-Fab, Inc., CC0, via Wikimedia Commons