If you've got land to spray, nothing is easier than using the best tow behind sprayer.
Using a backpack sprayer or a pump sprayer takes a lot of time and can be hard work.
With a tow behind sprayer, you just hitch it to the back of your mower, tractor, or ATV, and take a gentle ride while the sprayer does all the work.
Our recommended product is the NorthStar 282780 21-Gallon Sprayer.
This well-built and reliable model can be used with all types of herbicide, fertilizer, and pesticide. It's a great choice for spot spraying as well as wide coverage.
Our top choices at a glance:
All links lead to Amazon, where you can find more information & customer reviews.
The Best Tow Behind Sprayer Reviews
NorthStar 282780 21-Gallon Tow-Behind Trailer Boom Broadcast and Spot Sprayer
The top choice on our list and also one of the most popular sprayers of this type on the market.
With a 21-gallon tank capacity and the ability to provide an open flow of 2.2 gallons per minute, it rises to the task of getting big jobs done quickly with consistent coverage.
Whatever you need to spray, whether you're watering, fertilizing, or killing weeds, the 12 NSQ Series on-demand pump takes care of the job. Generating 70 PSI to spray a steady stream of fluid.
While spraying, you're in complete control of the nozzles on the right and left side of the unit. Which comes in handy when you're spraying in small areas, or along fences and property boundaries.
You can adjust the spot spray gun nozzle between stream and cone. And it gives you a maximum 19 ft. of distance vertically and 30ft. in a horizontal direction.
But as well as precision spraying, it's also good for wide coverage. Easily spraying a 10 ft. swath as you maneuver over fields, roadways, or lawns.
Spray for as long as you need to get the job done, because there's no cool-down period needed for the pump once in operation.
The tank is heavy-duty and resistant to degradation by chemicals and UV light.
The model also comes with a 100% steel cart. Spring-loaded breakaway boom arms that can be folded to make storage easier. A retractable tow bar. 12-inch pneumatic wheels that make it easier to tow. And a large fill neck to make filling and cleaning a simple process.
Attach it to your garden tractor, riding mower, or ATV, and you're good to go. A great choice if you have a medium to large-sized garden, or bigger areas of land to spray.
Ironton Tow-Behind Trailer Broadcast and Spot Sprayer
Sharing some similarity with the NorthStar unit listed above but smaller in size, the Ironton is a good choice for the budget-conscious homeowner with a small to medium-sized lawn to take care of.
The tank capacity is 13 gallons and the unit features a pump that can output 1-gallon per minute of liquid.
A 40-inch broadcast width makes it quick to cover your yard while towing. And when spot spraying you can adjust the nozzle of the spray gun from a stream to a mist. With a 12 ft. vertical reach, and 20 ft. when spraying horizontally. However, some customers would be happier with a longer hose than the 12 ft. one provided.
It's a durable model, with a UV-resistant tank you can use for all weed killers and pesticides without damage.
The molded-in gallon notches on the slightly translucent tank make it easy to keep track of how much fluid you're carrying. While the 7.5-inch opening makes it easy to fill. And an easy-empty bottom drain makes draining the tank of any leftover fluids a quick and simple task.
Other useful features include the 10-inch pneumatic wheels, making it easy to maneuver even on difficult terrain. And a hanging bracket that's built-in to the unit so it can be stored away easily.
Chapin 97600 Tow Dripless Fertilizer, Herbicide and Pesticide Sprayer
Suitable for use with all common pesticides, herbicides, and fertilizers, the Chapin 97600 is another good example of a well-made pull behind sprayer aimed at the homeowner who wants to make their life a bit easier.
The polyethylene tank can hold 15-gallons at a time. And it's translucent white color helps you keep track of the fluid level.
The pressure gauge located on top of the sprayer is easy to monitor. With the 12V diaphragm pump generating up to 70 PSI.
The output of fluid from the tank is 2-gallons per minute. And the spray boom gives you 7 ft. spraying coverage.
A brass extension wand with comfort grip and lock makes spot spraying easy. And it has professional standard dripless cut-off.
Other features include a 15 ft. reinforced hose, an adjustable hitch, and pneumatic tires.
Homestead SL6-46-012Q-HS 12 Gallon Pull & Tow Boom Broadcast Trailer Sprayer
A good choice if you have a small or medium sized area of land to spray.
Featuring an Everflo 1.1 gallon-per-minute pump. A boom nozzle that gives you 5 ft. spraying coverage. And rear drain port that makes removal of leftover fluids from the 12-gallon tank an easy process.
When spot spraying with the attached 10 ft. hose and wand you can reach 30 ft. horizontally, and 15 ft. vertically. So you can spray with comfort from your seat as you maneuver around your yard.
With its foldable tongue, it's nice and compact when you want to store it away.
It's designed for towing behind a commercial or zero-turn mower. But you can also hitch it to an ATV as well.
Agri-Fab 45-0292 15-Gallon Tow Behind Sprayer
Agri Fab is well-known for its range of high-quality lawn care equipment. And this sprayer comes with many useful features.
The 15-gallon tank and 1 gallon per minute pump work as expected and are durable. And when the booms are fully extended you can get a 7 ft. spray width. Giving you great coverage, and making quick work even of large areas.
The spray wand is advertised as being able to spray up to 30 ft. making it easier to cover those hard-to-reach bushes and trees.
It comes with 10" flat-free tires that make it easy to transport over tough ground.
Precision Products Tow Behind and Spot Sprayer
The Precision comes in 2 sizes. A 16-gallon sized tank that's ideal for most small-to-medium sized gardens. And a larger 25 gallon tank for people with bigger jobs to do.
It comes equipped with a 1.8-gallon per minute pump that's easily connected to a 12V battery on your tractor or mower. And generates up to 60 PSI. With the spray bar, you can get a width of around 7-9 feet.
A nice feature of this sprayer is that the pump is mounted on an anti-vibration pad.
The hand wand is attached to a 15-inch hose and is capable of spraying small trees of around 12-ft.
Many customers praise the durability of the unit. With the steel Shurflo pump providing years of use.
SMV Industries 25 Gallon DLX Trail Sprayer
This bright yellow sprayer from SMV industries stands out visually and with its performance.
It's ideal for spraying large areas of land. With a 25-gallon tank, 2-gallon-per-minute 12V DC pump, and 2 nozzle boom giving you quick coverage as it sprays a 7 ft. width. With some customers managing to get up to a 12 ft. width by angling the nozzles and maintaining a high pressure of around 60 PSI.
The high-quality spray wand gives you about a 30 ft. reach horizontally, and 20 ft. vertically. Which is enough to spray small fruit trees.
13-inch tires make maneuverability easy over difficult conditions.
Buyer's Guide: Choosing A Tow Behind Sprayer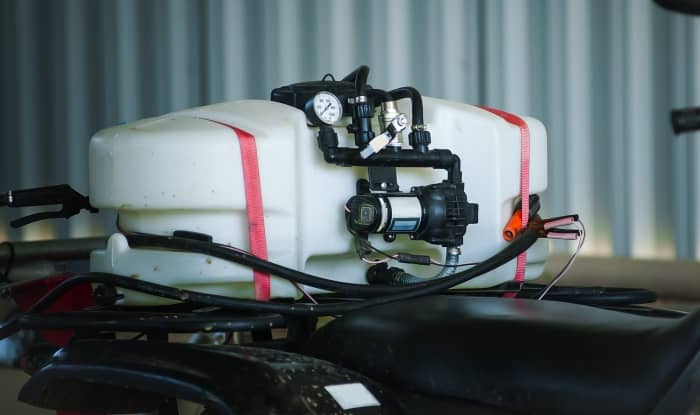 There are many different tow behind sprayers available on the market. They come in varying sizes, and with different capabilities and features.
How do you choose the best tow behind sprayer?
Let's take a look at some of the main things to consider before you buy.
Tank Material
When spraying chemicals such as weed killer and insecticide it's important that the tank is made from material that won't easily corrode.
The majority of tanks are made from thick polyethylene plastic as it's light, durable, and easy to manufacture. But you can also get tanks made from steel or fiberglass.
High-quality polyethylene tanks will come with UV protection to prevent them being damaged by regular sun exposure.
Fiberglass is very durable. And it shares some benefits with polyethylene as it's light and rustproof.
Stainless steel is the most durable material, being highly resistant to impact and corrosion. And it gives you many years of use when the tank is made well. But it's very heavy and significantly more expensive.
Tank Capacity
The size of the area you need to spray will determine the appropriate tank capacity for you.
The best tow behind sprayers for homeowners have tank sizes that range from around 13-gallons at the smaller end of the market to 25-gallons on the bigger units. Commercial tow behind sprayers are also available with up to 100-gallon capacity.
Most people with a small or medium-sized area to spray of about 1-1.5 acres or less will get by with a tank size somewhere around 15-20 gallons.
You don't want the hassle of having to stop to refill it partway through working, so getting one that's large enough to do the job will make life a lot easier.
It's also worth remembering that smaller units are often less expensive. So you'll get better value for money by getting one that suits your needs.
Related: The Best Battery Powered Backpack Sprayer
GPM Output
The fluid output through a spray nozzle can be measured in gallons-per-minute (GPM).
At higher gallons per minute, the tank will empty faster. But this will allow you to complete the job quicker.
At a lower gallon per minute, you might have to drive more slowly to ensure adequate coverage of the treated area.
The Pressure
The pressure that the fluid in your tank is pumped at is measured in PSI (pounds per square inch). The greater the PSI the stronger the sprayed stream and the greater distance of coverage you can often expect to get.
Spray Width
The spray width will give you a good idea of the area you will spray with each pass. The best tow behind sprayer for bigger properties will have a wider spray width so you can complete your job a lot quicker. But may be unnecessary for a small yard.
Many tow sprayers come with adjustable nozzles so you can increase or decrease the spray width to suit your requirements.
Sprayer Boom
The sprayer boom also plays a part in getting good coverage of your yard when spraying.
Its main function is to help spray the liquid in the tank over a wider area as you drive up and down.
Different types are available:
Dry booms provide a frame for the hoses that carry fluid from the tank. This is then sprayed through nozzles that are positioned along it. One big advantage of dry booms is that they usually cost less than other options.
In a wet boom, the pipe system not only acts as support, but also delivers the fluid to the spray nozzles as well. Some of the advantages of wet booms are that they have less chance of becoming blocked and contaminated with residues, and are easier to flush out.
Dripless booms have no-drip diaphragm check valve nozzles and do as the name suggests.
Spray Nozzles
Different types of spray nozzles produce different spray patterns. They can be used to give you the correct coverage depending on the job you're doing.
Take a look at the instructions on the chemical you're spraying. It will usually tell you the type of nozzle to use to get the best results.
Here are some of the common types of agricultural spray nozzles along with the chemicals that are well suited to their use:
Hollow cone nozzles work well well for spraying fungicides when you have pressure from 40-100 PSI. The smaller droplets sprayed give you good coverage and penetration.
Most insecticides also work well with hollow cone nozzles.
Many herbicides, such as glyphosate, work best when sprayed in small droplets as well. In this case, a good choice would be a flat fan nozzle.
However, when using Dicamba it's a good idea to use a flood nozzle for larger drops.
Tires
If you know you'll always be towing your sprayer over a smooth flat lawn then this isn't as big a consideration.
But if you'll be maneuvering it over difficult, uneven, and muddy terrain then the type of wheels it has are important to consider.
Larger wheels will make the job easier than smaller ones. And look for the best tow behind sprayers with a good tread to provide grip.
Pneumatic tires are popular and provide excellent stability. But if you think there's a chance of puncture it might be better to get no-flat tires instead.
Hitch
The hitch is used for connecting your pull behind sprayer to the back of your lawn tractor, lawn mower, or ATV. Most models come with a universal hitch to make connection easy.
Additional Features
The best tow behind sprayers come with added features that make spraying and storing easier. Here are some of the things you'll find:.
A hand wand is required for accurate spot spraying. With a long hose, you can do this while driving. Or you can stop and walk the length of the hose to a better location.
A remote switch gives you added convenience. You can turn the sprayer on and off without leaving the seat of your vehicle.
If you don't have a lot of storage space then features like foldable boom arms, foldable tongues, and removable wheels and axles can make the unit more compact and easy to find space for.
The best pull behind sprayers often come with battery clips to help you connect to the battery on your vehicle.
Conclusion
So, what is the best tow behind sprayer?
Our best-rated choice is the NorthStar Tow-Behind Trailer Boom Broadcast and Spot Sprayer.
This easy to use, high-quality, and durable unit will give you years of reliable use. It can be used with all herbicides, pesticides, and fertilizers. And gives you excellent broad coverage as well as spot spraying.
Related: Best Rated Backpack Sprayer