Clearing dead leaves and debris can be a tough job.
With a garden rake, it takes a long time. Not to mention the strain it places on your back.
That's bad enough when you have a small yard. But with a larger property, it's just not possible.
A walk behind leaf blower can get the job done easily in a fraction of the time. And it only involves a gentle walk.
If you're a homeowner, the best walk behind leaf blower is the Merry Mac Walk Behind Leaf Blower. It's got the power to tackle most jobs around your yard, easily clearing moderate to heavy leaf fall.
Our top recommendations at a glance:
All links lead to Amazon, where you can find more information & customer reviews.
The Best Walk Behind Leaf Blower: Reviews
Merry Mac LB1450ICEZM Walk Behind Leaf Blower
Merry Mac makes a popular line of walk behind leaf blowers of different grades.
This model is ideal for people with a lot of trees on their land and thick carpets of leaves to clear. Or even for the homeowner with a smaller area to clear who appreciates the extra power and features.
The powerful 4-cycle 305cc Briggs & Stratton engine is housed in a highly durable cast iron sleeve. And when running, it helps the blower move the air at 200 mph and 2,000 CFM.
Although it's gas-powered, it's within the California carb emissions standards. And even though this is a very powerful tool, it's not uncomfortably loud. At 71 decibels it's similar to your average vacuum cleaner.
The 115 lbs machine is easy to move over any terrain. Its pneumatic rear wheels give it great traction and stability. And it also has a lockable front swivel wheel, making it easy to change direction.
This walk behind leaf blower also has a cushioned grip to absorb the vibrations and make it comfortable to steer.
And an adjustable deflector that enables you to control air direction using the kickable handle.
Customers report great results. Clearing leaves easily, even when in a thick carpet. Jobs that would take many hours with a handheld blower you can do in a small fraction of the time.
If you're looking for a step up in power and efficiency, or you're concerned that a less powerful leaf blower won't be able to handle your jobs, then this is a good choice for the majority of homeowners.
A 2-year consumer warranty is provided by the manufacturer
Troy-Bilt TB672 Jet Sweep Wheeled Leaf Blower
The Troy Bilt TB672 is great for the homeowner who needs to clear their yard or driveway of leaves every now and again.
Using a gas-powered Briggs & Stratton 208cc overhead valve engine it quickly blows them away with its 150 mph airstream. And the 1,000 CFM (cubic feet per minute) airflow is perfectly adequate for most jobs.
The 90-degree front discharge chute quickly and easily clears everything in your path. And the up/down directional chute feature allows you to blow to the side if you want.
It's also a very comfortable machine to use. It has a rubber-coated comfort grip handle that absorbs the vibrations of the unit, making it pleasant to handle. And it's easy to direct and move on its semi-pneumatic ball bearing wheels as it's lightweight at 78 lbs.
Customers report great results with this easy-to-use machine. It powerfully clears away debris, including wet leaves and pine needles. And dramatically cuts the amount of time it takes you to do the job.
It comes with a 2-year limited warranty.
Southland SWB163150E Walk Behind Leaf Blower
The Southland SWB163150E is a good option for homeowners with small areas to clear of light to moderate leaf fall.
The 4-cycle 163cc engine generates 150 mph airspeed and moves 1,200 cubic feet per minute of air. Giving you 3-4 times more blowing power than using a backpack.
It comes with a side discharge chute, and a front flow attachment that you keep underneath the frame when you're not using it.
It's easy to push around, with its light 94.8 lbs weight, large 12" rear wheels, and 360° 8" front wheel.
It's also a fairly quiet leaf blower at 76 dBA
The Southland SWB163150E comes with a 2-year limited warranty.
Billy Goat F1302SPH Self-Propelled Force Blower
This commercial grade walk behind leaf blower is made for both professionals and homeowners. It's ideal for people with regular clearing of large areas of heavy leaf fall on their job list.
It's easy to start. And comes equipped with a 4-cycle 389cc Honda GX engine. Moving air very fast at speeds of around 200 mph, and shifting 2,600 cubic feet of air per minute.
It has a patented 'aim n shoot' nozzle that makes directing airflow easy. And it's controlled by your fingertips so you can change direction as you walk. A forward discharge adaptor is included to make it easy to clear alongside walls.
It's a self-propelled unit that you don't have to push yourself, and it weighs in at 165 lbs. It moves easily on its large pneumatic 13" rear wheels. The front wheel is 10" in size.
One drawback compared to the Merry Mac above is that it's louder at 90 decibels. But this is still quieter than most steel blowers and backpacks.
It has a 3-year engine warranty. And a promise that the engine housing won't rust or dent sees it backed with a 5-year housing warranty.
This is a highly durable machine that can operate regularly for long periods without a problem and will give you years of use.
Billy Goat F902H Walk Behind Leaf Blower
The Billy Goat F902H is an excellent mid-grade walk behind leaf blower for homeowners who are looking for power, durability, and ease of use. It's also a good option for commercial operations and large property owners.
It has a 4-cycle 262cc Honda engine. With approximately 200 mph airflow and 1,700 CFM.
This power means it can clear 2,000 meters squared of leaves in less than 45 minutes.
Similar to the Billy Goat model above, it has the 'aim and shoot' nozzle that helps you direct the airflow in different directions without having to stop the leaf blower.
But, unlike the more expensive model, you have to push this one yourself. And it weighs 140 lbs.
The ergonomic handle is comfortable to use as you direct the blower with the 13 inch rear wheels making it easy to move over varied terrain.
It comes with a 3-year engine warranty from Honda, and 5-year housing warranty.
Little Wonder Optimax Walk Behind Leaf Blower
This entry-level walk behind blower by Little Wonder comes with a Honda 163cc 4-cycle engine.
The air speed generated by this machine is 153 mph, with a 1,397 CFM airflow.
It has a split stream deflector that blows leaves faster and further away, and also helps to keep leaves and debris under control as you move them off your lawn.
The steel fan housing makes this a durable product, and it still only weighs 100 lbs. Which is a good thing, because you will have to push this leaf blower around.
But the height-adjustable ergonomic handle, which comes with an anti-vibration rubberized grip, makes pushing the Little Wonder Optimax a comfortable experience. And the pneumatic wheels make it stable over uneven ground.
Small but nice additional features include a transport bracket that makes it easy to tie down when you're transporting it. And a lift handle to help you get it up onto a truck and back off again.
It comes with a 5-year consumer warranty.
Merry Mac Walk-Behind Leaf Blower LB1100EZM
This mid-grade model is ideal for homeowners who are looking for a slightly more powerful machine than a basic entry model, with enhanced features.
The gas-powered 4-cycle 250cc Briggs & Stratton INTEK overhead valve (OHV) engine blows air at 185 mph, with 1,850 CFM.
This easily and quickly moves leaf cover from your yard. And you can also use it to clear most types of debris and waste, including shrubs.
You can divert the airflow forward, sideways, up, or down using the adjustable deflector with a kickable handle so you don't even have to pause.
At 135 lbs, it's not too difficult to push around your yard. It has a pneumatic front swivel wheel, making it simple to direct and steer. And it's front locking, to make it easier to steer up steep inclines and across difficult terrain.
Which is also helped by the large 12 inch rear wheels. With axle gussets giving it extra stability, and protection for the axle.
It comes with an adjustable loop handle. With a comfortable cushioned grip that protects your hands against vibrations.
Merry Mac offers a 2-year consumer warranty.
Walk Behind Leaf Blower Buying Guide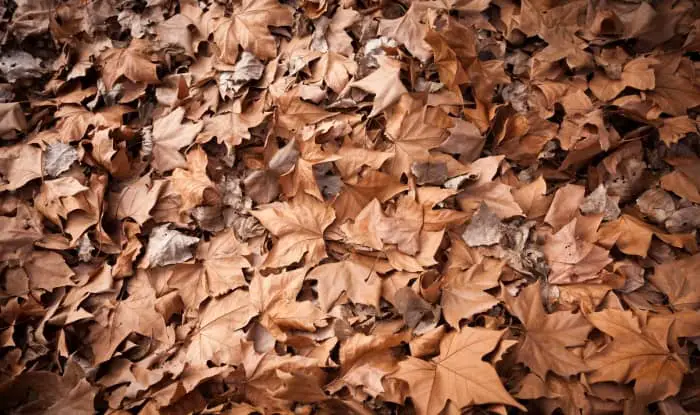 There are many different walk behind leaf blowers available on the market.
So how do you choose the best one for your needs?
In our buying guide, we'll show you everything you need to consider before making your final choice.
Let's dive in.
The Different Grades
First of all, let's take a look at the different grades of wheeled leaf blowers you can buy.
There are 4 grades available. Whether you're a professional or a homeowner, whatever the size of the job you need to do you'll find a machine that can take of it.
Entry-Level Walk Behind Leaf Blowers
If you don't need a leaf blower for commercial use and you're just looking to do occasional work around your yard, then an entry-level leaf blower might offer you the best value.
These will give you a lot more power than you get from a handheld blower. But the engine won't be as powerful as you get in the higher grades. Although the best ones will have an engine from a premium brand.
It also may lack some of the extra features and durability of the more expensive models.
An example of this grade is the Troy Bilt above.
Mid-Grade Walk Behind Leaf Blowers
If you're looking for something a bit more powerful then you should consider buying a mid-grade leaf blower.
Because they use an engine from a premium manufacturer such as Honda or Briggs & Stratton, they can create more than 3 times the airflow that you'd get when using a backpack blower.
They also come with better features than the entry-level, such as larger wheels and housing that's more hardwearing.
Semi-Pro Walk Behind Leaf Blowers
Do you have a lot of trees on your land?
Does it take you a lot of hard work to remove the thick carpet of leaves that cover the ground?
If so, then a semi-pro walk behind leaf blower will make your life a lot easier.
They're the most powerful leaf blowers that are worth considering if you're not buying for commercial use.
And the extra power and features at your disposal make it possible to move large volumes of leaves with accuracy and significant force.
At this level, premium features are common. Such as the ability to change the blower direction without pause using remote chute deflector control.
Commercial Walk Behind Leaf Blowers
If you're looking for a leaf blower for constant use clearing leaves around large properties then it makes sense to get a commercial-grade model.
These are built to a high level of durability, standing up to the continuous wear and tear that commercial operations put them through.
While a semi-pro model might be designed for around 8 hours of use on 2 or 3 days each week, the commercial-grade models will give you 8 hours of continuous use per day, every day of the week.
The best commercial models are often self-propelled.
Features To Look For
Depending on the grade, make, and model of the machine you can expect some variation in the features.
These are the important things to look out for in the best walk behind leaf blowers:
The Housing Material
The fan housing encases and protects the moving parts that make your leaf blower work. Housings and casings usually come in 2 different materials, metal, and composite plastic.
Plastic housings make for a lighter product and it's also cheaper. But, if you're looking for increased durability then metal is often the better choice.
The Propulsion System
There are also 2 different types of propulsion systems used for propelling leaf blowers.
As the name suggests, a push leaf blower requires you to physically push the machine forward. This means doing some work. But the plus side is that machines like this usually come at a more affordable price.
The other type is self-propelled leaf blowers, that don't require so much effort and are easier to use.
Directional Blowers
Leaf blowers that have directional controls make cleaning easy as you can choose exactly where you blow the leaves as you clear them.
Some models include controls on the handle so you can change the direction you blow them in as you go along without interruption.
Specialized Wheels
The size of the wheels of your leaf blower can make a difference.
Large rear wheels will make it much easier to navigate across rough and bumpy areas of ground.
Another useful feature is a swivel wheel at the front. This makes turning the leaf blower easy as you walk it around your property.
Engine Size
Looking at the size of the engine will give you some idea as to the power of the leaf blower. You'll find that they range from around 100cc to 500cc and beyond.
It's also worth considering which brand is responsible for making the engine, as it won't usually be the manufacturer of the leaf blower. Brands like Briggs & Stratton or Honda are well-known for quality and reliability, and are worth the money.
Airspeed And Displacement
Having looked at the engine of your leaf blower, it's useful to realize that its size doesn't tell you everything about how powerful the machine is. You also need to consider the airspeed and air displacement.
Looking at both of these together will give you a picture of the volume of air moved (measured in Cubic Feet per Minute) and the speed it travels at (mph).
For a truly powerful unit look for a product with high ratings in both measures. Look for a CFM air volume of 1,000 or higher if you need one that can tackle multiple types of jobs.
2-cycle or 4-cycle
You can get walk behind leaf blowers with either 2-cycle or 4-cycle engines.
The advantages of 4 cycle engines are that they are efficient, relatively quiet, and run on pure gas.
In contrast, a 2-cycle engine of comparable size will give you more power. But they are noticeably louder. And they require a mixture of fuel and oil to run. However, they are cheaper.
Both will do a good job for you, so it comes down to personal preference and affordability.
Weight
The weight of the leaf blower is worth considering, particularly if it's a manual propelled model, because you're going to have to push it all over your yard.
If you're looking for more power, then that will come with a bigger engine and more weight. So bear in mind what you think you'll be happy using before you buy.
Important Things to Consider Before Buying:
So, you've decided what type of walk behind leaf blower you need and the important features you want it to have.
But, before you make a final choice there are several more things that are worth thinking about:
Storage Space
Some walk behind blowers are very large. So you'll need to make sure you have enough room somewhere on your property to store the one you buy.
During the summer and winter, you probably won't use it as frequently as you will in the spring and fall. So finding a big enough space in a shed or garage is usually the best option.
Popular Brands Are Not Always The Best Quality
It's true for most things in life and it applies to leaf blowers as well.
Often people choose a product just because the brand is well-known. While this can be a useful indicator, it's not enough on its own.
Even the most popular brands release products that don't meet customer expectations. And sometimes brands become well known because they're affordable for many people, not because they're the best in class.
You might even get better value and price with a less established brand.
So it's always a good idea to check customer reviews before making a decision to purchase. It will help to reveal any common flaws and complaints.
Vibrations And Noise Do Matter
With machines that are only used occasionally for short periods of time noise is not too big a problem for most people.
But if you intend on using the leafblower for long periods, particularly in residential areas, then it may be worth getting a machine with low noise levels.
Although you can wear ear covers, a continuous humming noise can still be irritating both for you and for other people in the vicinity.
Likewise, a model with a low level of vibrations is more desirable if you're planning on using it for several hours a day.
Warranty
You never know if something will go wrong. And a walk behind leaf blower is an expensive purchase. So, for peace of mind, a good warranty is a must.
Leaf blowers come with warranties that range from 1 year to several years. And it can vary depending on whether it's a model for home use or commercial.
Intended Use Of Your Leaf Blower
Are you only looking for a leaf blower?
Or do you intend on using it as a vacuum or mulcher as well?
If you're hoping it will double as a good mulcher, then it's worth knowing that not every leaf blower can do the job.
If you're going to use it as a snow blower as well then make sure you get one that's weather-resistant. For smaller units that can deal with this job, you might want to take a look at the best leaf blower for blowing snow.
Conclusion
When it comes to tools and equipment to clean up your yard, nothing clears leaves and debris easier than a walk behind leaf blower.
They're significantly more powerful than backpack leaf blowers and they're easier to use.
So, what's the best walk behind leaf blower?
For homeowners, our top choice is the Merry Mac LB1450ICEZM Walk Behind Leaf Blower. It's powerful enough to take care of most jobs, it's light and easy to push around, and it's affordable.
If you want something with a bit more power that can tackle bigger jobs, then consider the Merry Mac LB1100EZM.