To clear a large area of weeds you need a product that's:
Powerful and effective — you don't want to have to come back and do it again.
Goes a long way — with a large area to treat, it needs to be affordable in large quantity.
Easy to use — so it's simple to spray or spread.
Our recommended choice is RM43 Glyphosate Plus Weed Preventer.
You can mix this highly effective concentrate with water to easily take care of large jobs. It's highly effective at killing established weeds. And it prevents new plants from growing in the area for 1 year after treatment.
The best weed killers for large areas at a glance:
All links lead to Amazon, where you can find more information & customer reviews.
The Best Weed Killer For Large Areas: Reviews
RM43 Glyphosate Plus Weed Preventer
RM43 gives you total vegetation control and is one of the most powerful weed killers available on the market.
Unlike many competing products, it's not only effective at killing established weeds, but it also prevents them from growing in the treated area for 12 months.
This makes it a great choice for getting rid of weeds around buildings, driveways, sidewalks, and paths. Or in areas where you want to kill all the vegetation and start again.
But it's not a good choice for lawns or for areas that you want to replant in the near future.
The main active ingredients are 43% glyphosate and 0.8% imazapyr. These systemic herbicides kill weeds all the way down to the root to prevent their regrowth. The formula is excellent at killing broadleaf weeds, grasses, and brush.
It also contains a surfactant that helps the herbicide stick to the weeds, increasing its uptake and effects.
Similar to most systemic weed killers, you need some patience while waiting for results. It kills plants from the inside as it moves around the circulatory system. But this can take around 2 weeks to completely kill the weeds.
The herbicide comes in a 2.5 gallon container of concentrate. And when diluted, it can be sprayed over a 43,243 sq. ft. area.
Spectracide Weed & Grass Killer Concentrate
Spectracide Weed & Grass Killer offers quick and effective results. After application, results can be seen after just a few hours. And 24 hours is sometimes enough to complete the job.
It works as a contact weed killer, that starts acting on the parts of the weed you spray it on immediately. And it also has systemic action that kills plants to the roots and prevents their regrowth.
This is because it contains more than one herbicide in its formula. The main ingredients are:
Dicamba — a selective herbicide that kills broadleaf weeds
Diquat — a contact herbicide that kills weeds and grasses
Fluazifop-p-butyl — a selective herbicide that kills annual and perennial grasses
All of these are post-emergent herbicides, so it won't prevent weed seeds from germinating in the area. But this also means you can replant the treated area just 1 day later with trees, shrubs, and ornamental flowers. With 7 days recommended to reseed grass or lay sod.
Like most non-selective weed killers, it finds its best applications in areas where you want to kill all vegetation, for example, hard surfaces with weeds growing between the cracks where they shouldn't be. Such as patios, driveways, parking areas, and around building foundations. And areas where you want to start over again. It's not for use on food crops.
A good feature of this product is that it's rainproof very quickly, after just 15 minutes. Making it easy to use even on days with intermittent rain.
And it also works as an insecticide to keep insect problems down.
Tenacity Turf Herbicide
If you're looking to get rid of weeds from large fields or lawns, then Tenacity is our top recommended choice.
It's great for killing:
Broadleaf weeds — such as purslane, dandelion, ground ivy, clover, and henbit.
Grassy weeds — such as goosegrass, barnyardgrass, and crabgrass.
Sedges — such as yellow nutsedge and purple nutsedge.
And it does all this while being safe to use on most common lawn grasses. But it's not recommended for use on bentgrass, bermudagrass, or zoysiagrass.
The active ingredient is Mesotrione. One of the great things about this organic compound is that it's not toxic. So it won't harm wildlife using the area. And it's safe for pets, making it a popular lawn weed killer with many homeowners.
Mesotrione functions as both a post-emergent and a pre-emergent herbicide. So it kills the weeds that are already growing and prevents weed seeds from germinating in the area.
Visible results are usually seen within a week. But you may have to wait for more than a month to completely kill all the weeds you spray.
One drawback of the product is that it can turn turfgrass white after application. But normal color returns after a few weeks.
The 8 fl. oz. bottle is mixed with water and can treat up to an acre of land.
Compare-N-Save Concentrate Grass and Weed Killer
Compare N Save is a very popular product that offers great value and strong results.
It kills all types of weeds. And comes as a concentrate that you can dilute to spray a large area. With each 2.5 gallon bottle containing enough to make 210 gallons of spray solution, which can cover 630,000 sq. ft while still giving powerful results.
The main active ingredient is 41% glyphosate. This makes it a systemic herbicide that kills plants all the way to the root.
But like other glyphosate-based products, it also kills grass. So it's not a good idea to use it in gardens, parks, or fields. Unless you want to clear the entire area to start again.
Unlike RM43 above, you don't get the same persistent effect. So it won't stop new weed plants from germinating and growing in the months that follow. But, this also means you can replant sooner in the treated area if that's your plan.
Typical of systemic weed killers, it takes a while to see the full effects, with about 2 weeks being common.
RoundUp Pro Concentrate Systemic Herbicide
This professional-grade weed killer contains 50.2% glyphosate. With an added surfactant to improve results.
It's a powerful product that's designed for commercial use and is highly effective at killing all vegetation in the sprayed area.
It's often used by highway right of way management companies. And you can use it to clear weeds from around industrial and agricultural land. As well as residential and business properties.
The weed killer is rainproof about an hour after you spray it. Which makes it easy to use even on days with unpredictable weather.
The concentrate comes in a 2.5 gallon bottle.
Quali-Pro Prodiamine Pre-Emergent Herbicide
Unlike the products reviewed above, Quali-Pro is a pre-emergent herbicide. When applied at the right times of the year it stops weed seeds from germinating in the soil.
You can use it to prevent most broadleaf and grassy weeds from growing. This makes it particularly useful for grassy areas such as lawns, pastures, fields, etc because it won't harm the established grass.
It's a good choice when you're trying to control difficult weeds such as crabgrass, Poa annua, and chickweed. For best results, use it in the early spring and then in the late fall to get year-round control.
But because it's not a post-emergent weed killer it won't kill weeds that are already growing. So you have to plan in advance.
RoundUp Weed and Grass Killer Super Concentrate
This powerful weed killer concentrate from RoundUp has a good reputation with customers for delivering efficient results.
It contains 50.2% glyphosate. And comes in a 1-gallon bottle, that when diluted makes 85 gallons of effective herbicide. It's easy to use in a tank sprayer or backpack sprayer to control weeds over large areas.
With glyphosate being the main ingredient, it kills weeds to the root and takes around a couple of weeks for the full effects.
But like similar products, its non-selective activity means it will kill grass and other desirable plants if you're not careful when using it.
After application, the weed killer dries within 30 minutes. After that, it's rainproof. And it will still produce good results even in an area of heavy rainfall.
Scotts Halts Crabgrass & Grassy Weed Preventer
This product is a pre-emergent weed preventer that's designed to stop weed seeds from germinating and growing.
It's a popular product for people with large lawns who want to stop troublesome grassy weeds such as crabgrass, henbit, and Poa annua from becoming established. Applying in the early spring and the late fall gives you year-long control and prevents weeds from spreading.
Unlike many lawn weed killers, this product is safe to use on the popular St. Augustine grass. But it's not recommended to use it on bentgrass or dichondra.
It's easy to apply. It comes in dry granules that you can spread over a large area using a broadcast spreader. Before watering them into the soil. With 1 bag providing enough to cover 15,000 sq. ft.
Ranger Pro Glyphosate Herbicide Concentrate
Ranger Pro is another glyphosate-based weed killer that's similar to Roundup, but a more economical option. It has a lesser concentration at 41%. But this is still a professional strength product.
It's a good choice for commercial use around residential areas, recreational areas, parks, and parking lots. But as it's a non-selective weed killer that kills grasses as well as broadleaf weeds you should careful using it around vegetation you don't want to kill.
It's rainproof after an hour if you spray it when the weather is dry. But it may take longer if you're using it after the rain. And sometimes you'll need a second application.
It comes in a 2.5 gallon container of concentrate. Giving you plenty of effective weed killer when you dilute it. Aim for using 2-3 ounces per gallon of water.
Spectracide Weed Stop For Lawns Plus Crabgrass Killer Concentrate
You can use Spectracide Weed Stop For Lawns to successfully control over 250 different types of broadleaf weeds. Including crabgrass, spurge, chickweed, poison ivy, clover, foxtail, dollarweed, dandelion, and yellow nutsedge.
The formula contains 4 herbicides: quinclorac, 2,4-D, sulfentrazone, and dicamba. These give it post-emergent weed control, but also some residual effect that enables it to act like a pre-emergent and inhibit the growth of certain weeds.
As it contains systemic herbicides, it also kills the weeds to the root to stop them growing back.
You can safely use it on most types of grass. But it's not recommended for use on St. Augustine grass.
You should aim to use this weed killer on a dry day. But it's rainfast after 3 hours, so you don't have to worry too much if the weather changes.
Results are visible quickly, usually within 8 hours.
One 32 oz. bottle contains enough concentrate to make weed killer solution to cover 5000 sq. ft.
How To Choose The Best Weed Killer For Large Areas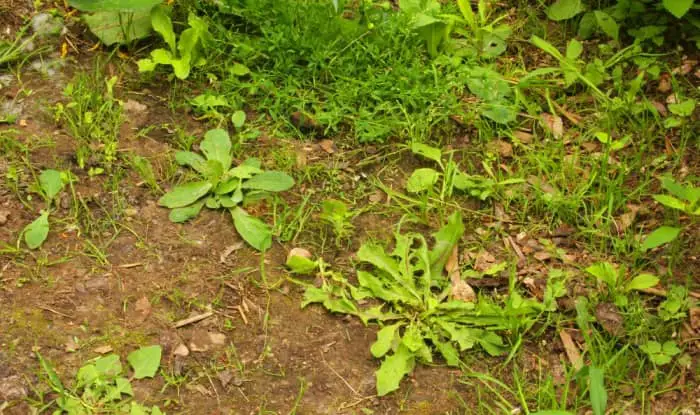 There are many different types of weed killers available to treat large areas.
How do you find the best one for your situation?
Here is some advice to help you make a good choice:
The Size Of The Area
If you need to get rid of weeds in a large area then it usually makes sense to get a concentrated herbicide that you can dilute. This makes it more economical.
They can be mixed inside one of the best tow behind sprayers or a high-quality battery powered backpack sprayer. Then you can quickly and easily spray them around your yard.
Ready-to-use products are available if you don't want to mix the solution yourself. And they don't require you to have your own sprayer as they usually come equipped with a spraying wand and can be used straight from the bottle.
But they're usually not the best weed killer for large yards as they don't go as far. And you need to carry many bottles to treat the area. Which comes at greater cost.
The Selectivity & The Type Of Area You're Treating
Weed killers come in 2 different types: selective and non-selective.
Selective weed killers have a particular range of plants they kill. Commonly, these include broadleaf weeds and some grassy weeds.
Non-selective weed killers kill all plants that you spray them on.
Selective weed killers are often used by people who need to treat grassy areas but don't want to kill the grass as well. They usually have a recommended list of grass types that it's safe to use them on for lawn care.
Whereas non-selective weed killers are typically used on areas where you don't want vegetation growing. They're good weed killers for gravel, around buildings, between cracks in driveways and sidewalks, and to clear areas of land that have become overgrown.
Post-emergent vs Pre-emergent
Most weed killers are post-emergent. This means they kill weeds already growing in the treated area.
But you can also get pre-emergent herbicides. When applied to the soil at the right time of year these will stop weed seeds from germinating. Preventing weeds from growing in the first place.
Some difficult to control weeds produce a lot of seeds that lie dormant in the ground until the next growing season. For these, pre-emergent herbicides are the best way of dealing with the problem.
This is particularly useful for stopping weeds growing on lawns and around flower beds.
But for getting rid of large areas of overgrown vegetation, or for killing weeds growing in residential areas, you will need a post-emergent herbicide.
Is It Persistent?
A weed killer that's persistent continues to have residual activity in the soil for months after you apply it. Sometimes it will prevent any weeds from growing in the area for 12 months or more.
This is great if you don't want to have to come back and do the job again anytime soon. And many of the best commercial weed killers have this property.
Weed killers that aren't persistent require you to repeat the treatment periodically to kill new weeds that emerge.
Contact vs Systemic
Contact weed killers immediately start to kill the plant upon contact, causing the affected area to desiccate.
They are fast-acting. But if the weed killer doesn't come in contact with the roots of the plant it might regrow. This means you may have to apply them again to control the weed problem.
Systemic weed killers are absorbed through the leaves of the weed. They are then transported around the circulatory system of the plant, attacking and killing it from the inside. This also kills the roots, so the plant won't regrow. And you won't have to apply the treatment as regularly.
But the process is slower. And it can often take weeks to completely kill the weeds. So you should consider how quickly you want results.
Some brands contain both contact and systemic herbicides in their formula.
Final Thoughts
To spray a large area of significant acreage, or even just a large garden, the best herbicides need to be powerful, efficient, and economical.
This rules out natural and organic options like concentrated vinegar. As although they kill weeds on contact, they require regular use to control the problem. And the amount required gets expensive quickly when spraying a larger area.
So, what's the best weed killer for large areas?
My recommended choice is RM43 Glyphosate Plus Weed Preventer. This can be used on a wide range of areas to kill all vegetation and prevent it from growing back again in the next 12 months.
For lawns, gardens, and pastures where you don't want to harm the grass then I recommend Tenacity.