Getting rid of weeds is a lot easier when you use the best weed killer sprayer.
Whether you're a professional or a homeowner, you can make the job more effective, comfortable, and carry it out quicker.
There are different types of sprayers that you can choose:
Backpack sprayers make it comfortable to carry weed killer while you work. These are a good choice for medium and large-sized yards.
Tank sprayers are less comfortable to carry on your back for long periods. But you can also carry them by hand or place them on the ground while you work. They're a more budget-friendly option than backpack sprayers and are a good choice for small or medium-size gardens.
Handheld sprayers are good if you just have occasional small jobs to do. They don't carry as much weed killer, so you'll have to refill more often for larger jobs. They have the benefit of being cheap to buy.
Tow behind sprayers are the best choice if you have a medium or large yard to take care of and have a lawn tractor, mower, or ATV to pull them behind.
We've selected the best of each of those types in our top 10 favorite products.
The top weed sprayers at a glance:
Best Backpack Sprayers:
Best Battery Powered Backpack Sprayers:
Best Tank Sprayers:
Best Tow Behind Sprayers:
Best Handheld Sprayers:
All links lead to Amazon, where you can find more information & customer reviews.
The Best Weed Killer Sprayer Reviews
Field King Professional 190328
A professional standard sprayer that combines affordability with more features than most of its competitors. Offering excellent value for homeowners with large areas of weeds to spray.
As it's a backpack sprayer, it's comfortable to carry around. Which is essential when you have hours of work to do. And the 4-gallon volume means you won't have to stop and refill too often.
It comes with 4 nozzles for different spray patterns: brass adjustable, foaming, and 2 flat fan nozzles. But you can also attach TeeJet nozzles to expand the possibilities further.
The sprayer has a maximum pressure of 150 PSI generated by the internal piston pump. This gives you a reliable and powerful stream. As well as more control when spraying hard to reach areas.
It's a durable unit that will give you years of use. But it's good to know that if you do have any parts that wear down and break outside of the warranty period, it's easy to replace the parts.
The main drawback lies in its comparison to battery-powered backpack sprayers. As the operation of the pump is manual it takes effort to keep spraying with a steady high pressured stream.
Chapin 61800 4-Gallon Backpack Sprayer
This a great weed killer sprayer for someone who wants the comfort of a backpack on a budget.
The padded straps and lumbar support make carrying it for extended periods relatively easy, even with a full 4-gallon tank.
A 3 stage filtration system traps debris and prevents it from clogging the unit while you're working.
The applicator wand has a cushion grip poly shut-off. And it comes with 3 different nozzles you can attach to vary the spray over your weeds.
As it's a manual pump, continuous even pumping is needed to get a steady stream. And you can get a good distance while spraying. With satisfied customers claiming it can reach the top of 20 ft. trees.
Sprayers Plus 105Ex Effortless Backpack Sprayer
Our favorite battery powered backpack sprayer on the market. The 105Ex is a great tool for both homeowners and professionals.
This is the best weed killer sprayer if you're looking for comfort, ease of use, and reliability, and you're prepared to pay a bit extra for a premium product.
It uses a 20V lithium-ion battery to provide power for the pump. The battery charges quickly, and has a good life once fully charged. With enough power to spray 23 consecutive 4-gallon tanks.
And you won't be caught out by the battery running down as the unit has a battery level indicator so you can keep track of it.
The 40 PSI of pressure generated by the pump maintains a consistent stream of weed killer for up to 33 ft. So you won't have to wade into any thick areas of weeds and brush as you work to clear your land.
For a battery-operated sprayer, this is a light model. With an empty weight of just 9.6 lbs. Making it easier to carry. In fact, this is less weight than many backpack sprayers that use a manual pump.
All aspects of the design are of high quality. With a brass wand and nozzle, and Viton seals. While the battery and motor are housed in an enclosed space that prevents any splashed fluids from getting on them.
The included nozzles give you variety in spraying. You can alternate between fan, steam, mist, and steady spray depending on the job requirements.
And lastly, this is one of the most comfortable weed killer sprayers to carry. With a high-quality padded strap, chest buckle for stability, and a specially contoured shape to reduce muscle fatigue while carrying it.
Vivosun Battery Backpack Sprayer
This eye-catching sprayer is a good choice for homeowners who want the ease of use and comfort of battery power at an affordable price.
It uses a 12V battery (10Ah). And at full charge, it will power the sprayer for 8+ hours of continuous work.
It's designed to be comfortable to carry. With smooth contours that rest easily against your back. And padded straps for shoulder comfort.
This is a well-built and sturdy model. The thick orange plastic can take accidental battering without cracking. And a mesh filter prevents debris from getting inside the unit and clogging things up.
It's easy to fill and clean through the 5-inch mouth. And a viewing window built into the tank enables you to keep track of how much weed killer is left.
4 additional nozzles are included with the sprayer: fan fog, double nozzle, cone fog, and 4-hole nozzle.
Sprayers Plus YT25E Battery Sprayer
If there's one thing you can say for sure about this sprayer it's that it certainly makes work less difficult and your life much easier!
One battery charge can tackle hours of work. And the 30 PSI is consistently maintained for ideal spraying. You can spray everywhere and anywhere with little effort.
The sprayer consists of long-lasting material. With a powder-coated brass wand of almost two feet. And a premium flex rubber hose of over 50 inches.
The lithium-ion battery can spray 18 tanks worth of product in a single charge and lasts for 4.5 hours. And you only need to charge it for 1.5 hours. This is the perfect sprayer for herbicide, fungicide, pesticide, fertilizer, feeds, and insecticides. It's also great for gardening and cleaning due to its constant pressure.
This battery-powered sprayer can spray up to 33 feet long and 23 feet tall. And its large QuickFill opening makes it easy to refill.
Included in the sale are the sprayer, a wand, 12V charger and transformer, nozzles, Viton seals, silicone grease, nozzles, premium flex rubber hose, quality housing, a black screen filter, and a wand holder.
Smith Contractor 190217 3-Gallon Sprayer for Weed Control
This efficient and versatile pump sprayer is not only good for killing weeds, you can also use it for applying other chemicals, as well as commercial cleaning products.
The chemical resistant 21-inch poly wand has a range of features to make it easier to use. Including a comfortable grip, lock-on feature to make spraying less strenuous, shut-off, and high-quality Viton seals.
Another useful feature is the pressure relief valve. This prevents chemicals from spraying around haphazardly when the pump is removed by safely releasing the built-up pressure.
The teardrop-shaped tank provides better stability when stood on the ground because of the low center of gravity it gives the unit. And it includes an area where you can safely store the nozzle when it's not in use.
It comes with 5 different nozzles allowing you variation in your spraying pattern: foaming nozzle, poly adjustable, 2 flat fans, and brass adjustable. With the nozzle set to spray a tight stream, you can reach about 16 ft. away.
But, the hose that connects to the spray wand is only 3 ft. long. So you'll have to stay close to the tank while spraying.
Included with the sprayer is a shoulder strap to make it easier to carry around while working on big jobs. But it's not as comfortable to carry as a specially designed backpack sprayer.
Remember to wash the tank out after each use, as leftover herbicide may cause damage to the unit if allowed to sit without cleaning.
NorthStar 282780 21-Gallon Tow-Behind Trailer Boom Broadcast and Spot Sprayer
If you want the ultimate in easy and efficient weed killing then a tow behind sprayer is the tool of choice.
You'll need to have a lawn tractor, riding lawn mower, or ATV to pull it behind. Then you simply hitch the NorthStar to the back and drive up and down your lawn or weed-infested area.
It has a large 21-gallon tank, so it's well-suited to tackling big jobs that can be tiring to complete while carrying a backpack.
Full nozzle control on both sides of the sprayer makes it easy to spray along property boundaries and fences. And the unit has a 10 ft. spraying width as you drive over your land.
While using the attached handheld spray applicator you can reach 30 ft. from the comfort of your seat.
It's also built to last. With a chemical and UV resistant tank. And a 100% steel cart.
Ironton Tow-Behind Trailer Broadcast and Spot Sprayer
The Ironton is similar in many ways to the NorthStar above, but it's a smaller unit. It's a good choice if you're budget-conscious but still like the comfort and ease of a towable sprayer.
It comes with a 13-gallon tank and 40-inch spray width. Making it well suited to a smaller yard than the NorthStar. But requiring more refills and passes up and down to complete the spraying of a larger area.
The spray gun gives you 20 ft. of horizontal reach. And it's attached to the tank by a 12 ft. hose allowing you to walk away from your vehicle to spray in areas that you can't easily drive into.
10-inch pneumatic wheels make it easy to pull over difficult ground. And it comes with a built-in hanging bracket to make it easier to store.
Solo 418-2L 2-Liter One-Hand Pressure Sprayer
Handheld models are the cheapest weed killer sprayers you can get. But if you only have small jobs around your garden then this pressure sprayer from Solo might be all you need.
It's light to carry, easy to fill, and is designed with comfort in mind.
The lock-on trigger reduces hand tiredness as you use the sprayer. And the ergonomic handle makes it comfortable to hold even when full.
A multi-angle spray nozzle can be adjusted to spray at a variety of angles. And helps you to effectively spray on the undersurface of leaves.
You can also adjust the spray from a stream to a mist. With good distance on the spray when it's fully pumped.
And a drip shield on the nozzle helps to control the spray and catch any dribbles.
TABOR TOOLS 0.5 Gal Pump Pressure Sprayer
Made for spraying most commercially available herbicides, fungicides, and pesticides, this handheld sprayer from Tabor Tools is a sturdy and affordable option.
Like other handheld pump sprayers, it's best suited for the gardener with occasional small jobs to do. Someone who doesn't need a bigger and more expensive backpack or tank sprayer.
It's simple to use. With easy filling through the top after you unscrew the pump and handle. And you can keep track of how much fluid is left through the translucent plastic of the bottle. A brass adjustable nozzle allows you to vary from steady jet to mist, and everything in between.
It's also easy to maintain. With durable seals and rings, and anti-clog filters.
Comfort features include an ergonomic handle and a locking trigger that you slide forward when you want a continuous flow.
Buyer's Guide: Choosing The Best Weed Sprayer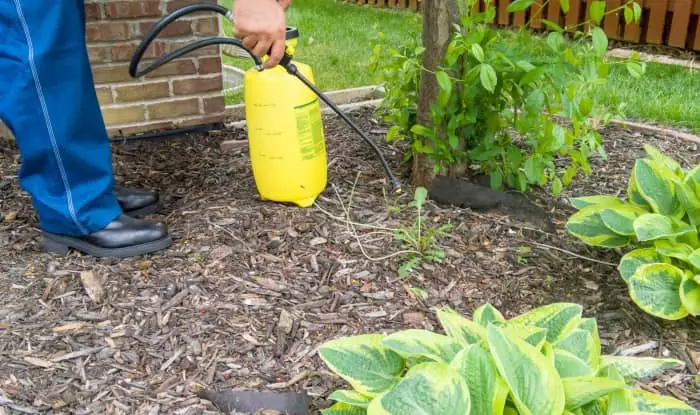 With such a variety of sprayers available on the market choosing the right one requires some thought.
So, in this buying guide, we'll take a look at the different types of sprayers you can buy and the important features to consider.
Let's take a closer look.
The Type
The best weed killer sprayer for you will largely be determined by the size of the job, the degree of comfort you'd like, and the amount of time you want to spend doing it.
The 4 main types you can choose from are backpack sprayers, tank pump sprayers, handheld pump sprayers, and tow behind sprayers.
Backpack Sprayers
Backpack sprayers allow you to carry the tank full of weed killer on your back while you work.
This makes them more comfortable to use for lengthy jobs compared to tank sprayers and handheld sprayers.
You can get them with a manual pump, where you have to keep pumping to create the pressure to spray. Or battery-powered backpack sprayers, where a battery operates the pump for you.
These are a good choice for medium and large-sized gardens, and clearing larger areas of weeds and brush.
Tank Pump Sprayers
These are tanks that you fill with weed killer and place on the ground while you work. You can also carry them by a handle on the top. They come in both manual pump and battery-powered pump types.
A long hose is attached to an applicator wand so you can walk around and spray.
They sometimes have straps so you can carry them over your shoulder. But as they're not designed to be used like a backpack sprayer they can become uncomfortable when carried and used in that way for an extended period.
They're often cheaper than backpack sprayers.
Handheld Pump Sprayers
Handheld sprayers are the simplest of the options available. And they're also the cheapest.
Because you can only carry a small amount of weed killer in them, usually 0.5-gallons or less, they are best suited to small jobs.
If you notice weeds growing in the cracks of your patio or driveway, or you notice the occasional weed in your garden, then a handheld sprayer might be enough to do the job.
But it's a poor option if you need to spray your entire lawn.
Tow Behind Sprayers
Sometimes also called pull behind sprayers, these provide the most comfort when spraying large areas. They also get the job done the quickest.
Because you tow them behind a lawn tractor, mower, or ATV, you can quickly drive them around a large lawn spraying everything within a certain width on each pass. With the spraying width being determined by the size of the boom attached to them.
Whereas it can get tiring carrying a full tank of weed killer in a backpack for many hours, a tow behind sprayer only requires you to sit in comfort while you drive.
If you already use a lawn tractor or riding lawn mower then this is the option for you.
Durability
Whether you're a professional with regular large jobs, or a homeowner with occasional weed treatment to do around your garden, you want your sprayer to be durable and reliable.
Some weed killers can be corrosive over time. So ideally you want to get a sprayer that's designed for use with herbicides that will last you many years.
The best quality sprayers are usually made from thick polyethylene plastic and can be knocked about without too much fear of breaking the tank or damaging their ability to work.
But some of the cheaper models available on the market are not quite as robust. They're sometimes made from flimsy plastic. And are more vulnerable to cracks developing or important parts failing.
You can also get tanks that are made from stainless steel. But these are usually more expensive and heavier to carry.
Tank Capacity
Even within the different types of garden sprayers tank capacity varies.
A garden sprayer with a small tank will often be cheaper. But a small tank capacity compared to the size of the area you need to treat will mean you have to keep stopping to refill. Adding more work and time to complete the job.
If you have a large area to spray, then a tow behind sprayer makes sense. Tank sizes range from around 13-gallons to 25-gallons, and more for big agricultural sprayers.
But if you don't have the budget or the vehicle to pull them behind, then a backpack is a good choice.
They usually have a tank capacity between 2-4 gallons. With 4-gallons being the most common and providing the sweet spot between the weight you have to carry when full and time saved by not having to stop as often.
Some backpack sprayers can be purchased with capacities of about 7-8 gallons. But this will be very heavy when full and not suitable for all people to carry.
For small spraying jobs around your home, the best weed killer sprayers won't need a big tank. And the 0.5-gallon commonly available with a handheld sprayer might be enough.
Conclusion
Whatever type of weed killer you're spraying in your yard, whether it's Roundup, Spectracide, Ortho Weed B Gon, or any of the glyphosate concentrate based herbicides available on the market, getting a sprayer will make your life a lot easier.
So, what is the best weed killer sprayer?
Well, it largely depends on the size of the job you have at hand. As well as the speed and comfort you want while working.
For medium and large-sized yards we recommend the Field King Professional 190328. This backpack sprayer gives a professional performance at a great value price. But if you want one that's easier and less strenuous to use, then the 105Ex Effortless Backpack Sprayer is an excellent upgrade.
For small to medium-sized gardens the YT25E Battery Sprayer is a reliable performer for spraying weed and grass killer, including crabgrass killer.
Whereas if it's just the occasional small weeding job the Solo 418-2L 2-Liter One-Hand Pressure Sprayer might be all you need to kill weeds.
If you have something to tow it behind, and have a medium or large area to spray, then the NorthStar 282780 is the best rated choice.