Growing a lush green lawn that's free from weeds can be hard work.
Feeding it with fertilizer helps your grass to grow. But unfortunately, so do the weeds.
So now you need a weed killer as well, or you'll end up doing it by hand.
But there's an easier way.
By combining a fertilizer that provides nutrients for your soil and a weed killer to keep unwanted plants away you can enjoy the perfect lawn with a minimum of fuss.
So to help you get the right product, we've reviewed our favorite brands to find the best weed and feed for lawns.
Our top choices at a glance:
All links lead to Amazon, where you can find more information & customer reviews.
The Best Weed And Feed Reviews
These include both liquid and granular products, and ones that are specially formulated for Southern lawns.
Scotts Turf Builder Weed And Feed
Scotts is a well-known brand that has an excellent reputation for its range of lawn care products, including fertilizers and weed killers.
This product, that combines the 2 in 1, is the strongest weed and feed they make. Offering 2X more control of dandelions, clover, and other common weeds than previous options.
While the fertilizer effectively thickens your grass. Building a healthy green lawn that crowds out and prevents new weeds from becoming established.
It's recommended for use on the following grass types:
Fescue
Centipede
Kentucky Bluegrass
Ryegrass
Bahiagrass
Zoysia
Bermuda
It comes in a bag of granules that's enough to cover 5,000 sq. ft.
Scotts offer a money-back satisfaction guarantee on this product.
GreenView Fairway Formula Spring Fertilizer Weed & Feed + Crabgrass Preventer
This professional-grade product provides 3 lawn treatments in 1: it fertilizes your lawn, kills over 200 species of lawn weeds, and prevents crabgrass from growing.
The fertilizer formula is 24-0-6. And it contains both slow-release and quick-release nutrients that can continue to provide for your lawn for up to 12 weeks at a time. Helping it to grow thick and green. After this, you can re-apply as needed.
But, the product has very specific grasses you can and can't use it on.
Do use on:
Bahiagrass
Centipedegrass
Perennial ryegrass
Fine fescues
Tall fescues
Bermudagrass
Zoysiagrass
Buffalograss
Kentucky bluegrass
But don't use it on St. Augustine, carpet grass, or dichondra.
The bag contains enough granules to cover 5,000 sq. ft. of lawn. And Greenview offers a no questions asked money-back guarantee.
Scotts Turf Builder Southern Triple Action
This 3 in 1 product not only fertilizes your lawn and kills weeds, but it also contains an insecticide to kill fire ants, mole crickets, sod webworms, fleas, armyworms, and more. And it keeps them away for up to 6 months.
The fertilizer is ideal for building thick and green lawns. And also strengthens it against the drought and heat. It comes in a 29-0-10 no phosphorous formula.
The herbicide it contains deals with stubborn weeds such as clover, plantain, dollarweed, and chickweed. Plus many more.
It's made for Southern lawns and it's recommended for the following types of grass.
St. Augustine grass
Zoysiagrass
Centipedegrass
Carpetgrass
But it's not for bermudagrass.
It kills both weeds and insects over a few weeks. So don't expect to see big results straight away. If necessary you can re-apply after 8 weeks or so if there are any stubborn weeds that need a second dose.
It comes in granule form, and you should water them immediately after application, which is different from many similar products that require you to wait at least 24 hours.
It comes in 2 sizes, with a large bag covering 8,000 sq. ft. and a half-sized bag that covers 4,000 sq. ft.
Spectracide Weed & Feed
This weed and feed spray eradicates all the major broadleaf weeds, successfully controlling chickweed, plantain, clover, dandelion, purslane, knotweed, mallow and many more.
Results are noticeable after a couple of days. But you have to be patient for the full effects to be visible as it can take up to 4 weeks to kill all weeds, with thick grass filling in the areas where they used to be. If stubborn weeds persist after this time, then you can spot treat.
It also works as a lawn fertilizer, using a 20-0-0 formula that boosts the nitrogen content of your soil.
It comes in a liquid concentrate form that's easy to use:
First, water your lawn 1 or 2 days beforehand
When you're ready to use it, connect the sprayer nozzle to your garden hose
Turn on the water
Point the nozzle at the area you're treating and pull the switch back in the direction of the hose
Walk slowly while spraying the lawn. Make sure all of the grass is wet by overlapping treated areas as you walk up and down
Don't water the lawn for at least 24 hours after
You can use this product at any time during the growing season after weeds have appeared. It comes in a 32 oz bottle that can be used to treat 7,500 sq. ft.
Preen One Lawncare Weed & Feed
This weed and feed from Preen is effective for over 250 types of common lawn weeds including clover, dandelions, and chickweed. And not only does it kill existing weeds, but it also prevents unwanted annual grasses like crabgrass from germinating.
The weeds don't die straight away, it can take a few weeks as it slowly kills them to their root. But when you apply the granules in the Spring you get weed control all season long.
It also contains a slow-release fertilizer that provides nutrients for about 2 months. This is a 24-0-6 formula that doesn't contain any phosphorus.
It's important to note that it's not good for all types of grass. Don't use it on these:
St Augustine grass
Colonial bentgrass
Dichondra
Carpetgrass
The 36 lb bag covers 10,000 sq. ft. and it's also available in 18 lb and 9 lb bags.
BioAdvanced 3 In 1 Weed & Feed For Southern Lawns
This is a 3 in 1 product that works as a pre-emergent weed killer, post-emergent, and plant food all rolled into one.
So not only can you use it to kill existing weeds, but it remains in the soil and acts as a weed preventer for up to 6 months. One application is enough to keep your lawn free of crabgrass, broadleaf, and grassy weeds throughout the season.
And the fertilizer leaves it looking green and lush. It has a 35-0-3 formula that doesn't contain phosphorous, with 50% slow-release.
You should apply BioAdvanced weed and feed in the Spring to growing turf. Making sure to use it before the temperature reaches 80°F to prevent goosegrass and crabgrass. Then use it again in the fall to control dollarweed and prevent Poa Annua.
This weed and feed is specially designed for use on Southern lawns. So it's good for grasses such as St. Augustine grass, zoysia grass, centipede grass, and most types of bermudagrass (see exception below).
But don't use it on the following grass types:
Bahiagrass
Bermudagrass (Ormand variety)
Bentgrass
Dichondra
Buffalograss
Ryegrass
Fescue
Carpetgrass
It comes in 25 lb bag of granules that can cover up to 10,000 sq. ft. And it's also available in a 12.5 lb bag.
Choosing The Right Weed & Feed: Buying Guide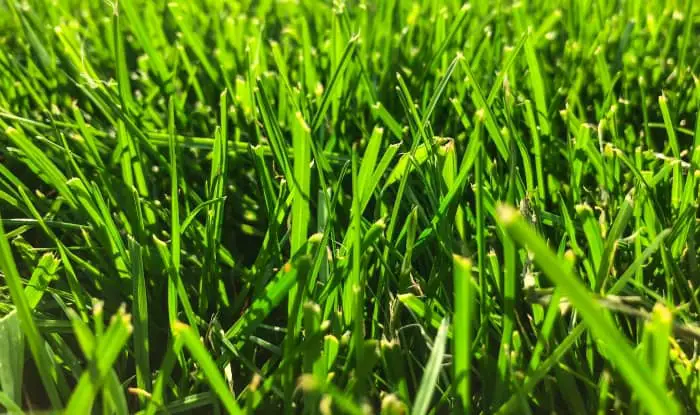 As you can see from the products above, not all weed and feed is the same. It's important to get the right type that matches your situation. These are the main things to consider:
What Type Of Grass Do You Have?
Why is this important? Well, there are 2 main reasons:
Firstly, not all weed and feed is safe for all species of grass. The best weed and feed for St. Augustine grass might not be the best for ryegrass. And applying the wrong product to the wrong type of grass can leave it badly damaged.
Secondly, different types of grass have different nutrient requirements. And choosing a fertilizer that's compatible with your lawn will give you far better results.
The Best Weed And Feed For Southern Lawns
In the high temperatures and blazing sun of the Southern US most lawns usually have warm-season grasses. Some of the most common include:
St. Augustine grass
Bahiagrass
Bermudagrass
Zoysiagrass
Centipedegrass
In our opinion, the best choice for Southern lawns is Scotts Turf Builder Southern Triple Action.
It's specially formulated for warm-season grasses and helps to strengthen them against the drought and the heat.
Related: Best Weed Killer For Lawns
The Nutrients
For optimal plant growth, your soil needs to be loaded with the essential nutrients. And that's where a good fertilizer can make a big difference.
But not all fertilizers are the same. Before buying one you should check the label to see the amount of nutrients it contains.
Usually, you'll see 3 numbers denoting its NPK value. This represents the amount of nitrogen (N), phosphorus (P), and potassium (K) in the product. Each number stands for the percentage that's in the product.
So, a bag showing the numbers 15-5-6 would consist of 15% Nitrogen, 5% phosphorous, and 6% potassium (potash). Which in a 10 lb bag of fertilizer would equate to 1.5 lbs of Nitrogen, 0.5 lbs of phosphorus, and 0.6 lbs of potassium. The rest of the bag content contains filler materials and other nutrients.
These are the benefits that NPK have for your soil:
Nitrogen is needed for plants to grow properly and develop a green color.
Phosphorous is used by plants to develop strong root systems, as well as produce flowers, fruits, and seeds.
Potassium helps to protect plants from disease, drought, and cold. It also helps the nitrogen and phosphorous to have their full effect.
Fertilizers can also contain a number of secondary elements and micronutrients that are needed for healthy growth.
The secondary elements include sulfur, calcium, and magnesium. 
And the micronutrients include boron, iron, molybdenum, zinc, copper, chloride, nickel, and manganese. These are needed in smaller amounts.
To find out exactly what you need you can do a soil test by either purchasing a test to use at home, or by taking a sample to a co-operative extension testing office in your area.
The Type Of Fertilizer
Fertilizers come in a number of different types. The most common has a granular appearance and comes in 2 different forms:
Slow-release nitrogen is listed as water-insoluble nitrogen (WIN), and typically provides fertilization for about 6-8 weeks. Slow-release fertilizers are more expensive and sometimes don't work that well in the cold. If there's no WIN listed on the bag label then this means that all of the nitrogen is the type below.
Quick-release, or water-soluble nitrogen (WSN) is available in the soil for plants to use immediately. These are quickly lost from the soil and last around 2-4 weeks. They stimulate rapid growth and greening, but overuse can burn the grass.
Weed and feed fertilizers can also come in a liquid form that's concentrated and is diluted with water before use.
For more information about fertilizers check out our buying guides to the top organic lawn fertilizers and the best fertilizer for lawns (organic & synthetic).
The Type Of Weeds
Unfortunately, there are many different types of lawn weeds. And some products are better at killing certain types than others.
You can find products that target most of the common types, including crabgrass, plantain, chickweed, creeping charlie, dandelions and clover etc.
Take a careful look at the type of weeds that are infesting your lawn and then make sure you choose a product that's made for the job.
How To Use Weed And Feed
If you're using weed and feed granules, then you don't want to apply this to your turfgrass by hand. It's hard to ensure that you spread the mixture evenly, and it will take you a long time.
Instead, it's best to use a broadcast spreader to get even coverage all over your lawn. And it can be done in the time it takes you to walk around your garden.
Instructions:
First, make sure you mow your lawn a day or two before you use the weed and feed.
Then water the grass the day before you apply it to make sure there is sufficient moisture.
Next, use the spreader to walk up and down your lawn. Have a small amount of overlap with each pass to ensure coverage.
Wait until 2 or 3 days after applying weed and feed before watering the grass again.
Have a look at this video for more information:
The Best Time To Use It
Most weed and feed products kill weeds that are already growing. But they don't prevent them from germinating, because the granules (or liquid) needs to stick to the leaves of the plant. So it's important to use it at the right time.
Applying it when temperatures are cold won't help you stop the weeds. Instead, you should wait until the Spring after the weeds start to appear.
Final Thoughts
Not everybody likes weed and feed, but there's no denying the convenience of having a fertilizer and weed killer combined in one.
When it works well, you get a lush green lawn that's weed-free with a minimum of fuss and maintenance.
For that reason alone, it's often worth a try to see if it can help you get the results you're looking for.
Where you're living and the type of grass you have will both come into consideration when making a choice.
But if you choose a top-rated weed and feed fertilizer, and use it in the correct way as demonstrated above, you have a great chance of enjoying your lawn without any weeds this year.
Whether it's a new lawn, mixed lawns, new sod, or even a horse pasture that you're buying for, our list of recommended products above has something to help you.
Our recommended choice for the best weed and feed on the market is Scotts Turf Builder Weed & Feed.