Also known as devilgrass or wiregrass, bermudagrass is one of the most popular turfgrasses used on southern lawns.
But not all weed killers are safe to use without harming it.
So finding the best weed killer for bermuda grass is essential.
My recommended choice is PBI/Gordon's Speed Zone Lawn Weed Killer.
This fast-acting and powerful product kills a wide range of weeds and prevents them from regrowing. And it's safe for bermudagrass when used responsibly.
The top choices at a glance:
All links lead to Amazon, where you can find more information & customer reviews.
The Best Weed Killer For Bermuda Grass: Reviews
PBI/Gordon's Speed Zone Lawn Weed Killer
If you're looking for a powerful product that gives fast results then Speed Zone should be your top choice.
It's a selective weed killer that's specially formulated to kill broadleaf weeds such as creeping charlie, clover, dandelions, and plantain. As well as many common grassy weeds. But without harming your grass.
The main active ingredients in the formula are the herbicides dicamba, 2,4-D, carfentrazone-ethyl, and mecoprop-p acid.
These give it systemic properties, so it kills plants slowly from the inside all the way to the root. And the ability to start killing weeds on contact, causing desiccation and disintegration of the affected parts.
You'll see results within several days. But be careful to follow the instructions when applying it. Although Speed Zone is recommended for use on bermudagrass, it's still possible to harm your lawn if you overuse it.
The bottle contains 20 fl. oz. of concentrate that you mix with water to spray 18,200 sq. ft. of lawn. This means it will last most people quite a long time.
Southern Ag Amine 2,4-D Weed killer
This 2,4-D based weed killer kills all of the most common broadleaf weeds that you're likely to find growing in your bermudagrass lawn.
As 2,4-D is a systemic herbicide, this product kills weeds to the root and prevents them from regrowing.
You'll first notice it working its magic after a few days. With wilting and browning the most visible signs. But you'll have to wait a couple of weeks to completely kill the plants.
It's safe to use on most types of grass, including bermudagrass. With the only grass type that it's best to avoid being St. Augustine grass.
But you still have to be careful when diluting it, as applying too strong a concentration will cause your grass to die.
The 32 oz. bottle provides enough concentrate to treat 20,000 sq. ft of lawn when mixed as per the instructions. This makes it a good value choice that will go a long way for most homeowners.
Espoma Organic Weed Preventer
Unlike the other products on our list, Espoma is a pre-emergent weed preventer.
It won't kill weeds that are already growing in your bermudagrass lawn. But when applied to the ground at the right time of year it can stop weed seed germination, preventing the growth of the plants.
It comes in granules, that when watered into the soil raise the protein content to levels that inhibit germination.
To get the most out of this product, it's important to plan in advance. Why?
Because you need to apply it at the right time of year. If you're too late, it won't be effective.
Early spring and late fall are the best times to use it. But if you know the weed species that your bermudagrass struggles with you can find out more precisely when they germinate. Then you can time the application for the best results.
But you have a good margin of error. Because it stays active in the soil for 6 weeks at a time. You might still find you occasionally need to weed, but it should just be a small amount here and there.
This product also contains organic fertilizer. This slowly releases nitrogen into the soil helping you lawn to grow green and strong.
There's just one thing to make sure you're careful about. If you're planning on reseeding the treated area you'll have to wait 6 weeks. Because otherwise, it will stop the grass seeds from germinating as well.
If you have children or pets this is a good product to use on your bermudagrass. You don't have to worry about them coming into contact with chemicals while playing on your lawn.
The 25 lb bag can be used to treat 1,250 sq. ft.
Bonide Sedge Ender Weed Control Concentrate
Bonide is effective at controlling most common broadleaf weeds. It's also effective at getting rid of grassy weeds such as foxtail, crabgrass, and goosegrass. And it does this without harming bermudagrass.
But one of the big selling points of this weed killer is that it's one of a minority of products that's highly effective at treating yellow nutsedge.
It contains 2 main active ingredients:
Sulfentrazone — this gives it sedge and broadleaf weed control, as well as some cool season grasses. It works as a post-emergent and pre-emergent herbicide.
Prodiamine — a pre-emergent herbicide that prevents weeds from germinating and growing in areas you apply it to.
Results appear quickly after application, as sulfentrazone works on contact with the weeds resulting in rapid desiccation. It also works systematically to kill them to the root. With 1-3 weeks typical for the plants to die.
But if you're trying to get rid of purple nutsedge it may take you multiple applications to get it under complete control.
Scotts Turf Builder Weed And Feed
Scotts is a popular brand that's well known for its high-quality range of weed killers and fertilizers.
This product combines both together to make weed and feed that kills most common weeds while providing nutrients to strengthen your grass.
Encouraging the growth of a thick, lush lawn is one of the best things you can do as weeds thrive on patchy lawns. Whereas crowding them out prevents them from becoming established.
And if you need to get rid of weeds that are already growing, then this is the highest strength weed and feed product that Scotts make.
It contains the ingredient 2,4-D. A powerful and selective post-emergent herbicide that controls most broadleaf weeds without harming bermudagrass.
The product comes in granules that are easy to spread over your bermudagrass using a broadcast spreader. The bag contains enough to cover 15,000 sq. ft.
Scotts stands by the quality of this product and provide a money-back guarantee if you're not satisfied.
For more choices see our guide to the best weed and feed for gardens.
Ortho Nutsedge Killer for Lawns Ready-To-Spray
Nutsedge is notorious for spreading quickly and being difficult to get rid of.
Ortho Nutsedge Killer is designed to offer effective control, while also dealing with 50 other common lawn weeds. Including purslane, wild violet, dollarweed, spurge, plantain, and creeping charlie. With some customers also reporting that it can be used to control crabgrass as well.
It's safe to use on most southern grass types, including bermudagrass.
It comes in a specially designed bottle that connects to your hose to allow easy dilution and spraying of the liquid weed killer. So you don't need to get your own garden sprayer. Each bottle can be used to cover a 5,000 sq. ft. area.
You'll notice nutsedge starting to wilt and turn yellow and brown after a couple of days. With a couple of weeks often required to completely kill the plant.
The only drawback is that sometimes one application isn't enough to get the job done. So you might have to respray the area again after a few weeks to finish the plants off.
BioAdvanced All In One Lawn Weed & Crabgrass Killer
This lawn weed killer from BioAdvanced is designed for control of over 200 species of broadleaf weeds. As well as grassy weeds such as barnyard grass, foxtail, sandbur, Japanese stiltgrass, and crabgrass.
But you need to use it on crabgrass while it's still young. Otherwise, it has a problem killing it.
The herbicides it contains are quinclorac, dicamba, and 2,4-D. These systemic weed killers kill weeds to the root to prevent their regrowth. With 2 weeks needed to see the full results. And sometimes a few applications needed to take care of particularly stubborn weeds such as crabgrass.
It's rainproof 1 hour after you apply it. And you can use each 32 oz. bottle of concentrate to treat up to 6,250 square feet of bermudagrass lawn.
Using Weed Killer On Bermuda Grass Lawns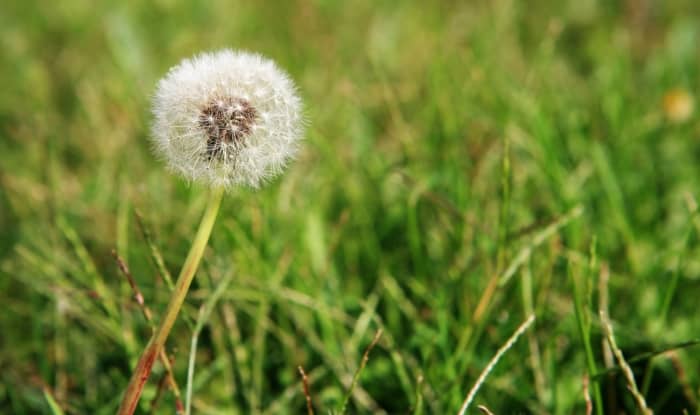 The best weed killers for bermuda grass come in 2 different types: pre-emergent and post-emergent.
Here are some things to consider when using them:
Plan In Advance To Use A Pre-emergent
The best way to control annual grassy weeds such as crabgrass and goosegrass is with a pre-emergent herbicide for bermudagrass. It's also useful for controlling broadleaf weeds.
Look to apply it in early spring somewhere between mid-February and mid-March, depending on your area.
It's often a good idea to apply it again 8-10 weeks later to give you weed control for bermuda grass for the whole season.
Another good time to consider using it is in late fall to prevent winter annual weeds such as chickweed and Poa annua.
Avoid applying it to newly laid sod. You're unlikely to have many issues with weeds, and it can affect the roots. Wait until the sod roots are established before using weed killer.
Using A Post-emergent
For getting rid of established weeds the best herbicide for bermudagrass is a post-emergent herbicide.
In certain conditions, bermudagrass can be sensitive to common lawn herbicides such as 2,4-D. It's still okay to use them. But you should avoid it while the grass is greening up in the spring, and during high temperatures in the summer.
It's best to use your weed killer when it's below 90°F, and make sure you follow the instructions for use carefully.
To make sure you get the best weed killer spray for your lawn, choose one that the manufacturers recommend for use on bermudagrass.
Avoid mowing your lawn for 3 days before and 2 days after you apply the weed killer. And don't apply to grass that's suffering from drought to minimize the risk of harm.
Final Thoughts
Finding a weed killer that's safe for bermuda grass is essential if you want to keep your lawn free from unwanted plants.
You need to avoid products containing glyphosate and other non-selective herbicides because they will cause damage when sprayed.
This limits the options you can choose to use in your yard. And means that many of the most popular brands are not a great choice for dealing with a variety of lawn weeds.
So my recommendations are:
The best post-emergent for bermuda grass is PBI/Gordon's Speed Zone Lawn Weed Killer.
The best pre-emergent for bermuda grass is Espoma Organic Weed Preventer.