Preparing land for planting can be hard work.
Breaking up new or compacted soil with a spade puts a strain on your back and takes many hours.
Fortunately, you can easily turn it into soft garden soil in a fraction of the time by using the best rear tine tiller.
As they're the most powerful tillers you can get, they're ideal for working on large areas of hard and rocky soil. Or heavy soil containing a lot of clay.
Our recommended choice is the Earthquake Pioneer Rear Tine Tiller.
This powerful, durable, and easy to use machine quickly breaks up soil of all types. And with both standard and counter rotating tines and adjustable tilling depth you can alter the performance to the job at hand.
The top rear tine tillers at a glance:
All links lead to Amazon, where you can find more information & customer reviews.
The Best Rear Tine Tiller: Reviews
Earthquake Pioneer Rear Tine Tiller
The Earthquake Pioneer is a well built, powerful, and easy to use rear tine tiller that comes in at a great value price.
The 99cc Viper engine generates 200 rpm rotational speed of the tines. With 3.69 ft-lbs of gross torque.
And it's dual rotational. With the forward tine rotation, you can use it for cultivation. While deep soil tilling is easily taken care of with counter rotation of the tines.
It has a 16″ tilling width and a 10" working depth, with a drag bar for adjustments. And 13" self sharpening tines for easier maintenance, and easily breaking up all soil types.
The handle allows you to move the tiller single-handed while walking and steering on either side as the self-propelled 160 lbs machine makes progress. With 2 gears, forward and back, it's simple to maneuver over the ground and retill areas where necessary.
It has 13" agricultural style airless wheels making it easy to steer over uneven ground. With a front counterweight to balance the unit.
If you're concerned about the noise you make while you work then this machine is a great choice. It's one of the quietest rear tine tillers on the market.
It comes with a 5-year limited warranty, which is longer than most of its competitors.
Champion Dual Rotating Rear Tine Tiller
This versatile tiller is larger than the 2 models listed above. The 19-inch tilling width makes it a great choice for tilling larger areas.
It has dual rotation tines so you can take on the toughest and most compacted soil. The 4 tines are each 13.8" of steel. And it's easy to switch between forward rotating and counter rotating depending on the job you have at hand using the handle controls.
It's powered by a 212cc engine that easily moves the machine in self-propelled fashion over difficult terrain on its 13" agricultural tires. Cutting down on the time it takes you to complete difficult jobs. And it has forward and reverse gears.
The depth gauge is located behind the tiller and is easy to adjust helping you to maintain a consistent depth as you till the land, and also giving extra balance to the unit. The tilling depth is 8", which is one of the deepest available.
This is a heavy-duty unit with a durable design. The gear-driven transmission is protected by a cast-iron casing. With a total weight of the unit of 160 lbs.
Despite the build generally being good, it's worth knowing that some customers have had problems with the wheels coming off the rim while they're turning the machine. But they're easy to put in place again.
It comes with a 2-year limited warranty and includes lifetime expert technical support for free.
DR Power Equipment Rear Tine Tiller
This rear tine tiller from DR Power Equipment comes equipped with a gas-powered 208cc engine. With dual rotating tines that make it easier to till new ground and deeper soil than the best small rototillers. It's great for preparing planting areas, or for taking care of yard jobs at the end of the season.
The 11" tines are made from steel and have a tilling depth of 11 inches.
It has a wide tilling width of 18 inches, which means it takes fewer passes to till a wide area. But it's still easily maneuverable in smaller areas. Aided by the 13" by 5" pneumatic tires that give you good traction with their agricultural style tread.
And the padded handle makes for comfortable and easy steering of the 157-pound machine.
It's a self-propelled unit that's easy to maneuver. Even when doing 90-degree turns.
To protect the tines from debris that kicks up from the ground the unit comes with a tine shield. Which also protects you from the tines.
It has a 2-year warranty for residential use and 90 days for commercial use.
Southland SRTT212 Rear Tine Tiller
The Southland rear tine tiller is a powerful, well-built, and reliable workhorse that can tackle even the toughest of ground.
It comes equipped with a CARB-compliant gas-powered 212cc 4-cycle OHV engine. And it's simple to start with its manual easy recoil start.
The 11" counter-rotating steel tines easily cut through hard soil to a maximum depth of 10". And will even slice through large tree roots that get in its way
It has forward and reverse gears. And the folding pistol grip handles make it easy to steer on its 13" pneumatic agricultural tires.
But the wheels are locked in place when the machine is not running, making it hard to move the 134 lbs weight around. You have to remove the wheel pins first in order to do so, which can sometimes lead to the wheels falling off.
This is the widest of the units on our list, with a tilling width of 18". Making it a good choice for tilling larger areas. Or for cutting a garden path through your lawn.
It has a 2-year limited warranty.
YARDMAX YT4565 Dual Rotating Rear Tine Tiller
Powered by a 208cc Briggs & Stratton engine, the Yardmax is a good choice for customers who want a powerful, durable, and easy-to-use machine that can till new areas of tougher soil.
The 18" width and 13" counter-rotating tines quickly till the earth up to a depth of 6.5" inches.
It has forward and reverse gears, making for easier handling around rocks and garden obstacles. And it's simple to back out of impenetrable soil and tight corners.
A front bumper protects the engine as you steer the 205 lbs machine on its 13" pneumatic agricultural tires. And it's designed to be easy to steer with one hand.
It comes with a 2-year residential warranty and a 90-day warranty for commercial use.
Toro 58603 Dual Direction Rear Tine Tiller
The Toro is not as powerful a tool as some of the others above, but it can still dig through sod to prepare garden beds for planting.
The machine is a heavy-duty and highly durable performer that will give you years of use and comes with a 127cc gas-powered Briggs & Stratton engine.
With an electric start, it's easy to get it up and running. And the 17" wide machine is self-propelled with the ability to go forward and reverse.
The 12" tines are counter-rotating or forward rotating, and have an adjustable tilling depth of up to 10". Allowing you to easily dig through soil.
The solid, airless wheels make it easy to maneuver and you won't need to keep them pumped.
It comes with a 5-year limited product warranty and a 2-year limited engine warranty.
Maxim RT190H Series Rear Tine Hydraulic Tiller
Maxim is a brand that's well-known for its range of high-quality outdoor power tools. And this model is one of their most popular tillers.
It's powered by a 270cc Honda engine, which provides 300 rpm rotational tine speed and 12.5 Nm torque.
At 18 inches wide, it's a good choice for people with small garden spaces to till. And the 11" tines till to a depth of 8" with depth adjustments possible.
The tines are dual rotating for effective and deep penetration of the soil.
It has forward and reverse gears for operation, making it easy to maneuver around your yard on the 8" x 4" wheels. It's quite heavy at 315 lbs, but as it's self-propelled most people should find the unit easy to use.
Buying Guide: Choosing The Best Rear Tine Tillers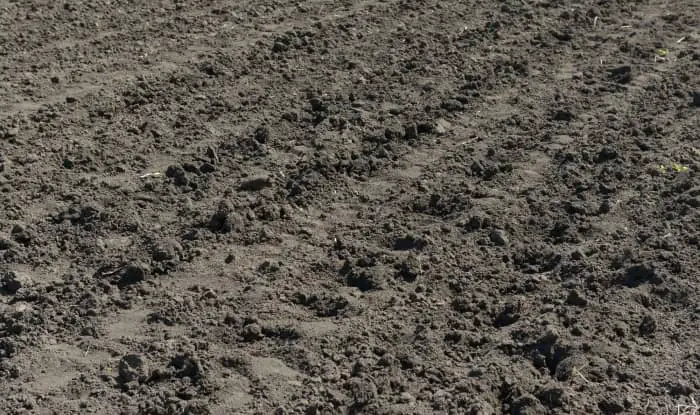 The most powerful tillers you can get, rear tine tillers are perfect for breaking up tough soil in large gardens or open spaces.
But how do you find the best one?
Let's take a look at the most important things to consider:
Tine Rotation
Firstly, you want to check what type of tines are on the tiller. Tines rotate in 3 different ways:
Standard rotating tines rotate forward in the same direction as the wheels. This is the best type to choose if you only need to till 5 inches deep or less. They are also sometimes called forward rotating tine tillers.
Counter rotating tines rotate counter-clockwise, in the opposite direction to the wheels.
These are a better choice for most jobs as they help to stabilize the tiller better than standard rotating tines. This gives you more control and helps you to finish the job quicker. They dig into the ground harder and are ideal for breaking up compact terrain with ease. Or for use on hardened soil or clay soil.
Dual rotating tines give you great versatility as they allow you to switch between forward and counter rotating tines as you work, giving you the ideal performance for the situation at hand.
Tires
When it comes to moving over uneven or rocky terrain then the best rear tine tiller will have tires of 12" or larger.
For smoother ground, or garden beds that are already turned then you can get by with smaller tires of at least 8".
The tires are particularly important on a counter rotating tine tiller because the machine needs to get a good grip on the ground to generate forward momentum while the tines are rotating backward. So look for tires with all-terrain treads similar to those on a tractor.
Power
When looking for the best rear tine tiller the engine size will give you a good idea of how powerful a machine you're buying.
If you're breaking new ground, or the soil is heavy with clay, more powerful engines of 200cc or greater are ideal.
But if you just need a rear tine rototiller to use on an established plot then a smaller engine might be a better option. If you're on a budget, you can save some money if you buy a unit with an engine size somewhere between 100-180cc.
Weight
The best rear tine tillers usually weigh somewhere between 150-200 lbs. While this might sound quite heavy, they're actually quite easy to use as the motor powers the tires on a self-propelled machine.
Extra weight can have an advantage. A heavier machine is less likely to bounce when used on rocky and uneven ground. And they're also easier to keep moving in a straight line.
Getting a lighter garden tiller might be tempting for some people. But it's worth considering that very light machines of around 100 pounds may struggle to break up hard compacted soil or areas that have never been tilled.
Transmission
The transmission has a big effect on the work you can do with your machine. Some rear tine tillers have forward, reverse, and neutral gears.
Reverse gear helps you to re-till areas of land. And it can make it easier to position and turn the machine.
Whereas a neutral gear makes it easier to transport the tiller.
When moving forward, some models have multiple speeds you can select that make it quicker to till a large area of ground. Or move the tiller between locations, making it faster to get out and put away.
Tilling Depth & Width
How deep the tines can reach into the soil is a key factor. For tilling most gardens, or dirt that's recently been tilled, tine depth of 5-6 inches is sufficient.
If the soil is heavy or you're starting a brand-new plot then it might be a good idea to spend the extra and get a 10-inch tiller.
When it comes to width, the wider the tiller is the quicker you'll get the job done as you'll have to make fewer passes to cover an area.
Rear tine tillers usually vary in width from 10 inches to 20 inches.
But although a wide tiller is better for wide areas that are uniform in shape, such as a rectangular garden bed, they're not always the best choice.
For irregular shaped gardens with lots of curves or smaller spaces, a narrower tiller is more ideal, although not essential.
The best rear tine tillers allow you to adjust the tilling depth to suit your situation, so you can plant your seeds.
Other Features
Rear tine tillers come with either fixed or adjustable handles. Adjustable handlebars make the tiller easier to use as you can adjust them to suit your height, making it easier to steer as you walk behind or stand to the side.
Drag bars are a useful feature that some models offer. The bar helps with improving balance, managing speed, and maintaining consistent tilling depth.
To help provide balance and stability while you're tilling some of the best rear tine tillers have a counterweight.
An electric starter can make the garden tiller a lot easier to start up compared to pulling a cable on a pull-start engine.
Conclusion
A rear tine tiller is the most powerful type of rotary tiller you can get. They comfortably outperform a cultivator, which is best used on loose soil. And are a better choice than front tine tillers for digging new ground and tough soils.
So, what is the best rear tine tiller on the market?
Our recommended choice is the Earthquake Pioneer Rear Tine Tiller. This powerful and well-built machine is a great choice both for garden cultivation and breaking up hard compacted soils over larger areas. With its dual rotational 13.8" tines that can be adjusted to till a variety of depths up to 10" it makes quick work of most jobs.