For success with gardening, you need healthy soil.
And one of the best ways of maintaining it is to make sure it's well tilled.
Doing it by hand is an option. But it's a lot of work.
So, for tilling small gardens and raised beds it makes sense to get the best mini tiller.
Our recommended choice is the Mantis 7940 Mini Tiller.
This powerful, well-built, and easy to use machine can take care of all your garden tilling jobs. And its compact size and lightweight design make it easy to maneuver in and out of small spaces, around plants, and between garden rows.
Our top choices at a glance:
All links lead to Amazon, where you can find more information & customer reviews.
The Best Mini Tiller Reviews
Mantis 4-Cycle 7940 Mini Tiller
Specifications:
Tilling Width: 9"
Tilling Depth: 10"
Power: Gas
Engine: 25cc
Weight: 24 lbs
Warranty: 2-Years
First up is the Mantis 4-cycle mini tiller by Schiller Grounds Care. Considering its small size, measuring 9 inches in width, it certainly packs a punch and can be used in a variety of situations.
This 25cc gas-powered machine runs on gas. And the Honda engine is powerful enough that it spins the tines twice as fast as most regular models of a similar size. Reaching an impressive speed of 240 RPM.
It has a hand-operated throttle that provides better control. Allowing you a greater degree of adjustments as well as being able to monitor the speed more easily.
And it features unique blades with a curved shape. Which allows the blades to dig deeper, enabling a maximum tilling depth of 10 inches. But if you don't want to till as deep then you can adjust the tines to a shallower depth.
By doing so, you can choose to dig just 3-4 inches into the soil. Which is a better level for cultivating soil.
This unit comes with a helpful kickstand that's ideal if you need to refill it or keep it idle when you aren't using it. The kickstand helps to prop up the tiller just in case you need a break.
Because this tiller runs on gas, it provides more power than most battery-powered or corded electric tillers. When you use this for the first time, don't be too shocked if you feel a bit of a kick!
Once assembled, the machine is really simple to use. But this does lead us to the main drawback of the unit:
Although most customers find it simple to assemble, you have to be careful when putting it together because this can lead to imperfections like a lopsided engine or gas tank, a faulty kickstand, or an unsteady handle.
None of this is ideal. But with attention to detail, the problems of assembly are easy enough to avoid.
The Mantis 7940 comes with a 2-year warranty.
Earthwise TC70025 Corded Electric Tiller Cultivator
Specifications:
Tilling Width: 7.5"
Tilling Depth: 6"
Power: Electric corded
Motor: 2.5-Amp
Weight: 11.6 lbs
Warranty: 2-Years
Our next pick is the Earthwise TC70025. This classically styled tiller is a miniature workhorse! It's the ideal solution for homeowners with small yards and big plans ahead. It's enjoyable to use and efficient as well.
It's powered by a smooth running 2.5-Amp electric motor that plugs into an outlet using a cord. The engine is durable and strong.
There are four tines in total with a tilling width of 7.5 inches and a depth of 6 inches. This makes them the ideal tines for most tilling jobs in small gardens.
If you plan on making any changes to your garden like creating a new flower bed then this a great tool to use
Using the tiller is a breeze. All you have to do is flick the easy switch on and then the engine starts to work. Plus, as it's so lightweight, it's easily maneuverable in flower beds, and even in raised beds. And the handle grips are designed to be soft, helping to avoid wrist strain.
Even though the corded electric power source means it isn't as powerful as a model that runs on gas, it does have other benefits.
To start with, you leave less of a carbon footprint which is helpful for the environment.
And it's noticeably quieter. Making it great for residential areas.
The main disadvantage of this unit is that it isn't as efficient as other, heavier designs. This is because the blades are more likely to bump over hard terrain rather than cut through them. A common situation with electric tillers.
The Earthwise TC70025 comes with a 2-year warranty.
Snapper XD 82V MAX Cordless Electric Cultivator
Specifications:
Tilling Width: 5-10"
Tilling Depth: 5"
Power: Battery powered
Motor: 800-watt
Weight: 30 lbs
Warranty: 5-Years
Probably the simplest to use tiller on the list. The convenience comes mostly from the fact that you don't need to add oil, gas or have an electrical cord and outlet to run it.
The machine is powered by a Briggs & Stratton 82V lithium-ion battery. Get a 2 Ah battery for 30 minutes of run time. And go for a 4 Ah or 5 Ah batteries to extend this.
The battery and charger does not come included with the tiller, but you can get them on Amazon here.
Comfort and maneuverability are big pluses when using this tiller. The compact size makes it perfect for transporting anywhere without needing an alternative power source. The 8-inch wheels and comfortable handlebars are welcome additions as well.
The 800-watt brushless motor is reliable and provides sufficient power to tackle most jobs. The sealed metal gear drive transmission is also really good, and noted for its performance and durability.
This tiller is a great fit for back yard work. The adjustable tilling width of 5 – 10 inches means it can get into tight spaces. While the 5-inch tilling depth is good enough for shallow tilling and cultivation of the soil.
The Snapper XD is a fantastic domestic tiller. Best part? It comes with a 5-year limited warranty.
Honda FG110 4-Cycle Middle Tine Forward-Rotating Gas Mini Tiller Cultivator
Specifications:
Tilling Width: 6-9"
Tilling Depth: 8"
Power: Gas
Engine: 25cc
Weight: 26.8 lbs
Warranty: 2-Years
The Honda FG110 is a great mid-tine option with the engine positioned above the tines to provide more weight and balance when churning tougher ground.
It's built to provide power, reliability, durability, and ease of use. With the Honda GX25 25cc 4-stroke engine being enough to use on most moderately compacted soil. And also CARB compliant.
The forward-rotating tines have a hybrid design that provides the best blend of strength and peak performance possible.
The transmission is designed to be long-lasting and durable too! Safety is also considered with the front engine guard.
It also features an adjustable depth bar, ergonomic handle, and easy access controls.
It comes with a 2-year warranty.
Greenworks 10-Inch 8 Amp Corded Tiller 27072
Specifications:
Tilling Width: 8.25-10"
Tilling Depth: 5"
Power: Electric
Motor: 8 Amp
Weight: 29.3 lbs
Warranty: 3-Years
The Greenworks 27072 is one of the market leaders when it comes to versatility, especially in the mini-tiller category. The main benefit is the ability to perform the three functions—tilling, cultivating, and weeding—of an electric mini tiller to an exceptionally high level.
Both the width and depth functions of the tines can be adjusted which allows complete control over how you use it. Which adds to its versatility.
It has more weight to it than other products, but the sturdy 6" wheels help you to control the unit easily as you move around corners.
However, there are a few drawbacks:
Firstly, it has limited power. Making it less effective at digging tough soil.
And the narrow maximum width means it takes more passes to till a large plot of land.
The shallow maximum tine depth is also less than ideal for tilling new ground.
Instead, this mini tiller really comes into its own if you want to weed and cultivate your garden.
You can also use it if the soil is a little less compact and lighter. Or previously tilled.
Another plus that's worth mentioning is that it's quite a small product with foldable handles. Which means that it can be stored and transported easily.
This model also has the added benefit of a 3-year limited warranty.
Sun Joe TJ603E Electric Tiller And Cultivator
Specifications:
Tilling Width: 16"
Tilling Depth: 8"
Power: Corded Electric
Motor: 12 Amp
Weight: 27 lbs
Warranty: 2-Years
Next on our list is the Sun Joe TJ603E. This electric power tiller is designed to complete all your cultivating needs in an environmentally friendly way.
It features a 12-amp motor with push-button start. And, you won't be upset with the power as it matches the output of some similar-sized models with high-emission engines. Plus, one of the great things about an electric engine is how easy it is to use.
With an impressive six angled steel tines rotating at 340 RPM, it's an efficient tilling model. It's good at tilling most garden soil. And it makes quick work of weeds.
It's also easy to transport. The back wheels can be set into three positions to make moving it simple, and to help you set the tilling depth.
And storing it in small spaces is also easy with its adjustable wheel as well as the collapsible handle.
The Sun Joe TJ603E comes with a 2-year warranty.
Earthquake 31635 Mini Cultivator
Specifications:
Tilling Width: 6-10"
Tilling Depth: 8"
Power Source: Gas
Engine: 33cc
Weight: 29 lbs
Warranty: 5-Years
Another great choice when you need your mini tiller to do a variety of tasks is the Earthquake Mini Cultivator. It can easily cultivate weeds, and mix in mulch and fertilizer. It's ideal to use for aerating already tilled soils as well.
Because of its small size and versatile nature, the Earthquake is a great choice for small to medium size gardens.
It also handles pretty well too! The special overhand controls help you to move around plants, up and down plant rows, and into tight spaces whilst keeping the till even.
Another useful feature is the adjustable wheels. This allows you to set the depth of tilling, as well as move the unit back and forth.
The Earthquake 31635 comes with a 5-year limited warranty.
BLACK+DECKER LGC120 Cordless Garden Cultivator Tiller
Specifications:
Tilling Width: 7"
Tilling Depth: 4"
Power Source: Battery
Weight: 8 lbs
Warranty: 2-Years
BLACK + DECKER, a reputable and trusted brand for all domestic electronics, stake their claim in the gardening field with a value for money product.
Similar to many of the small tillers on our list, this model performs as a tiller, power weeder, and cultivator.
It's a very durable and reliable unit. But as it's battery-powered it's best for dealing with previously tilled ground and soft soils. And it's not the best small rototiller if you need to break new ground.
But if you're worried about your carbon footprint, then you can rest easy with this machine.
This model provides a good example of the plus points of using a battery-powered tiller. With no cord, you can till anywhere without restriction. And with no need for gas or fuel, it's simple to use, light, and easy to transport around.
It runs on a 20-volt MAX lithium-ion battery. That provides enough power to cultivate 325 square feet in one charge.
The tines are counter-oscillating. Which means that weeds and tall grass won't get caught up in the blades. So stops to disentangle them are less frequent.
A negative is that considering it's battery-powered, it's quite loud. It has a mumble sound when it's working normally. And when it comes across something that it can't deal with, it tends to rattle.
The unit is easy to maintain. But it also comes with a two-year limited warranty that includes battery and charger.
TAZZ 35351 33CC Viper Mini Cultivator
Specifications:
Tilling Width: 6-10"
Tilling Depth: 8"
Power Source: Gas
Engine: 33cc
Weight: 33 pounds
Warranty: 3-Years
Powered by a 33c Viper engine, the Tazz 3531 is a great mini cultivator for aerating loose soil, weeding, and mixing in mulch.
It's primarily designed to work on pre-tilled earth. But many customers are pleased that it even provides enough power to break up heavy clay soil and compacted soils.
The light design and overhand controls make it easy to move around your garden and up and down rows. With the compact design and adjustable tilling width helping you to till around existing plants and in raised beds.
It comes with a 3-year limited warranty.
GardenTrax 38-cc 4-Cycle Forward Rotating Gas Cultivator
Specifications:
Tilling Width: 12"
Tilling Depth: Not Available
Power Source: Gas
Engine: 38cc
Weight: Not Available
Warranty: 2-Years
The GardenTrax is a durable and efficient mini cultivator. With power provided by a 38cc, 4-stroke engine. Which means you don't have the trouble of mixing gas and oil like with a 2-stroke engine.
The power provided is enough to weed, cultivate, and till your garden. With the forged steel reversible tines turning at 250 rpm, creating finely tilled and well-aerated soil.
You don't need any tools to make adjustments to the wheels or tines. It's easy to do by hand.
And the machine is easy to use. With an ergonomic top handle that allows you to move between narrow parts of your garden with ease.
The manufacturer provides a 2-year warranty.
Choosing The Best Small Tiller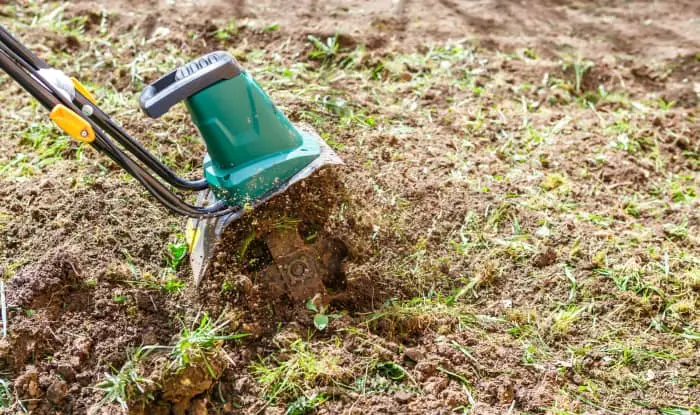 The choices we've selected above are the best tillers on the market.
But as you will have noticed, there are a variety of types with different features and qualities.
So, how do you choose the right one for you?
In this buying guide, we'll give you some tips to help you make a good choice.
Let's dive in.
Types Of Tiller
There are three different types of mini tillers to consider. They are tiller cultivators, front tine tillers, and mid tine tillers. There are pros and cons to each of them.
The least powerful and smallest mini tillers are the tiller cultivators. They are a good choice for small gardens of 500 square feet or less. And they're ideal for use in raised beds or for landscaping. They're often very lightweight, with many of them weighing less than 30 lbs. Which is ideal for versatility and maneuverability.
Tiller cultivators are front tine (although there are larger and more powerful front tine tillers also available). They come with very narrow tilling widths, often varying from somewhere between 4-12 inches wide. Some of the better models have an adjustable width.
Some machines also have special attachments you can use. This is ideal because you only have to buy one engine and just simply change the accessories as and when needed. Which might include dethatchers, aerators, and lawn edgers, trimmer bars, plows, and furrowers.
Most models are easy to transport due to the adjustable wheels as well as often having a folding handle which makes for easier storage.
Electric tiller cultivators are a good choice for the budget conscious.
The difference in a mid-tine tiller is that the engine is placed directly above the tines. This provides more weight when tilling compared to a front-tine tiller, and better balance.
But a big similarity is that they both are propelled forward by the tines as they dig into the soil. However, mid-tine tillers often cost more compared to front-tine tillers.
Mid-tine tillers are the easiest to maneuver of the different types. And can be purchased as mini, mid-sized, and large models.
The main benefit of mid and front-tined machines is that they are normally more affordable than rear tine models.
Front-tine tillers are light-duty machines with tines located at the front. With the engine situated slightly behind the tines where it can still apply some weight.
A proper front tine tiller is more powerful than a cultivator and significantly bigger. They are a good choice if you have a medium-sized garden as they combine good tilling power and ease of use at an affordable price.
But for tilling a larger garden, particularly if you're looking for a tiller for breaking new ground, choosing the best rear tine tiller is undeniably the most comfortable and effective option.
It's fair to say you'll need to use some physical strength with a front-tine tiller. And using them for long periods or on hard and compact soil can be strenuous.
As with the mid-tine machines, they are available in medium, large, and mini sizes. The larger units can be considered for tilling big gardens of 5,000 sq. ft. or greater.
Power
Electric tillers come in 2 different types: battery-powered (cordless) or corded.
The main issue with corded garden tillers is the cord. It can restrict your ability to move to all areas of your garden as you get further from the power source. But this isn't too much of an issue in smaller gardens.
You also have to take care to keep the electric cord out of your way while operating the machine.
The cordless tillers tend to have a relatively short battery life, so can't be used for as long. And corded models are usually a bit more powerful.
Gas-powered tillers also come in two types: 2-cycle and 4-cycle. They will give you more power and performance than an electric tiller. But you have to add gas and oil for them to run.
In turn, this means they produce more emissions. And are on the whole a little noisier. In addition, they can require more maintenance, and tend to cost more as well.
Type Of Soil
It's important to keep in mind the type of soil in your garden before choosing a rototiller. If the soil is soft and free of large roots and rocks then an electric garden tiller is a suitable choice for the task. You won't need the extra power that comes with the other types.
On the other hand, if your soil is hard and compacted, you'll find it a lot easier with a more powerful rotary tiller.
Warranty
The best mini tillers are built to last. But it's still good to know that you're covered by a good warranty just in case something goes wrong.
The average warranty is 2-3 years with some companies offering a 5 year warranty on their mini garden tiller.
Conclusion
So, what is the best mini tiller for the money?
Our best rated product is the Mantis 7940. The mantis tiller expertly combines power with a compact size and ease of use. It can tackle most tilling jobs in your garden. And has an adjustable tilling depth for both deep tilling when necessary and shallow cultivation.