Centipede is one of the most popular grasses used on southern lawns.
But keeping it clear of weeds can be difficult. Why?
Because most popular herbicides will cause damage to it.
So it's important to find a product that's specially formulated for safe use.
My top choice is Ortho Weed Clear Weed Killer for Lawns.
This powerful product kills over 250 common species of lawn weeds. And it kills them to the root to prevent them from growing back again.
The best weed killer for centipede grass at a glance:
All links lead to Amazon, where you can find more information & customer reviews.
The Best Weed Killer For Centipede Grass: Reviews
Ortho Weed Clear Weed Killer for Lawns Concentrate
Ortho Weed Clear For Lawns is formulated for use on Southern lawns.
Along with centipede grass, you can also use it safely on the following southern lawn grass types:
Bermudagrass
St. Augustinegrass (but not Floratam)
Zoysiagrass
Bahiagrass
Tall Fescue
The weed killer controls over 250+ common broadleaf weeds, including dandelion, clover, plantain, henbit, chickweed, and poison ivy.
The main active ingredients are 2,4-D, mecoprop-p, and dicamba. These selective and systemic herbicides kill weeds to the root, which prevents them from growing back.
You'll start to notice the plants wilting after just a few hours, and turning brown within a week of application. With 2-3 weeks usually needed for a complete kill. Although some particularly stubborn weeds may need a second application.
You need to mix the concentrate with water and then spray it using a tank or backpack sprayer. But if you have the Ortho Dial 'N Spray Hose End Sprayer you can attach the bottle straight to your hose for quick and easy use.
You can also get this weed killer in a ready-to-spray bottle that comes diluted and with a spray wand attached.
Image Southern Lawn Weed Killer
Image Southern Weed Killer gives you broad-spectrum control.
The main active ingredients are sulfentrazone, penoxsulam, 2,4-D, and dicamba. When used together these selective and post-emergent herbicides are great at controlling broadleaf weeds, grassy weeds, and sedges.
You can use it to control spurge, dandelion, dollarweed (pennywort), clover, chickweed, nutsedge, crabgrass, annual bluegrass, and wild garlic.
Because it contains systemic herbicides, it kills weeds to the root and stops them from growing back.
The effects are visible quickly, with the first signs of wilting after just a few days.
You can use the 32 fl. oz. bottle to spray 5,000 sq. ft. of lawn when diluted. But you should only use it on established centipedegrass lawns.
Scotts Turf Builder Bonus S Southern Weed & Feed
This popular product from Scotts is designed for use on southern lawns, including centipedegrass.
It provides broad-spectrum control of common lawn weeds due to the chemical herbicide it contains called atrazine.
This gives you post-emergent control of a wide range of weeds including chickweed, clover, dichondra, and dollar weed control.
And it also gives you pre-emergent control of weeds in the treated area by preventing germination.
The main selling point of weed and feed is the ability to fertilize and kill weeds at the same time. And the formula contains a high nitrogen fertilizer with a 29-0-10 NPK ratio.
The nitrogen helps your grass to quickly green up as it grows. And the potassium encourages healthy and strong development with an ability to withstand disease, heat, and drought. Also included is the essential secondary macronutrient sulfur.
It comes in bags of granules that are easy to spread with a broadcast spreader. And it's available to buy in 2 different sizes with enough weed and feed to treat 5,000 or 10,000 sq. ft. of lawn.
A standard version is available and a Florida version.
BioAdvanced Southern Weed Killer For Lawns
You can use BioAdvanced (Bayer) Southern Weed Killer to get rid of more than 200 different types of broadleaf weeds. Such as chicory, chickweed, clover, buttercup, creeping charlie, and Florida pusley.
But, it doesn't always kill the weeds after the first treatment. So you may need to spot treat the ones that are still alive after 30 days.
The formula contains 3 herbicides, mecoprop-p, 2,-4-D, and dicamba. These are all systemic weed killers that are absorbed through the leaves and kill the entire plant from the inside including the roots.
Typical of most systemic weed killers it takes a couple of weeks for the plants to completely die.
But it won't harm centipedegrass. You can also use it safely on:
St. Augustine grass (including Floratam)
Bermudagrass
Zoysiagrass
Bahiagrass
Buffalograss
The bottle contains 32 fl. oz. of concentrate, which you need to dilute before using in a sprayer. It contains enough to cover 16,000 square feet of lawn.
Spectracide Weed Stop For St. Augustine And Centipede Lawns
Spectracide make a popular range of liquid weed killer sprays. This version is specially formulated for use on centipede grass and St. Augustine grass lawns.
It contains the herbicide atrazine. This gives it post-emergent and pre-emergent weed control. Killing weeds that are already growing in your lawn. And preventing weed seed germination when applied to the ground at the right times of the year.
There are some important use restrictions:
It's recommended to only use it when the temperature is below 90°F. So you have to be careful when using it in the summer months.
You should avoid using on newly seeded lawns for 2 months after application.
Don't overseed treated areas with new grass seed for at least 6 months.
Some customers report that it can take multiple applications to get rid of all the weeds. And as it works as a systemic herbicide you can expect to wait for a couple of weeks for the full results each time.
It comes in a ready-to-spray bottle that connects via the attached hose-end sprayer to your garden hose. This makes it quick and easy to use. Without any messing around with dilutions. And without needing your own sprayer.
You can use each bottle to kill weeds over a 3,720 sq. ft. area of your yard.
Choosing The Best Weed Killer For Centipede Grass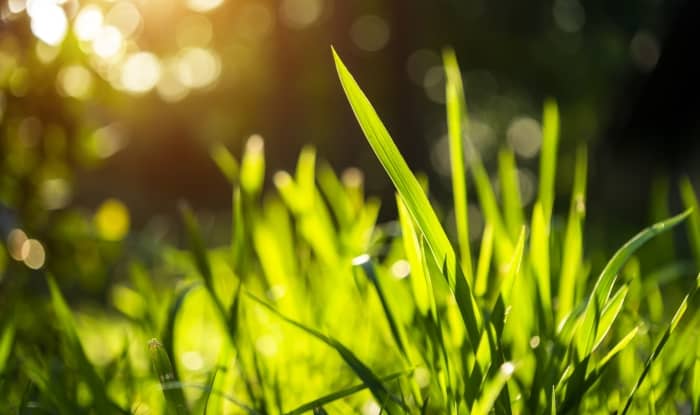 Are you struggling to decide what type of weed killer is best for your situation?
Here are some important things to help you choose.
The Emergence
Have you just found some weeds growing on your lawn?
If so, you need a post-emergent weed killer to get rid of them.
Post-emergent weed killers kill weeds that are already growing. This is the most common type that people buy.
But there is another option as well.
If you plan ahead, then a pre-emergent weed killer can be a very effective way of dealing with weed problems.
Pre-emergent weed killers prevent weed seed germination and stop the weeds from growing in the first place. Leaving you with fewer weeds to clear up during the growing season.
They're usually best used in early spring and late fall, and are particularly useful for dealing with problematic grassy weeds such as crabgrass and Poa annua that leave a lot of seeds in the soil.
Some brands combine pre-emergent and post-emergent herbicides together into the same product.
Contact vs Systemic
Contact weed killers have an immediate impact on the parts of the plant that are sprayed.
They give fast results. But because the spray usually doesn't make contact with the roots, they remain unharmed. This allows the weed to regrow. And it means you will have to retreat the area regularly.
Systemic weed killers have a different way of killing plants. And many people think they are the best weed killers for centipede grass. The herbicide is absorbed through the leaves and then moves around the circulatory system, killing it from the inside.
Because it kills the roots of the plant it can't regrow, which means less work for you. But it's slower to kill the weeds, often taking 2-3 weeks for the full results.
Conclusion
Weed control for centipede grass can be tricky because many common lawn herbicides are unsuitable for use.
You need a specially formulated weed herbicide that leaves your grass in good health while still doing the job.
My recommendation of the best centipede grass weed killer is Ortho Weed Clear for Lawns. It's powerful and effective and kills a wide range of weeds.