When choosing a hoe for garden work, it's important to get the right type. Some hoes are better suited to certain jobs than others. And getting the wrong hoe can leave you frustrated when it can't do what you want.
An action hoe is best for weeding. But it may not be the right choice if you want a hoe that can also dig and easily reshape the soil.
So in this article, I compare action hoes vs garden hoes to help you make the right choice for your yard work. And I show you some of my recommended hoes.
Let's dive in.
What Is An Action Hoe?
An action hoe is a type of hoe that's designed for weeding. It features a metal loop at the end of a long handle that looks like a stirrup.
Because of this, action hoes are also known as stirrup hoes, loop hoes, hula hoes, and scuffle hoes.
Action hoes are usually double-bladed, so you can cut on push and pull strokes.
Using An Action Hoe
To use an action hoe, slide the hoe blade underneath the top layer of soil and move it backward and forwards through the patch of weeds cutting the weed stems from the roots.
One of the advantages of using an action hoe vs a regular garden hoe is that it doesn't disturb the soil as much. An action hoe is also easier to use while standing up without bending over, placing less strain on your back.
My Favorite Action Hoes
These are the action hoes that I recommend for weeding:
Ames Action Hoe
This action hoe has a 5 ¾ inches wide triangular-shaped head. The blade easily cuts beneath the soil surface, severing stems and roots. It's easy to use this action hoe to cultivate and weed around live growing plants.
The hoe has a long 58-inch handle that makes it easy to stand while weeding without bending. The handle is made from hardwood, making it strong and durable. A 10-inch cushion grip makes it comfortable to hold and control.
True Temper Looped Action Hoe
This action hoe features a looped steel blade that easily cuts weeds beneath the soil surface using a push-pull motion.
The 54-inch smooth hardwood handle is durable, and the cushion end grip makes it comfortable to hold for long periods. And although the hoe feels sturdy and heavy-duty, it's still light enough to use easily.
Walensee Mini Action Hoe
This mini push-pull hoe is ideal for working in tight spaces where you don't have room for large motions with a longer hoe. You can use it for precise work in garden beds and raised beds, avoiding damage as you work between desirable plants.
The hollow stainless steel design is strong, durable, and lightweight, making it easy to wield without getting tired. And the ergonomic rubber handle makes it a comfortable tool to use.
What Is A Garden Hoe?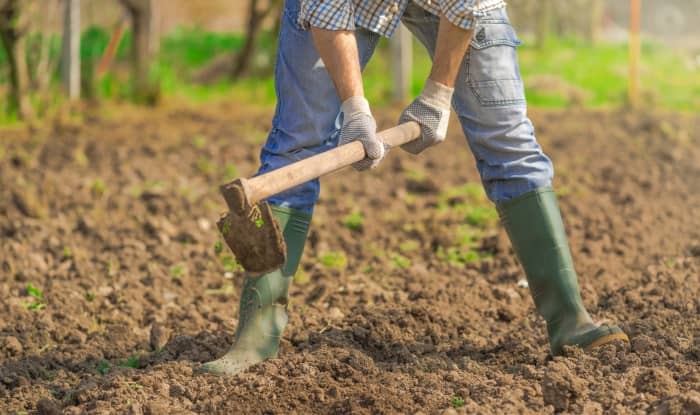 A garden hoe is a tool that's used for weeding, tilling, and shaping the soil.
Garden hoes mostly have a similar design, with a long handle with a blade at the end. But depending on the type of garden hoe, the blade design is different, which affects what you can use the hoe for.
An action hoe is a type of garden hoe that's particularly useful for weeding. But when many people think of a garden hoe, they think of a draw hoe, such as a paddle hoe.
Draw hoes have a blade at a 90-degree angle at the bottom of the handle. Sometimes you can adjust the blade. You use a draw hoe by pulling it towards you, scraping through the soil and weeds to cut them just beneath the surface. You can also use heavy-duty draw hoes to chop through tall weeds and grass clumps.
Draw hoes are more useful than action hoes for shaping the soil and creating furrows for planting seeds.
You can also get small garden hoes for one-handed use.
Find out more about the different types of garden hoes with our comprehensive guide.
My favorite multi-purpose garden hoe:
Truper Tru Pro Garden Hoe
This garden hoe comes with a 6-inch heavy-duty head and 60-inch handle. The handle is made from premium grade North American white ash, giving it flexibility and strength while being light enough to easily handle.
You can use it to easily move soil and remove weeds, and the quality construction means it should last many years of regular use.
Tips For Choosing A Hoe
If you don't want to bend while you hoe make sure to get a tool with a long enough handle. A good guide is to choose a hoe that comes up to your armpit.
An action hoe is better for weeding than a regular garden hoe, such as a paddle hoe. It's more comfortable to use for extended periods and for clearing large areas of weeds.
It's easier to use an action hoe to weed close to crops and desirable plants than a draw hoe. Draw hoes are fast weeders when used correctly but are better suited to paths, rows, and open spaces.
Choose a hoe with a comfortable grip to make long work sessions easier on your hands.
Make sure the hoe is made from sturdy materials so it doesn't break. Quality hoes can have wood handles, or fiberglass handles, with stainless steel heads.
Tips For Using A Hoe
It's easiest to use a hoe for killing weeds when plants are small and young. Mature weeds with thick stalks can be hard work with a hoe and may require a different weeding method to kill, cut, or remove them.
Weed management with a hoe is easier when you weed regularly.
It's best to use your hoe when the soil is dry. Wet, heavy soil can be harder to cut through. Hoe before you water your garden.
Wear a good pair of gardening gloves to protect your hands from painful blisters during long working sessions with garden tools.